A Local's Guide to the Bozeman Christmas Stroll
Bundle up and get your holiday groove on, the Downtown Bozeman Christmas Stroll is just around the corner! This annual tradition kicks off the season with lots of food, friends and some serious cheer. Mark your calendar for December 2, 2017, 4:30pm-7:30pm.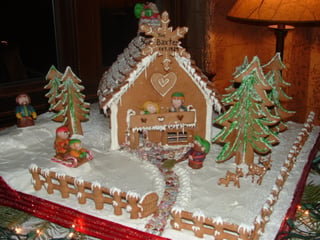 Photo Credit: The Moose 95.1 FM
If you have little ones, plan to stop by The Emerson Cultural Center starting at 12:30 pm when the ballroom is transforms into a giant workshop for building gingerbread houses. If you're serious about the craft, make sure you submit an entry to the annual Gingerbread House Contest before the entry due date next year. Prize packages are awarded to the winners and all entries will be on display at the Jacob's Crossing Lobby (424 E Main Street) from December 1-3, 2017. Live music and art performances at the Emerson occur throughout the afternoon; all free and open to the public!

Santa Claus arrives at 4:30 pm to lead the parade down Main Street. Children and adults follow along caroling as the downtown decorations are lit. (Notice the decor at each stoplight, affectionately known as the "spiders"— dubbed this by kids for generations.) Santa will stick around to hear Christmas Lists and to take photos with the little nippers (we're not talking selfies here).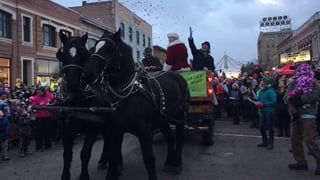 Photo Credit: Carla Knoll
Hop on a horse-drawn wagon for a relaxing ride or easy transportation around the stroll. Look for interactive holiday activities hosted by local non-profits (there may even be some s'more making!)

Tucked into nooks and crannies around town, you'll find musicians picking guitar and singing sweet carols, a perfect backdrop for casual conversation over a warm cider, cocoa or cocktail.


Make your list and check it twice. While the stroll is perfect for seeing friends and family, it's also a great time to do some shopping. The stroll is your opportunity to get ahead of the game and enjoy the season.Come hungry, the Bozeman restaurants and food trucks serve up some seriously tasty nibbles! (Think, wood-fired pizza, Korean tacos or fried mac n' cheese balls.)

If your artistic side needs an outlet, enter the Christmas Stroll Poster Design Contest for next year's event. The winner will receive a $200 cash prize, featured on posters located throughout the downtown and 15 buttons to give to family and friends.

At the end of the evening, you'll nestle into bed with a full belly, a warm smile and a happy heart.

Cheers!

Stroll buttons are your ticket to certain events, and your purchase helps support the stroll without an entry fee. Buttons will be available after Thanksgiving at various Bozeman locations. The full schedule of events will be available online at www.bozemandailychronicle.com or as a printed publication inserted into the daily paper on the Friday prior.

If you enjoyed this blog, take a look at some of our other related articles: