Bozeman Airport Sets 8th Consecutive Passenger Record In 2017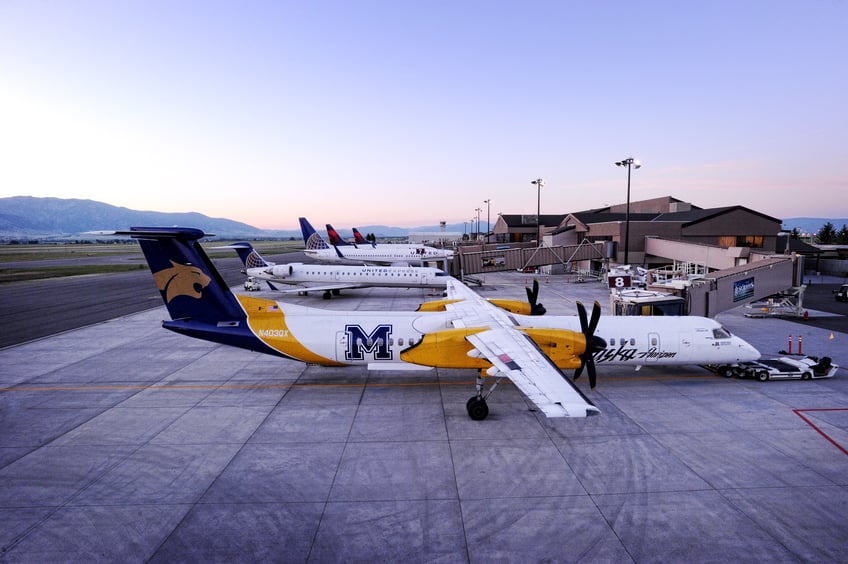 BOZEMAN, MT (January 10, 2018). Bozeman Yellowstone International Airport (BZN) handled 1,199,537 passengers during 2017. This is up 8.3% compared to 2016 and is the eighth consecutive year of record breaking passenger traffic at BZN. Annual passenger traffic at BZN has increased by more than 500,000 passengers since 2010 and BZN now accounts for 30% of all airline passengers traveling to and from Montana.
During 2017, the three fastest growing markets from BZN were Dallas/Ft. Worth (expanded service on American), Chicago O'Hare (now with year-round daily service on United and new summer and winter non-stop service on American), and Portland, Oregon (expanded service by Alaska Airlines). Looking forward into 2018, BZN will see a 130% increase in non-stop service to New York/Newark on United, a 40% increase in capacity with larger aircraft and daily year-round service to Dallas/Ft. Worth on American, and 20% capacity expansions to four non-stop markets out BZN: Chicago O'Hare (United and American), Minneapolis/St. Paul (Delta), Los Angeles (United, Delta and new summer Saturday service on American) and Houston Intercontinental (United).
The Air Traffic Control Tower handled 76,223 aircraft operations during the year, down .9%. Business Aviation operations increased 12.7% to 7,150. General aviation accounts for 71% of aircraft operations at BZN. Scheduled passenger and cargo airline service accounts for approximately 20% and business aviation accounts for the remaining 9% of all aircraft operations. There were 127 general aviation international arrivals handled at the U.S. Customs and Border Protection Office at BZN during the year.
During the year, BZN celebrated its 75th year of serving Southwest Montana, opened the newest runway in the United States on October 27, 2017 and began construction of a new 1,100 stall multi-use parking garage in December. In addition, 15 new hangars were constructed at the airport representing over $20 million in private investment. BZN is the eighth busiest airport in the 7-state Northwest Region of the country (Region including Colorado, Utah, Wyoming, Idaho, Montana, Oregon and Washington) and the 109th busiest airport in the nation in terms of passengers.
Passenger totals in and out by airline brand in 2017 were:
Delta Air Lines – 438,912
United Airlines – 424,756
Alaska Airlines – 180,481
American Airlines – 74,405
Allegiant Air – 57,870
Frontier Airlines – 18,700
Chartered Airline Flights – 4,413
About Bozeman Yellowstone International Airport
Bozeman Yellowstone International Airport (BZN) is Montana's busiest airport and serves as a year-round gateway to Yellowstone National Park. BZN also serves the recreation areas of Big Sky Resort and Bridger Bowl as well as the business centers of Bozeman, Belgrade and Livingston and higher education at Montana State University and the Gallatin College. BZN handles more passengers than any other Montana airport and is served by six airline brands with coast to coast non-stop service including Atlanta*, Chicago, Dallas/Ft. Worth, Denver, Houston*, Las Vegas, Los Angeles*, Minneapolis/St. Paul, New York/Newark*, New York LaGuardia*, Phoenix-Mesa, Portland, Salt Lake City, San Francisco*, and Seattle/Tacoma. * Indicates seasonal service. Over 800 people are employed by the 33 entities with offices at the airport.
If you enjoyed this article, check out our related blogs: