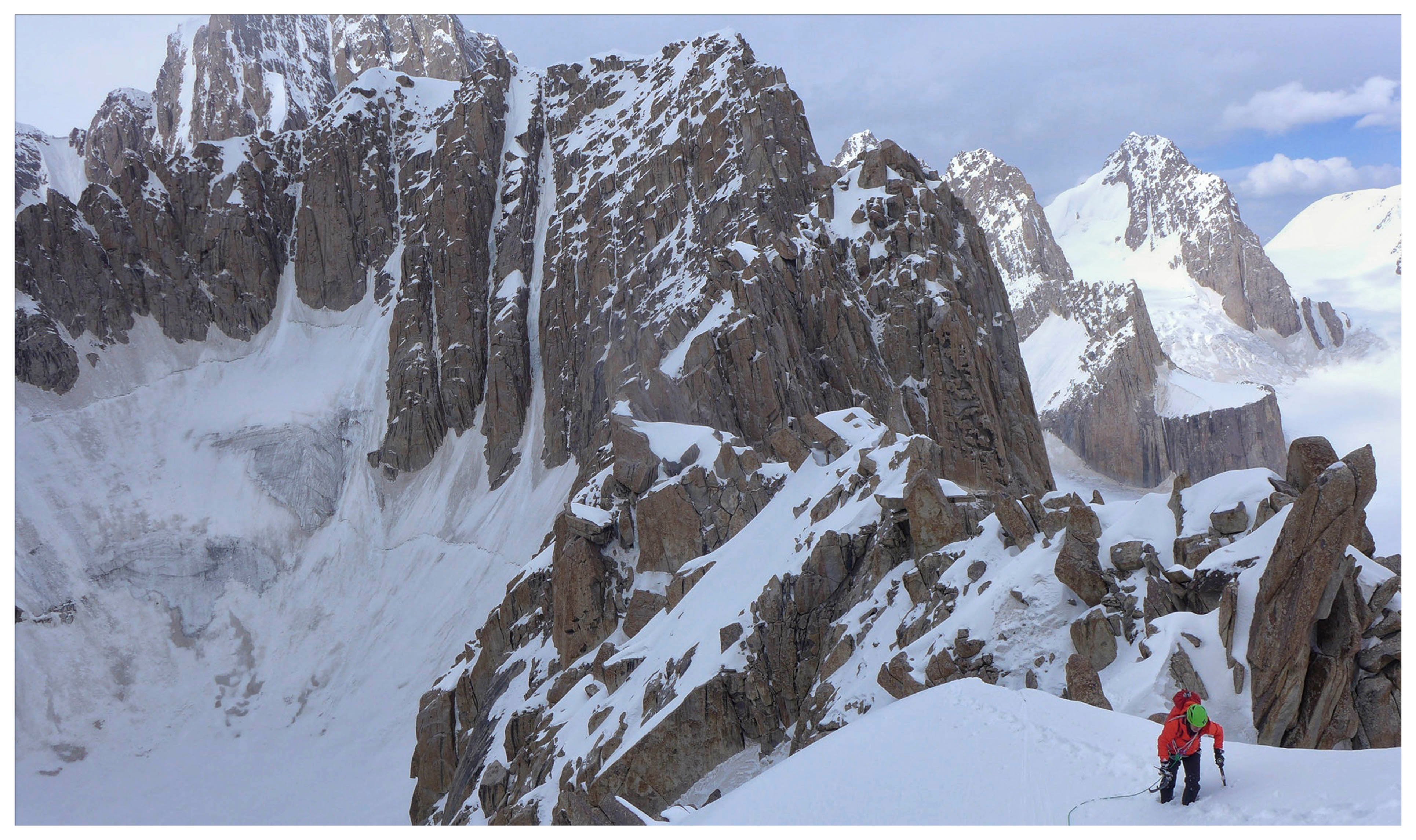 Mountaineering is not for the faint of heart, particularly ice climbing. Imagine crawling up sheer ice at the mercy of an ice pick and crampons to get you there. There are no holds in this type of climbing, meaning there are no temporary places to cling, grip, press, or stand. Ice climbers have to be limber and incredibly strong to keep tension throughout their bodies to keep the pressure on the pick, which is the only thing holding them on the ice.

Enjoy Hyalite's Beauty
Hyalite Canyon, just outside of Bozeman, Montana, has some of the best winter ice climbing routes in North America. A lot is contributing to the appeal. For one, there are many routes to choose from, beginner to complicated, so it's a great spot for all abilities. Also, Hyalite is consistent. The high elevation and colder temperatures provide a long climbing season with ice usually lasting from November to mid-March. Some of the cliffs take a lot of exploration to find, which for some climbers, adds to the adventure. There's something pretty magical about treading through the quiet forest, blanketed in snow and ice.
The surrounding beauty makes Hyalite Canyon, and the town of Bozeman, the perfect spot for the Bozeman Ice Festival, a gathering for the outdoor community of Pacific Northwest. The festival began in the mid-1990s for a small group of climbers. It has become the focal point of winter for the legendary camaraderie of the climbing tribe.
The festival is centered around daily ice climbing clinics for a variety of levels. Clinics run daily from 9:00 am - 3:00 pm. Participants get five hours of ice time with professional guides, athletes, and climbing legends with a low guide-to-student ratio. Clinics also include demos of technical gear, boots, crampons, axes, harnesses, helmets, and clothing.
There are also specialty clinics such as a 2-Day Self-Rescue Seminar, "Leaving the Nest," a multi-pitch clinic, and a Women's-Only Clinic, specific to how women climb.
Can't make the clinics? Not a problem, the evening events are a great way to share in the love of climbing. Après-climbs, films, presentations, and parties round out the festival.

Monday, December 9, 2019
6:00 pm- 10:00 pm, Lockhorn Cider House
Free presentation by Priti and Jeff Wright, avid climbers around the world, who are now embarking on a sabbatical. Interested in a Gap year? Come learn about how they planned for this excellent adventure.


Tuesday, December 10, 2019

5:00 pm- 10:00 pm, Lockhorn Cider House
Free event, American Alpine Club Gear Swap, and Live Your Dream presentations. Come hear from our past winners of the Live Your Dream Grant as they tell about their trips!


Wednesday, December 11, 2019
Après-climb with Bridger Brewing, 5:00-7:30 pm, Emerson Ballroom
Kick-off party with live music, 7:30 pm, Bozeman Event Space, $10 admission, or VIP pass.


Thursday, December 12, 2019

Après-climb with Bridger Brewing, 5:00-7:30 pm, Emerson Ballroom
Ice Film Fest, 7:30 pm, Emerson Crawford Theater
Enjoy three unique movies, Parallel Passions, a window into the design room of the Mystery Ranch Backpacks. Adaptive, the story of Jim Ewing and Maureen Beck, on first unassisted and adaptive climb of Lotus Flower Tower in Canada's Cirque of the Unclimbables. Himalayan Ice, Ari Nerak, and Karsten Delap explore the Indian Himalaya with local climber Karn Kowshik where they found perhaps the biggest trove of unclimbed ice in all the Himalaya.

Friday, December 13, 2019

Après-climb with Bridger Brewing, 5:00-7:30 pm, Emerson Ballroom
Live presentation, 7:30 pm, Emerson Crawford Theater
Skiing the Dream Couloir by National Geographic 2018 Adventurer of the Year and North Face Team Captain, Hilaree Nelson along with North Face Athlete, Jim Morrison. Hear first-hand about their climb and ski descent on Lhotse Coulior, a 60+ degree, 1500 ft line on the 4thhighest mountain in the world.


Saturday, December 14, 2019
Après-climb with Bridger Brewing, 5:00-7:30 pm, Emerson Ballroom
Live Presentation, 7:30 pm, Emerson Crawford Theater
"Alpinism on the Edge of Dreams" by Ines Papert. Sharing stories from climbs all around the world with her partner, Luka Lindič.


Sunday, December 15, 2019

Local legends dinner and wrap party. 6:00 pm, Emerson Ballroom
Gourmet dinner, presentation by Lindsay Fixmer on ice climbing remote fjords of Newfoundland and Iceland. Presentation of the 2019 Guy Lacelle Hyalite Service Award.
The Bozeman Ice Climbing Festival, presented by Black Diamond, is the signature event of the Ice Climbing Alliance. Founded in May 2018 by long-time Festival Director Joe Josephson, the Ice Climbing Alliance is dedicated to promoting and preserving access and quality climbing experiences across Montana and the United States.