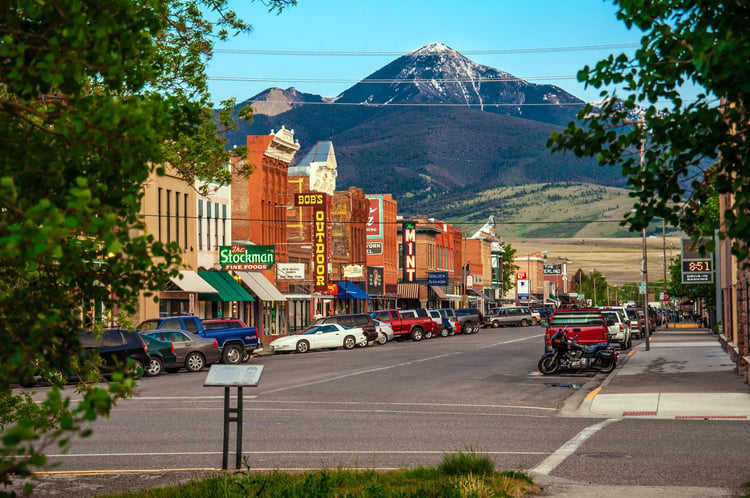 There's a reason it's called Paradise Valley; no matter what time of year, it's a spectacular drive. Winter is truly a white wonderland; Spring brings green hills with snow-capped mountains in the background; Summer comes into full bloom and Fall—well, we have a special place in our hearts for Fall. The colors rival the Northeast; shades of bright orange, rust and yellow follow the meandering river, and the grassy hillsides give everything a golden hue.
There are several must-do stops along the way. We'll give you the low-down and then you can mix and match your itinerary!
Start by driving on I-90 east over Bozeman Pass to Livingston. Historically, the pass was the main gateway to Bozeman. Part of the Lewis and Clark Expedition led by Sacajawea crossed through these mountains into the Gallatin Valley. John Bozeman led settlers over the pass until they were stopped by Sioux and Cheyenne tribes wanting to end the immigration, and almost twenty years later, the Northern Pacific pushed through the pass and continued their route from Livingston.

Livingston, formerly a railroad town, is now full of interesting restaurants, art galleries, breweries, and entertainment. If you're in a shopping mood, take some time to peruse the shops and grab some lunch. If shopping isn't your thing, consider continuing and stop for dinner on your way back to Bozeman.

Head south on Highway 89 toward Gardiner, MT. About 5 miles south of Livingston, watch for East River Road, Highway 540, on your left. This quiet road meanders along the Yellowstone River and through open fields, home to farmers and ranchers. If you arrive around lunch, Pine Creek Lodge is a local favorite. During the summer, they host a full concert series so watch the schedule!

Further down the road, you'll find Chico Hot Springs, an icon in the region. The natural hot springs tucked into the edge of the mountains has clean, relaxing water, a spa, dog sledding in the winter, and great accommodations if you are interested in staying the night. (Hint; book in advance, they are often sold out.) There are two restaurants; a casual grill and fine dining, both using herbs and vegetables from their geothermal greenhouse. The saloon often has local music so bring your dancing shoes!

If you keep heading south, you'll arrive in Gardiner — be sure to pay a visit to Yellowstone National Park. Pass through Roosevelt Arch, and you'll come to Mammoth Hot Springs, where you can see the Mammoth Terraces and most likely, elk wandering through town. The Boiling River is a natural hot spring and is located on the way to Mammoth which is another popular place to soak. Hot water from the thermals mixes with the cool river making it the perfect soaking temperature.

For the adventurous, you can round out the drive with a loop across Trail Creek Road which brings you back to Bozeman, and ultimately, a cozy bed to lay your head!
If you enjoyed this blog, take a look at some of our other related articles: