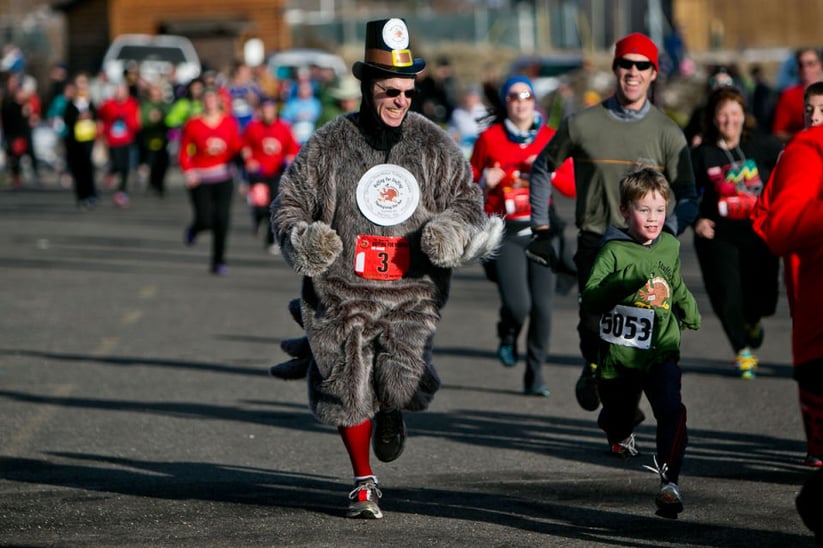 Photo Credit: Bozeman Daily Chronicle
Bozemanites know that November starts off the winter season with a bang. Music, theater, shopping and snow bring people out on the town and into the mountains. It's also the time of year when it feels good to slow down and enjoy the rich culture abundant in this mountain town. So mark your calendars and bundle up with your hats, gloves and scarves, for these amazing November events and festivities in Bozeman!
November 3, 2018, 9:00am-12:00pm
Emerson Cultural Center
Fresh food doesn't stop just because the weather cools, fall harvests are still going strong. The winter farmers' market is also a great place to stock up on local meats, fresh baked goods, homemade preserves and even some crafts (yes, it's time to start thinking about Christmas gifts)!
November 9-10, 2018
Emerson Cultural Center Ballroom
Twelve bands from around the country converge over two days to bring you some serious bluegrass jams. Bozeman's own Bridger Creek Boys, The Fresh Boys and Laney Lou and the Bird Dogs all take the stage. The festival culminates with Grammy award winner Peter Bowan with The Travelin' McCoury's.
November 15, 2018, 5:00pm-10:00pm
Downtown Bozeman
Gather your friends ladies, this is your night! Join the downtown retailers, restaurants and bars for special deals, cocktails, appetizers, drawings and a whole lot of girly fun. This is the night to treat yourself ladies! Cheers!
November 15-17, 2018
Emerson Cultural Center
Handmade gifts are a rarity in today's day and age. This holiday, treat your loved ones to something unique. Local and regional artists and craftsman bring their work to the juried show at the Emerson Cultural Center. The show coincides with Ladies Night downtown and Broad Comedy at the Emerson; it's going to be quite a weekend!
November 15-17, 2018, 8:00pm
If you haven't seen Katie Goodman's Broad Comedy, get your ticket and get ready for some serious comic relief. The Broads unveil their new show in Bozeman each year and it has yet to disappoint. This award-winning, all-women musical comedy is full of political satire and adult skits that bring down the house at every performance. Fair warning, mature audiences only, and you may not want to bring your conservative in-laws!
November 22, 2018, 7:00am
Museum of the Rockies
Bozeman's favorite fun run is back with a bigger goal than ever. This fundraiser for the Gallatin Valley Food Bank covers the majority of their operating expenses. This year's goal is 5,000 participants for the 5K Timed Run, 5K Fun Run, 10K time Run or Kids Run. There really isn't a better way to start off turkey day!
November 22, 2018
Big Sky Resort
There's a lot to look forward to at Big Sky this season, including the new Ramcharger, the first eight passenger chairlift and first Doppelmayr D-Line lift in North America. It's one more way Big Sky Resort is enhancing the already amazing skiing on Lone Mountain. Let the shredding commence!
Monday, November 26, 2018, 7:30pm
Brick Breeden Fieldhouse
Join acrobats, aerialists, and a live orchestra for hilarious stunts and holiday cheer. This musical circus performance is full of graceful acts and daredevil moves; a perfect start to the holiday season!
If you enjoyed this blog, take a look at some of our other related articles: