Bozeman Christmas Stroll, Reimagined, 2020!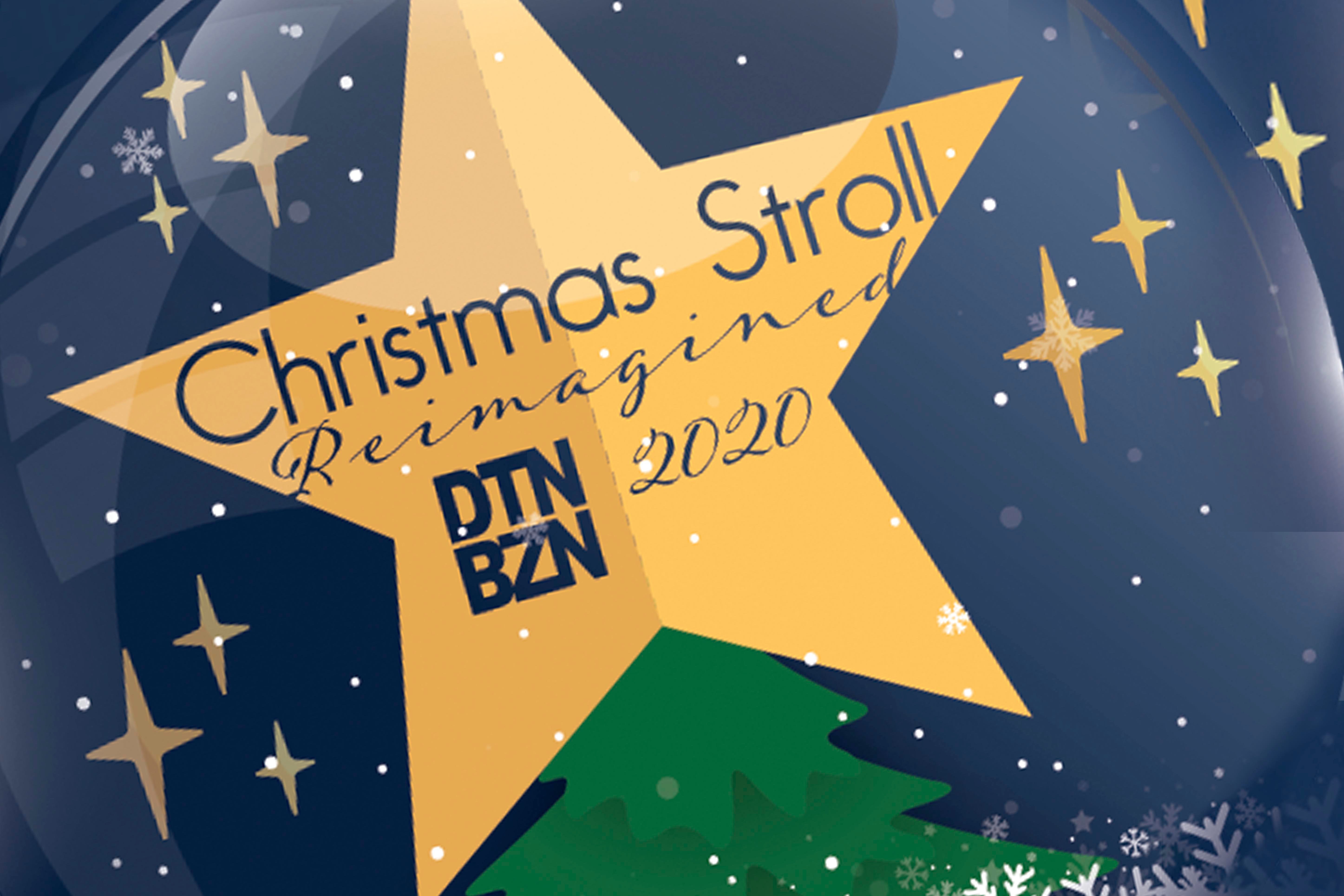 For the past 40 years, the Bozeman community has gathered downtown for the annual Christmas Stroll. Each year, the tradition marks the beginning of the season, with Santa leading the crowd down Main Street as the holiday lights brighten the sky. Food, libations, music, and shopping fill the area as people greet one another, excited for the season and the winter ahead.
This year, the Downtown Business Association has reimagined the event, and there will be no shortage of festivities! Instead, activities will occur December 2-5, 2020, some virtually and some held outside.
Safe and Fun
Stroll up and down the streets admiring the Christmas Stroll Reimagined Parade of Lights: Window Decorating contest. Over 35 businesses are participating, and you can vote for your favorite here.
The Gingerbread House Contest will be on display at 424 E Main Street from 10:00 a.m.-6:00 p.m. and is well worth a visit. These houses are intricate! (Social distancing and masks required.)
Each year, the stroll is a fundraising opportunity for local nonprofits. This year, local restaurants are teaming up with nonprofits with charitable menu items available for dine-in or carry out. There are some delicious deals on the menu, and your patronage is helping the community.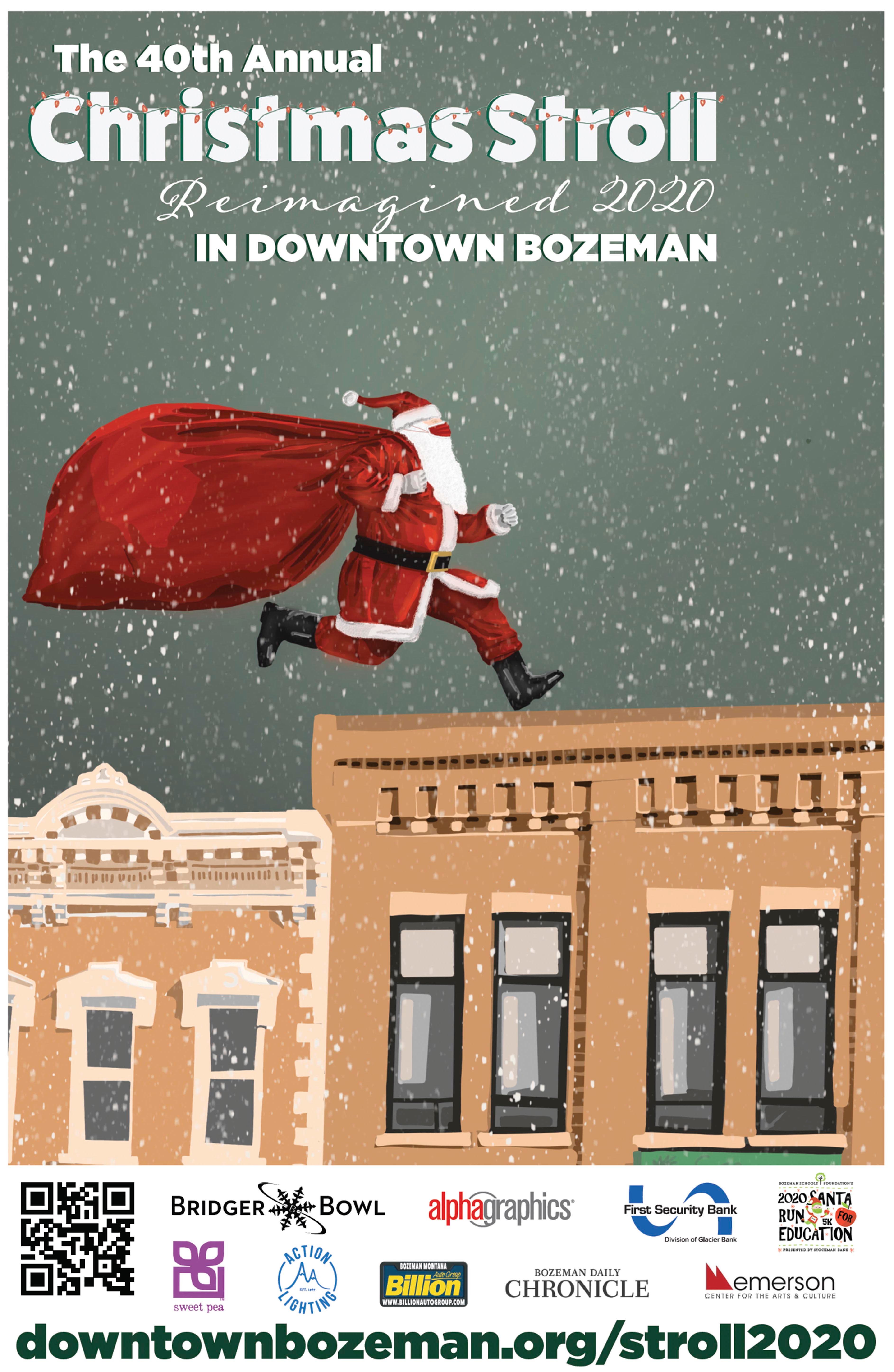 The Santa Run and Other Activities
Saturday, December 5, the 6th Annual Santa Run for Education will take place from 8:00 a.m.-2:00 p.m. To allow for physical distance, start times will be staggered every 30 minutes. Dogs on leashes are allowed to run this year!
Elf on the Shelf is rumored to be making an appearance, hiding in four downtown locations. Guess her location for a chance to win fabulous prizes!
You'll find carolers at various times downtown, but for a real blast of holiday music, watch @DowntownBozeman on Facebook and Instagram and @DTNBZN on YouTube. Beginning at noon, the Intermountain Opera Holiday Carol Playlist will post their playlist, followed by a Stroll Holiday Concert with Kate and the AlleyKats at 2:00 p.m. and Chief Joseph Choir Holiday Concert at 3:00 p.m.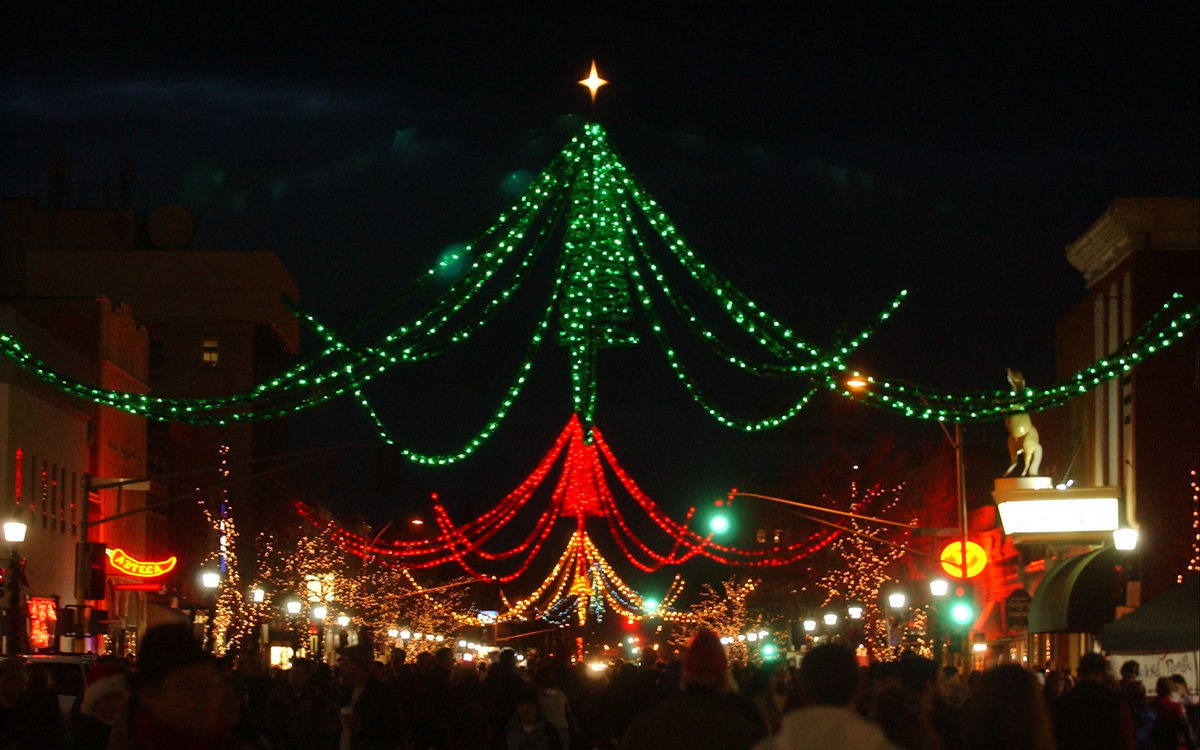 The Holiday Spiders
At 5:00 p.m., join us online for the annual Lighting Ceremony of the Downtown Holiday Spiders. For those who haven't visited, they aren't actual spiders, they are merely large bands of decorations, but year after year, generations of little tykes have pointed out, "They look like spiders." To view, go to @DowntownBozeman on Facebook and Instagram and @DTNBZN on YouTube.
Annual stroll buttons are on sale now. Your stroll button is a timeless souvenir and tiny piece of art this year; it also qualifies you for promotions, discounts, and raffle prizes, including Bridger Bowl, passes, a Downtown Dollars package totaling $500, and a Family Photo Package from 406 Photo.
Indeed, the reimagined stroll is looking to be a jolly holiday! For more information, click here to go to the Downtown Business Associations site.
If you enjoyed this blog, take a look at some of our other related articles: