EXPLORE BOZEMAN THIS WINTER
When the Snow Falls, Bozeman becomes a Winter Wonderland
Bozeman, Montana, is full of year-round adventure, with something for everyone. Below you'll find all the essentials about outdoor activities, where to eat, what to do, and where to warm up. If you're still searching for more, be sure to check out our blog with plenty of helpful information.
Bozeman is winter bliss for all ages. The mountains are the place to be—whether for skiing, snowshoeing, or a frosty hike—and the town is alive with fun events and fantastic food. Despite chilly temps, there's always a good way to warm up. Whether it's a dip in one of the area's hot springs or enjoying steamy latte while exploring boutiques downtown, there's plenty you'll love about visiting Bozeman in the winter.
It's safe to say that many people first experience Bozeman for the world-class skiing, and it's easy to understand with Big Sky Resort and Bridger Bowl so close. Both are within an hour's drive of downtown, offering a combined 7,000 vertical feet and nearly 8,000 skiable acres. Epic backcountry, side country, and cross-country skiing nearby mean there's plenty to terrain to explore, but what is there to do if you aren't a skier or snowboarder?
You don't have to search far for something amazing to help keep you busy when the snow falls. Whether you are here for a day or a week, you'll discover something new to have fun all season.
Check out all the cold-weather activities to enjoy in Bozeman:
BOZEMAN OUTDOOR WINTER ACTIVITIES
Cold temperatures shouldn't keep you inside during winter—not when Bozeman offers the ultimate winter playground, with everything from skiing to ice climbing and snowshoeing easily accessible from downtown. And with more than 300 days of sunshine on average each year, Bozeman winters are far from gloomy grey. You can head to Main Street to stock up on outdoor gear, whether you're buying or renting, and then head out to enjoy the snowy mountains.
SKIING/SNOWBOARDING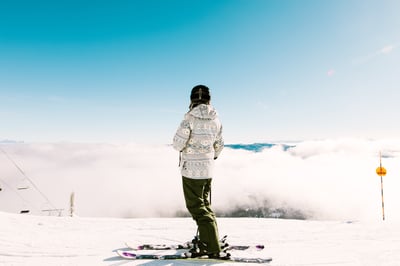 The best thing about Bridger Bowl and Big Sky is that they have plenty to offer to every level. You'll find family-friendly runs, as well as some of the best in-bounds extreme skiing in the country. At Bridger, expert-level powder hounds will want to pick up avalanche beacons and shovels (available for rent at the resort) to access the advanced terrain up on the Ridge. On the slopes at Big Sky, get your adrenaline flowing and test your ability from the top of Lone Peak. But for the less adventurous snow-lovers, keep it relaxed with a tram ride up to take in the view, with a quiet ride down.
Finding the secret tree skiing and the best untracked powder can be a challenge, particularly if you don't have all season to scope out the hill. Skiing or riding with a local expert is always the best option, but if you're on vacation it can be tricky to find someone who knows the mountain to show you around. If you don't manage to make a new friend on the first chair, you can always check out one of Bridger Bowl's daily free mountain tours or book a lesson or guide service through the ski school. You don't have to be learning how to snowplow for the first time to benefit from an expert guide to show you around the slopes.
BRIDGER BOWL
Bridger is an unparalleled community-driven ski hill. There aren't quite as many amenities as you would find at major ski resorts, but the terrain is unmatched. And don't worry, you'll find plenty of services, bars, and dining options to keep you warm between runs. This mountain has been on the map since the mid-1940s, and since its opening, it has been known for world-class skiers who got their starts on the slopes here. Bridger Bowl was the launching ground for the extreme skiing movement from guys like Scot Schmidt and Tom Jungst. You'll see that legacy in every chute and tree trail today. The skiable lines off the top of The Ridge are epic but don't forget to pick up an avalanche transceiver and shovel to access that terrain via Schlasman's Lift. If that kind of adrenaline rush isn't quite your speed, family-friendly and beginner to intermediate skiing stretches all across the lower section of the mountain.
BIG SKY RESORT
Big Sky has definitely earned its name! With over 5,800 skiable acres, you'll never get bored on this monster of a mountain. Since Big Sky and Moonlight Basin merged in 2013, it's officially the biggest ski resort in the United States. And with such wide-reaching slopes, you can find the conditions you're craving, no matter the day. The South Face gets a lot of sun and doesn't hold snow as well, so if it hasn't snowed in a few days and/or it's been sunny, you probably want to stick to other areas of the mountain. The Moonlight Basin side is north facing and holds snow well, making it a prime spot to find untracked snow. With all the amenities that you'd find at any major ski resort, expect to see shopping, fine dining, drinks, and accommodation right there slope-side.
CROSS COUNTRY/NORDIC SKIING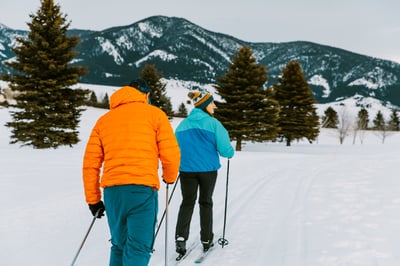 Nordic ski trails make winter accessible to all. The extensive web of trails crisscrossing Bozeman and the surrounding wilderness areas make it easy to get in some exercise in winter without having to go far. From the groomed trails at Bohart Ranch to backcountry at Hyalite Canyon or cruising around the trails in town, you'll find something for every level of skier. And you don't need to invest in expensive gear to get out on the snow. Locally owned rental shops around town cut down on the time it takes to get from town to trail.
You can't beat a fairly low-impact way to get your heart rate up and your leg muscles burning. Plus, the glide you get on cross country skis gives them the edge over snowshoes if your goal is to get far out into the serenity of winter wilderness. Even though Bozeman's reputation is built on the region's downhill ski areas, you'd be missing out if you skipped a Nordic trip.
SNOWMOBILING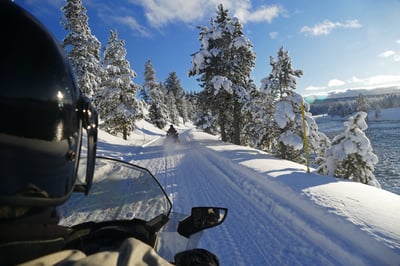 If you want to explore Yellowstone in a way that few people ever get to experience, a snowmobile tour is the way to go. Since most park roads close in autumn, this adrenaline-pumping mode of winter transportation is the only way to get to some remote and stunning areas of the park when they're covered in a blanket of snow. Trust us, seeing Old Faithful erupt in a steamy cloud over a white powder dusting is well worth bundling up for the day.
Besides, snowmobiles come equipped with heated handles and seats, so you'll stay toasty warm while you ride. And not many people can say they saw the Grand Canyon of the Yellowstone while the mighty falls are frozen. Going out with a guide gives you a great opportunity to stop and see what you want (can you say, hot spots and paint pots in winter?) while still having the confidence that comes from going with an expert.
ICE CLIMBING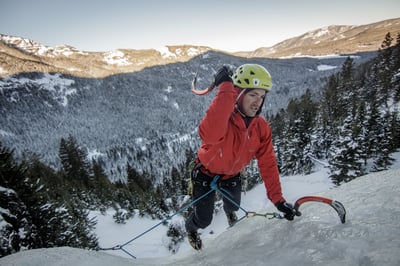 World-class ice climbing is the name of the game during Bozeman winters. Famed Hyalite Canyon, just outside of town, draws professional climbers from around the world to try out the 250 routes with a wide variety of difficulty levels. If you're not ready to take to the ice solo, or even if you just want to get tips from pro climbers to help improve your skills, sign up for a spot at the Bozeman Ice Festival.
This annual festival is quickly approaching a quarter century in age and offers climbing clinics, the popular adventure film festival, and lots of opportunities to meet and mingle with other climbers and ice aficionados. This is an intense sport that offers ample rewards when you get into it. But there's nothing wrong with watching from below while preeminent climbers scrabble along high above.

SNOWSHOEING
If you didn't think hiking could get any better, strap on some snowshoes and take to the wintery mountains. The crunch of fresh snow under your snowshoes, the whisper of snow falling from branches—it's the picture of peace in winter. Walking is really all you need to know to get started, so most people over the age of two have no problem with this classic mode of transportation. You'll float softly above the snow as your snowshoes keep you on top of the upper crust of the snow.
Insulated waterproof boots will keep your feet happiest, but standard waterproof hiking boots will work just as well. Just make sure that you bundle your feet in cozy wool socks, and you may want to try out some gaiters to cover your legs and keep the snow out of your boots if you're heading to deeper powder. This is the ultimate low-impact way to get some exercise and have fun outside in the mountains during the winter.
HOT SPRINGS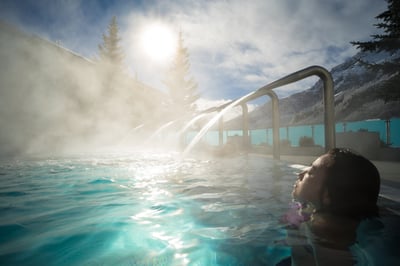 Even if you do get a little chilly in the winter weather, hot springs are the solution to cold feet. We owe the profusion of natural springs to the Yellowstone plateau. The magma that makes up the famous hot spot churns below the earth, heating the waters and leading to steaming winter fun. This is the perfect way to relax after a long day on the slopes or a snowy hike out in the mountains.
Bozeman Hot Springs is the easy in-town solution, Norris is only a scenic 30 minutes away, and Chico sits right outside of Yellowstone. Each hot spot brings a different atmosphere to the forefront. Even the more developed springs offer up the natural geothermal waters that visitors and locals alike have been enjoying for centuries. The recently renovated pools at Bozeman Hot Springs show off a chic side to the natural waters, beautiful outdoor pools and family-friendly splash zones giving a little something for everyone. Bozeman Hot Springs and Norris both regularly feature nights filled with live music. If you are looking for something a little more natural, brave the chilly waters of the Yellowstone River to check out the Boiling River in Yellowstone National Park.
---
---
BOZEMAN IN-TOWN WINTER ACTIVITIES
You could spend a whole winter in Bozeman and never need to venture out of town. Between shopping, activities, and events, you'll love when cold weather comes to town. Whether you want to stay indoors by the fire with a hot beverage or head out into the snow without having to get out of town, this list of in-town winter fun has you covered. Check out everything there is to see and do when the season gets frosty.
THEATER PERFORMANCES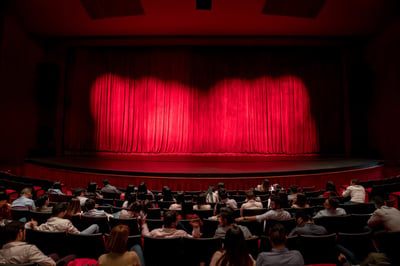 It's time for a winter drama, with Bozeman's array of live theater options lighting up the stage. Shakespeare in the Parks, the Verge, Intermountain Opera, and the Ellen companies bring life and energy to the stage, producing everything from opera and improv to musical theater and hearty dramas.
As far as venues go, the historic Ellen Theater brings the ambiance of days gone by with productions from musical theater to film screenings. The historic Willson Auditorium—in the building that held the high school that Gary Cooper attended—hosts the Bozeman Symphony and Intermountain Opera. At the Verge, an intimate black box theater, you'll find improv shows to liven up long winter nights with unending laughs. The MSU Black Box Theater brings plays from Shakespeare to Death of a Salesman to the stage in an intimate setting. Or you can head just outside of town to the community of Livingston and discover the offerings they produce at the Shane Center. No matter which way you go, you'll find a live experience to get excited about.
SHOPPING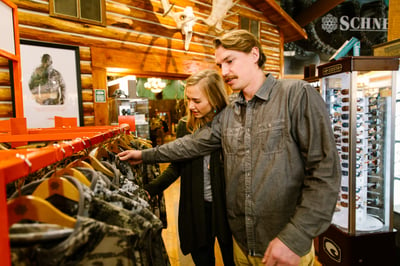 It's okay to indulge in a bit of shopping when winter arrives in Bozeman. Warm up in cozy storefronts and peruse local goods as you make your way around town. You'll find the big national retail stores, but also plenty of local boutiques, sporting goods stores, art galleries, antique shops, and gift stores. Plus, Bozeman is home to the largest carpeted mall west of the Mississippi!
You may have noticed that skiing is a bit of a big deal here in Bozeman, and the good news is that it's easy to get outfitted with the local (and locally loved) ski shops. Many of these stores have been in business for decades, and that's part of the reason that you'll find expert recommendations and ultimate quality. There are no excuses not to get out into the mountains when there are these many choices to get outfitted.
The downtown boutiques that line Main Street make a one-of-a-kind statement on the fashion and home-goods scene, and they take the Made-In-Montana movement seriously. You can find gifts for everyone on your list, on top of a little something to revamp your own wardrobe or give your home a Montana makeover. Art galleries filled with local works, cafes with surprise stashes of goodies and gifts, fine chocolatiers, and antique stores that let you bring home a piece of the old West will keep you entertained while you shop.
ICE SKATING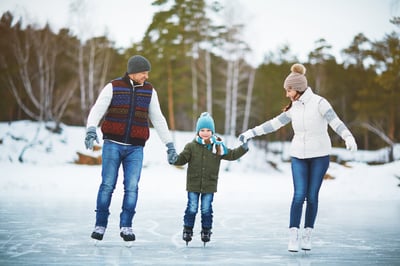 The first person to strap blades to the bottom of their boots 4,000 years ago in Finland had the right idea when they stepped out onto the ice. Get back to basics when you bundle up and head to one of the Bozeman ice rinks for a fun day on the ice. A change of pace from skiing, ice skating lets you mix things up while you get your friends and family together to enjoy the outdoors together!
The three major ice skating rinks in Bozeman are Southside Park, Bogert Park, and Beall Park. While there aren't set open and close dates, the rinks are typically maintained from mid-December to the first week of March as weather permits. The outdoor rinks in town make it easy to get out there, but you can also find your way to one of Bozeman's two indoor rinks with daily public skating times (and with skate rental onsite).
MUSEUMS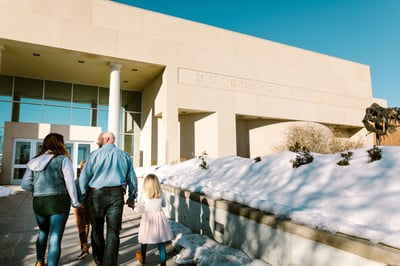 From dinosaurs to cowboys, the museums in Bozeman make a fun outing in any season. But when snow is falling, there's something even more magical about spending a cozy afternoon exploring the past at the famed Museum of the Rockies. Venture into the Taylor Planetarium to lean back in comfy reclining seats and experience space soaring over you in three dimensions. Start way back with the heyday of the dinosaurs, seeing the museum's extensive collection of bones and fossils. You can even watch paleontologists work on preparing, uncovering, and preserving specimens in real time. Wander up through time, experiencing exhibits that range from dinosaurs to Native American history and the arrival of the pioneers.
To dive deeper into that era in history, check out the Gallatin History Museum—formerly known as the Pioneer Museum—to discover the hardships that early settlers faced as they strove to make a home in the Gallatin Valley. At the Montana Computer Museum, you'll uncover a world of ancient time-keeping devices, vintage video gaming systems, and computers bigger than modern minds can imagine. The youngest explorers can plunge into interactive hands-on displays at the Children's Museum of Bozeman and Steam Lab. Programs and events make it fun to learn or go a self-guided route to engage. Get enthused to interact with history and science in a whole new way.
SLEDDING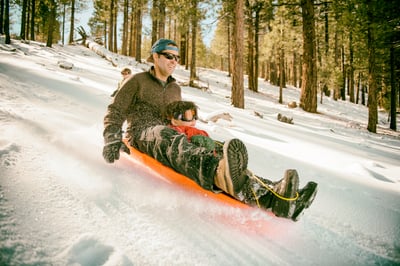 You just can't beat the feeling of flying down a steep hill, the wind in your hair, while you cling tightly to the sled under you. This is old-fashioned winter fun for your entire family. Bozeman's sledding hills amp up the action for an adrenaline rush and some time together. Some of the most popular slopes in town are at Lindley Park, Hyalite, or Dinosaur Park. You don't have to be young in age to enjoy—young at heart works just as well!
To get properly outfitted for this winter sport, you can grab inexpensive sleds at local stores, or head to a tire shop for an inner tube. The best part is, you'll be able to pull that tube out again for summer river floats. We definitely recommend bundling up a little when you hit the hill. You can't go wrong with a waterproof jacket and pants, plus cozy gloves and socks. After you've sledded your heart out, the best way to warm up is to wrap your hands around a warm cup of cocoa, and don't hold back on the marshmallows.
DINING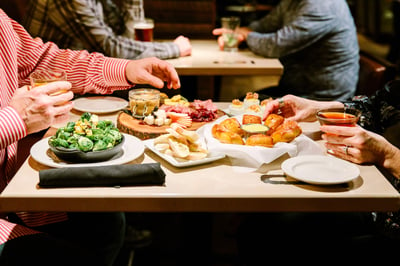 Get ready for the meal of a lifetime in Bozeman, where there's no lack of delicious dining options. You have more than 165 restaurants to pick from in this mountain town, giving you a chance to discover a spot that everyone in the family will adore. On the food scene in Bozeman, you'll find flavors that inspire a Wild West taste—with locally raised bison and chuck wagon goodies—alongside fresh-caught fish on gourmet sushi, small plates, Brazilian dishes, and mouth-watering steaks that don't scoff at the vegan fare next door. You'll be hard-pressed to pick your favorite place to eat in Bozeman
When it comes to beer, Montana owes a big portion of its history to a strong agricultural tradition of growing some of the finest grains in the nation. Montana brewers pride themselves in partnering with local farmers and producers to use Montana-grown grain when crafting their brews. If you favor a heart-warming porter or stout to warm you up in the dead of winter, then you'll find yourself at home at one of Bozeman's breweries. And if you're still hunting for your favorite spot for dinner, the breweries in town dish up some of the best eats you can find, too.
BOZEMAN WINTER EVENTS
When winter's gloom descends (okay, okay, Bozeman averages 300 days of sun per year, so gloom is relative) there's nothing quite like busting cabin fever by getting out on the town to celebrate entertaining winter happenings in Bozeman. The ever-changing calendar of events in this town brings you something new each week, with the big ones marking time as the months pass by. Check out the Bozeman events you should get on your agenda now, and get planning for fun.
HUFFING FOR STUFFING
This annual Thanksgiving Day run has years of experience uniting people to run around town in wacky costumes, helping raise money for the Gallatin Valley Food Bank. There's no better way to get back in it after you indulge in the country's favorite feast day. With the timed 5K, fun run, and 10K, you'll find something to help you get active. But if a stomach full of turkey and stuffing doesn't make you want to run for it, you can always head down just to watch the races.
BOZEMAN ICE CLIMBING FESTIVAL
In the summer, Hyalite Canyon makes a scenic stop for a picnic, boat ride, or hike. In winter, it's home to some of the best ice climbing in the world. That world renown is what brings the annual Bozeman Ice Climbing Festival to the scene. Climbers can work with pros to improve their skill, and competitors can duke it out for the top spot in the World Cup Competition. Even for those not interested in scaling walls of ice, the presentations and film festival, along with other in-town events, make for a worthwhile stop.
DOWNTOWN CHRISTMAS STROLL
The ultimate holiday-season kickoff, the Christmas Stroll in downtown Bozeman, gathers holiday cheer and festive fun together in town. You can build gingerbread houses at the Emerson Center, meet with Santa Claus for a serious powwow about this year's naughty and nice lists, and parade through town to celebrate the glittering decorations of downtown being lit up for the season. This is the time for togetherness, and the whole family will love checking out Main Street for the stroll, with shopping, food, music, and festivities all in one place!
DOWNTOWN BOZEMAN WINTER ART WALK
The final art walk of the year makes the perfect gifting stop right before the holiday season. Bozeman art galleries and retailers throw open their doors for exhibits and receptions to feature local artists. Main Street is the bright and twinkling atmosphere best enjoyed with friends and family, taking in the work of skilled artists from a variety of disciplines. This event is the perfect excuse to purchase the new centerpiece of your home, or just to brighten the long nights of winter with cheer and good times.
BRIDGER BOWL TORCHLIGHT PARADE
The torchlight procession at Bridger Bowl Ski Area lets you ring in the new year a little early. Usually held on December 30, this event gives you the perfect way to relax after a leg-burning day on the slopes. You'll find live music and a spaghetti dinner on offer to kick off the evening, with the procession and fireworks beginning around 6:00 pm. Watch the line of skiers descend from the heights of the mountain, creating a shifting line of glowing torches as they carve their turns.
POND SKIM AT BIG SKY RESORT
This Big Sky tradition is something you'll have to see to believe. A lineup of wacky costumes, some good healthy competition, and a whole lot of fun come together as scores of contestants battle it out for the top spot. As each competitor tries to make it across the icy pond on a snowboard or skis, the crowd goes crazy. See if anyone can make it to the other side without going for a swim first!
---