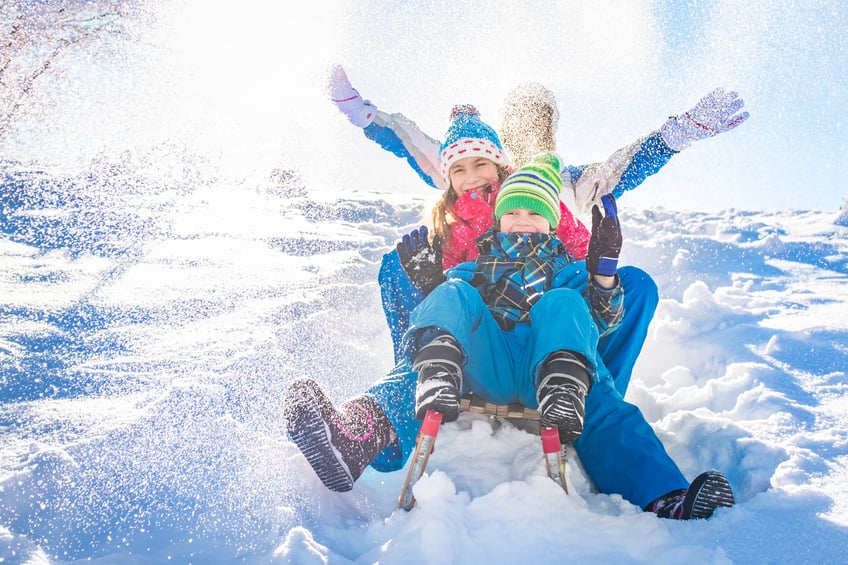 If you're looking for some old-fashioned winter fun for the whole family to enjoy, you're in luck! Bozeman has some great sledding hills, both in town and close-by. Inexpensive sleds are available at larger retailers or stop by one of the local tire shops for an inner tube. Then end the day with some hot cocoa or winter libations at one of Bozeman's cozy restaurants. For a real treat, stop by La Chatelaine Chocolate Co. for a rich cup of chocolate deliciousness. If this all sounds great so far, keep reading for a complete guide to sledding around Bozeman!
This little hill located just outside Lindley Park is a Bozeman icon. Locals will tell you about sledding back in the day when a barbed wire fence sat at the end of the hill. (Parents, don't worry, it's no longer there.) There is plenty of elbow room and a long run out, but take note, the snow gets quickly packed and can be fast! For the adventurous type, there are often man-made jumps (and some safety banks to stop you.) If the little nippers are too small for the hill, take them into Lindley park and let them glide down the gentle slopes.
(Formally Gallatin County Regional Park)
Sitting next to Dinosaur Park, a community funded park built with the help of 1,500 volunteers, is a huge mound of dirt created specifically for sledding. This popular spot has room to roam and can accommodate a lot of people. You can sled off of the front-side or the back-side with plenty of run-out. Careful though, if you get going too fast, you might end up in the pond!
As one of Bozeman's largest dog parks, this area doubles as a great sledding area, particularly for smaller children. You'll have beautiful views of the valley, a gentle incline, and plenty of pups to pet. There are benches for resting, a public toilet, and if you are bringing your dog, there are drinking fountains specially designed for your canine friends.
Home to Bozeman's first ski hill, Bear Canyon used to operate with a rope tow, a ski jump and a log cabin complete with food and beverages. Though it's no longer a ski area, those with the stamina to hike up the hill get to enjoy a long, steep sled run with few people around. This is a great place to take a toboggan, but sled with caution, you're guaranteed to pick up some serious speed on this hill!
If you enjoyed this blog, take a look at some of our other related articles: