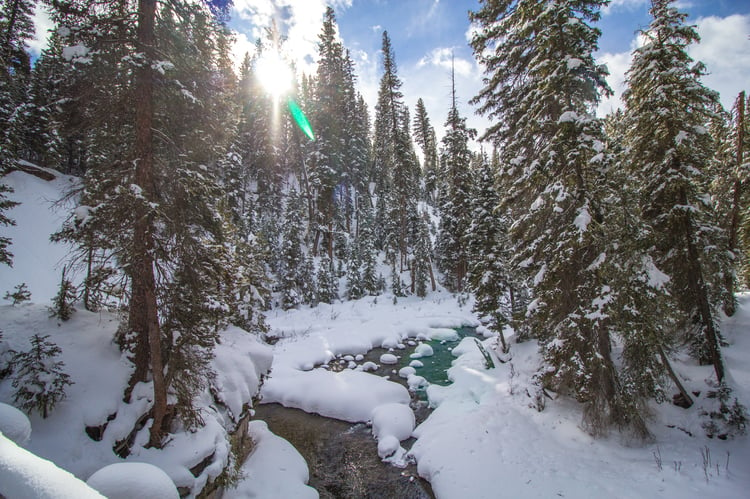 Visiting Bozeman during the winter doesn't have to be all about adrenalin filled ski runs. There is a lot to love about taking in the beautiful scenery and enjoying the simple pleasures of a snow covered mountain town. Photography is one of those simple pleasures. Capturing the solitude of snow-capped mountains at sunrise can be just as gratifying as a day on skis. Fortunately, the Bozeman area has more than its fair share of picturesque spots to fill your camera's memory card. During the winter, photographic magic can be found in the shadow that stretches across the white snow, the orange peaks at sunrise or sunset, the pillow of snow that sits on a rock in the middle of the river, or simply in the big falling flakes. But, for those of you who want to capture those iconic shots of winter in Bozeman, here are 10 spots where you are sure to get beautiful winter photos in Bozeman , in no particular order.
West Side of the Bridger Mountains
The Bridger Mountain Range sits just north of downtown Bozeman and offers some of the most beautiful scenery around, especially as the sun is setting. You can't come to Bozeman without a picture of the Bridgers.
Gallatin River
The Gallatin River became famous after all those fly fishing scenes in A River Runs Through It, but in the winter those large rocks get covered in pillows of snow that create a beautiful scene. We recommend a drive to Big Sky to take in all the twists and turns of this picturesque river.
Palisade Falls
In the winter, one of Bozeman's most popular waterfalls freezes into a tower of flowing ice. This photo might require a little snowshoeing to get there, but the view is worth it. You might even capture a few ice climbers while you are there.
Hyalite Reservoir
Hyalite Reservoir is one of the most beautiful spots in Bozeman. It's hare do beat the snow covered frozen lake looking up into the Gallatin Mountains and Hyalite Peak. For the best angle, we recommend driving across the damn to the east side of the reservoir. From that vantage point you get a great shot of the reservoir and the sharp peaks in the background.
Downtown Bozeman
During the Holiday Season the city of Bozeman strings beautiful lights and decorations across each of the intersections on Main Street. They create a beautiful scene especially when it snows. There is just something about this bustling little town with historic brick buildings, twinkling lights, and snow that make you feel like you are in a storybook.
East Side of the Bridger Mountains
If you thought the west side of the Bridgers was beautiful, wait until you see the east side. With Bridger Bowl Ski Area, Ross Peak, and Sacajawea Peak, it doesn't get prettier than the Bridgers in winter. There are plenty of spots to get a good photo along Highway 86 but to be safe, you might get off the road and try snowshoeing or cross country skiing at Bohart Ranch or Brackett Creek.
Montana State University
Bozeman still remains a college town with the state's largest university, Montana State University. Walking around campus after a good snowfall reminds you why so many young people flock to Bozeman. The campus looks amazing decked out with a few inches of snow. Be sure to snap a few pictures of Montana Hall, the iconic brick building that you see above.
Lone Peak
One of the most famous mountains in the Bozeman area is Lone Peak. Not only does Lone Peak stand out because of its shear rock faces, but it's the home to Big Sky Resort. Whether you are spending a day skiing or just sightseeing, you can't miss a photo opportunity of Lone Peak.
Paradise Valley
If you are up for a little drive, we recommend heading over the Bozeman Pass to Livingston and then heading south on Highway 89 through Paradise Valley. On one side of the valley you have the beautiful Absoroka Mountains and on the other you have the Gallatin Range. Right in the middle of the valley flows the Yellowstone River. They don't call it Paradise for nothing.
Yellowstone National Park
You didn't think we could put together a list of the best places to take photos and not include Yellowstone, did you? Yellowstone is amazing and if you have the opportunity to see the park during the winter, you need to take advantage of it. Access is limited due to road closures from all the snow and you can only get around by snowcoach or snowmobile, but the beauty and solitude of Yellowstone can't be matched.
When visiting Bozeman you need to be sure and bring your camera. There is so much to see that you will want to capture every moment. Whether you are here to ski or just to see the sights, you won't be disappointed. Enjoy your visit and take a lots of pictures.
If you enjoyed this blog, take a look at some of our other related articles: