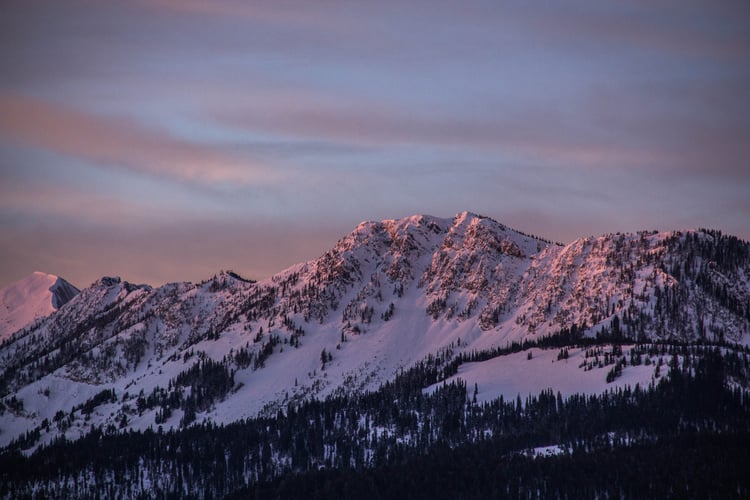 Bozeman, Montana is a beautiful place any season of the year. Surrounded by 5 mountain rangest, crisp mountain rivers, hundreds of thousands of acres of National Forest, and of course a quaint little mountain town that oozes character. Some would call it paradise. But all these discriptive words fall flat when you start to look at images of our local amenities. Even in Winter, Bozeman is an amazing place to visit and explore. If you don't believe us, just look at these 13 images from various Instagram users who have caputured the appeal of visiting Bozeman. Enjoy!
Hyalite Recreation Area
It doesn't take long to figure out that is an abundance of things to do here in the winter. Start with Hyalite Recreation Area to get our snowshoeing, nordic skiing, ice fishing, ice climbing, and maybe even a little backcountry skiing.
Ice Climbing In Hyalite Canyon
Hyalite Canyon is home to world class ice climbing. Bozeman actually plays host to the annual Bozeman Ice Festival which brings in ice climbers from all over the globe.
Majestic Lone Peak
Lone Peak is the home of Big Sky Ski Resort, one of the biggest ski resorts in North America. With thousands of acres of terrain and very few lift lines, why would you want to ski anywhere else?
The Bridger Mountains
Just northeast of Bozeman sits the Bridger Mountains. A playground of rugged peaks and national forest. This is also where you will find Bridger Bowl Ski Area and Bohart Ranch Nordic Ski Center.
Downtown Bozeman
During the winter, Historic Downtown Bozeman is lit up with beautiful lights to help celebrate the holidays. Downtown is full of great restaurants, shopping and nightlife. It's a can't miss of any visit to Bozeman.
The Boiling River
When temps get cold, try a trip to the Boiling River in Yellowstone National Park located just inside the North Entrance between Gardner and Mammoth. The water in the river is a mixture of cold moutain water and boiling hot water from a natual hot spring. They converge to create a natural place to warm up duing the winter.
Don't Miss the Sunsets
Sunsets in Bozeman are amazing year round, but during the winter the crisp mountain air comes alive with bright oranges, pinks, purples, yellows and blues. You almost have to pinch yourself to make sure you aren't in a dream.
The Skiing
We can't forget about the amazing skiing at both Big Sky Resort and Bridger Bowl. The terrain at both locations and top notch and mix that with the laid back Montana lifestyle, they can't be beat.
They Call it Cold Smoke
The snow that we get here in Bozeman gets so light and fluffy it is like skiing on frozen smoke, and has earned the name Cold Smoke. Snow is the lifeblood of the mountains durring the winter and the more the better here in Bozeman.
Amazing Views
Whether standing at Hyalite Reservoir or on the top of one of the surrounding peaks, the views in Bozeman are amazing. If you are headed to Big Sky skiing, don't miss the opportunity to ride the Lone Peak Tram to the top and take in that incredible view. On a sunny day you can see the Tetons.
Adventures With Friends and Family
The best part about visiting a place like Bozeman is the adventures you get to experience with friends and family. You truly get to create memories that will last a lifetime. Get out and explore!
The Craft Beer
The craft beer scene in Bozeman is great. With 7 breweries and growing there is plenty of unique beers to sample and cool locations to check out. And nothing beats a cold beer after a day in the mountains.
Don't Forget the Wildlife
Being surrounded by National Forest and the close proximity to Yellowstone National Park, you often encounter some of the local wildlife. Big Horn Sheep, Bison, Moose, Coyote, Elk and Deer are pretty common during the winter.
We hope that you've enjoyed a quick rundown on some of the things that make our little corner of the globe such an incredible place. There truly is so much to experience when you visit Bozeman. We hope to see you soon.
If you enjoyed this blog, take a look at some of our other related articles: