How to Have the Perfect Vacation to Bozeman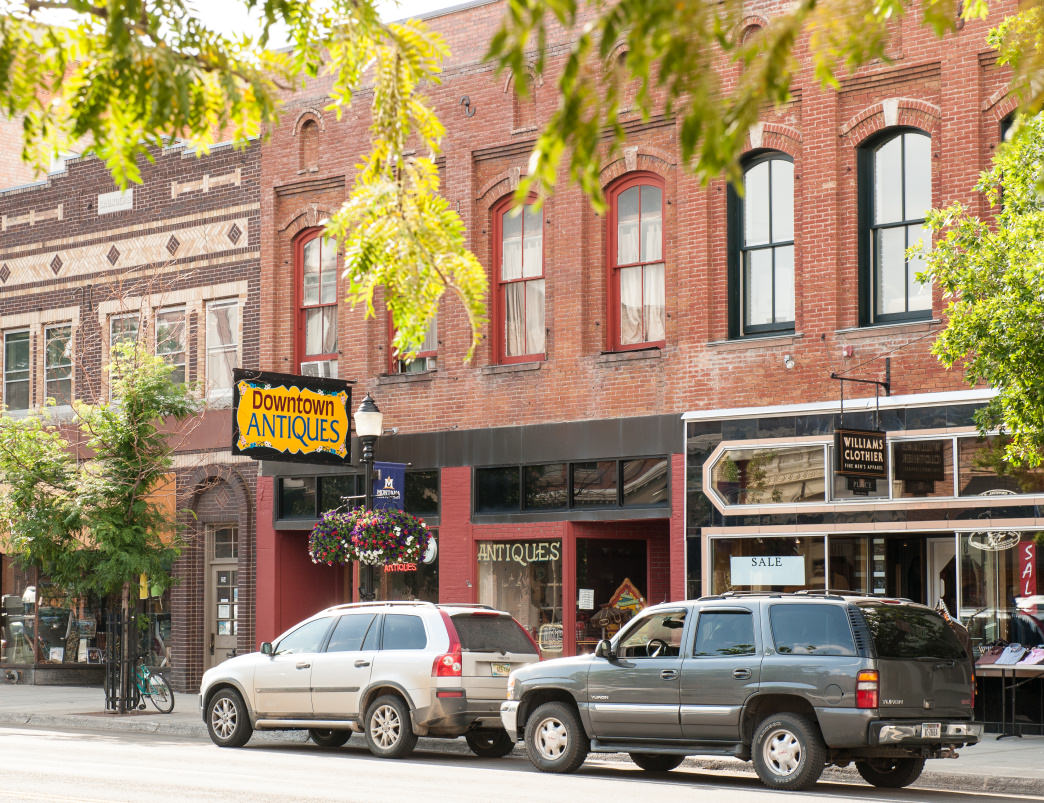 Bozeman, Montana, has seen an explosion of growth in the past decade, attracting both new residents and visitors who appreciate the mountain-town experience. Montana Office of Tourism and Business Development
The city of Bozeman is a veritable playground for adventurous souls. Located in the southwestern part of Montana, about 90 miles north of Yellowstone National Park, Bozeman features a historic downtown, thousands of acres of national forests to explore, and a vivid history. Whether your tastes lean to adrenaline-fueled outdoor escapades or simply enjoying European-style espresso al fresco amid the beauty of the mountains, Bozeman's mix of adventure and culture fits the bill.
Thanks to its combination of quality living and recreational opportunities, Bozeman has seen an explosion of growth in the past decade. The most recent (2016) census numbers place the population at roughly 47,000, though it lives much larger thanks to outlying communities. Bozeman Yellowstone International Airport is growing rapidly, adding additional flights to many major U.S. hubs and making access to the greater Yellowstone region far easier than in years past.
Driving from any direction, visitors will be treated to postcard-worthy scenery—Yellowstone to the south, the Great Plains to the east, and the heart of the Rocky Mountains to the west and north. In 2017, the state of Montana saw an impressive 12.2 million visitors, many of who find their way to booming Bozeman. Here are a few of our best tips for having the perfect vacation here.
Spend Some Time Outside
For many, the lure of outdoor adventure is what draws them to Bozeman. Hikers will find many options close to town, ranging from leisurely strolls in the woods to hardcore, peak-bagging adventures. Skiers will also find plenty to entertain themselves: Bridger Bowl is only 20 minutes from town and is affectionately known as the "local's hill," with a relaxed, cool vibe. Big Sky Ski Resort, less than an hour away, is bigger, busier, and fancier. The two resorts each create their own unique worlds. Give them both a try and see what feels like home.
Mountain bikers and whitewater enthusiasts will find plenty to love around town. The area boasts a variety of mountain bike trails for riders of all levels, and Bozeman is home to a thriving community of whitewater kayakers, rafters, and even stand-up paddleboard enthusiasts. Foul weather preventing your adventure? Head to the Spire Climbing Gym and log a workout while mingling with some of Bozeman's elite athletes. Stop by one of the many outdoor stores in Bozeman (Schnee's, Chalet Sports, and Roundhouse Sports are all locally owned and in or near downtown) for the latest information on trail conditions, recommended gear, and favorite local haunts.
It's hard to walk more than a block in town without noticing the fly-fishing stickers on vehicles. With the famed Gallatin, Madison, Missouri, Yellowstone, and other trout-laden rivers close by, Bozeman has become a veritable fly-fishing mecca. Venture out on your own or hire a guide for a day of wade fishing or a drift-boat trip, which allows access to water only fishable from a boat. Local shops (like River's Edge or Montana Troutfitters) can organize guides and advice on current water conditions.
Stick Around Town
It's quite possible to have a stellar vacation in Bozeman without ever breaking a sweat. A wide variety of in-town opportunities are ideal for tired kids who just aren't quite up for an outdoor adventure or adults who want to explore local culture. The Museum of the Rockies is home to one of the largest dinosaur fossil collections in the world, and it features a variety of hands-on activities and exhibits for kids of all ages. The Children's Museum boasts interactive learning opportunities for younger children, while history buffs will enjoy a stop at the Gallatin Historical Museum. Bozeman's wealth of playgrounds (check out Dino Park at the Gallatin County Regional Park) will help burn off a bit of energy before you venture back into town for dinner.
Check Out the Food Scene
Thanks to its booming economy, international community, and entrepreneurial spirit, Bozeman boasts a dining scene that far exceeds expectations of a town this size. The downtown district is the heart of it all, home to eclectic international restaurants, hearty Americana fare, and fine steakhouses. Explore Montana Ale Works (ask for the off-menu parmesan fries), The Garage (the soup bar in the winter is a local favorite), MacKenzie River Pizza, Rice (Japanese, and a bargain for hearty lunch specials), and Main Street Overeasy (the go-to for hearty pre-adventure breakfasts).
Looking for something a little lighter? Wild Joe's Coffee Spot makes the best espresso downtown and showcases the art of a new local artist every month. Grab a breakfast burrito to go, a homemade pastry for later, and a large specialty espresso drink. Just across the street, Copper Whiskey Bar serves up an impressive 125 varieties of whiskey along with quality food. Bozeman is also home to a booming microbrewery community: MAP Brewing, the Bozeman Brewing Company, 406 Brewing, Bridger Brewing, and Mountains Walking Brewing are all worth a stop. Not a fan of beer? Lockhorn Cider House serves up homebrewed cider in a cozy, earthy building.
Whatever draws you to Bozeman, it's almost guaranteed you'll find something about this mountain community that surprises you. Perhaps it's the quality of the handmade chocolates at La Chatelaine Chocolat Co. Or maybe it's the ever-increasing community of local boutique hotels (explore The LARK and its on-site taco truck). Or maybe it's simply the warmth of the locals you meet on your new favorite hiking trail. Whatever draws you to Bozeman, cherish it. Take a deep breath, look at the mountains and marvel at the big sky. The locals do.
Written by Jess McGlothlin for RootsRated Media in partnership with Bozeman Tourism.
If you enjoyed this blog, take a look at some of our other related articles at Bozemancvb.com:
In our never-ending quest to keep up with all things new in Bozeman, we have been producing content for years and can't possibly update every blog when new businesses open or existing businesses close. Please reference the publish date and do your own due diligence when making plans.