Iconic Bozeman: The Local Ski Shops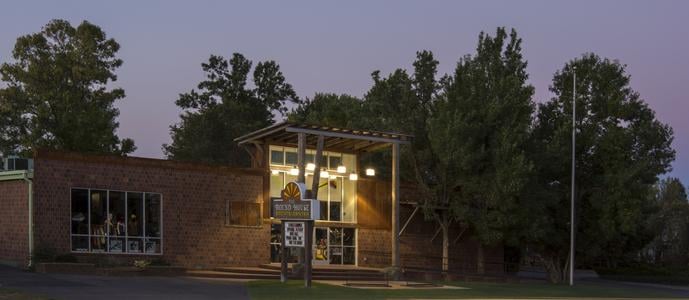 Skiing and Bozeman are like peanut butter and jelly. In the early 70's, serious skiers discovered Bridger Bowl's steep chutes, light and dry powder, sunny days and laid back attitude. True mountaineers were drawn to the area, carving fresh tracks in unexplored territory. With this wave of skiers, came the need for ski shops. Not just ordinary ski shops, but serious ski shops. Which is exactly what happened. Today, a handful of these local ski shops are still thriving, and are known for their deep expertise and extensive product knowledge; and they are still full of passion for the outdoors.
One of the longest running ski shops in Bozeman, Round House opened in 1970. Owner Larry Merkel, then an MSU student and Round House employee, helped open the business and within the first year Merkel bought in and eventually took over the store. He and his wife Rita are still active in the business while their children handle the day to day operations.

Fun fact: Designed by Montana State University architecture students, the original building was actually round.

Marinna Merkel, the youngest daughter and co-manager, along with her brother, talks about the growth of both the business and the community. "Over the years, even as the store and our customer base has grown, we've stayed true to our roots. We have a real old-school, local feel, and when visitors walk through the door, it's almost like walking back in time--which is a good thing."
Round House is known for their strong product knowledge, master boot fitting and fine ski tuning. A second location at Bridger Bowl focuses mainly on rentals, but you can also get a basic tune and key soft goods.

In the summer, the focus shifts to biking and boating, but their business philosophy stays the same.

Merkel explains, "Skiing isn't a need. Fundamentally, we're sharing our passion with people, and that's what makes business fun."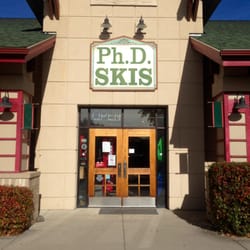 When Kevin Wiesner started Ph.D. Skis 33 years ago, everyone told him there wasn't room for another ski shop. Wiesner's answer was simple, "If you're good, there's plenty of room." Ph.D. Skis quickly developed a reputation for being the "hard-core store," known specifically for their expert boot fitting. "If you don't fit boots, you might as well not be in the ski business," Wiesner says. He goes on, "A woman came in the other day to get skis. I looked at her boots and said, 'Your boots are too big.' She looked at me funny, but when I measured her foot, her boots were two sizes too big."
Wiesner explained that when you put on a boot, your toe should touch the front of the boot, otherwise when they get packed out, they will be too big. "Most everybody who buys boots online buys them too big. When we adjust skis, 90% of the time we're making the bindings smaller," he said. He goes on, "Skis are the eye candy, boots are the blood and guts in skiing; without a good boot you can't do anything."

That said, their expertise extends far beyond boots. These skiers live the sport. Wiesman himself skis 80 days of the year. "Tuesday, Wednesday and Sunday," he says. "the rule here is everyone has to ski or you get fired."

Chalet Sports is the quintessential ski shop. In 1952, Gus Gnehm, a Swiss gentleman, built an A-frame building, similar to the chalets in Switzerland. His focus was selling high quality, top-of-the-line-skis. Though the location and ownership has changed, the philosophy still remains. In 1977, Larry and Rita Merkel (same owners as Round House) bought the business and continued to build their clientele. Chalet Sports and Round House are now the longest running ski shops in Bozeman.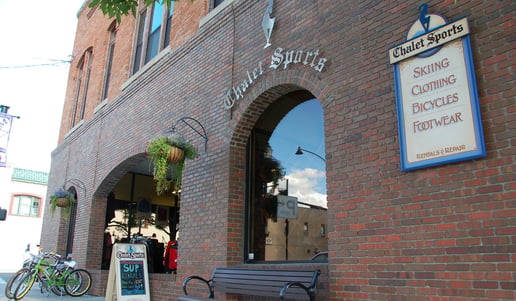 Though the stores share the same owner, they are bothoperated by family members; Chalet being run by daughter, Jennifer Merkel, along with Tom Czech. Czech, though not family, very well could be given his duration of employment.
Today, Chalet Sports is located on Bozeman's Main Street. Their focus is high quality, niche product with unique brands in skiing, biking and clothing. Their soft goods are particularly sought out by locals and visitors alike. "We try to keep it fresh," Czech says, "we don't always go to the same ski shows as other shops, we try to pick some unique things."

The strategy is working. While local ski shops, (and even some ski hills) around the country have closed, Bozeman's ski market is growing. Czech attributes part of this to the snow, part to the thriving downtown and part to the increased air service to Bozeman.

Another factor is employee knowledge. "The people who work here are extremely knowledgable," Czech explains. "Some have been here for 10-15 years and use the products they sell. We have a really strong focus on customer service."

In 1979, Chris Saboda started working at Bangtail Bikes and XC skis and a year later he bought the business, which is still going strong. Voted Bozeman's Best Bike Shop in 2017, their Nordic equipment and rentals are the heart of their winter business. Amber Hoadley, Floor Manager, attributes their success to the employees, who have over 150 years of combined experience.

The shop is now located in downtown Bozeman, ironically housed in a historic building. Hoadley explains the roots of the name Bangtail. Traditionally, the word referred to a race horse whose tail had been "banged," or cut short. It's also the name of the Bangtail Range, a beautiful mountain range outside of town. The range was given the name based on the story of a pair of brothers who pastured their horses in the area. It's said that one of the brothers banged the tails of his stock to tell them apart from his brothers horses.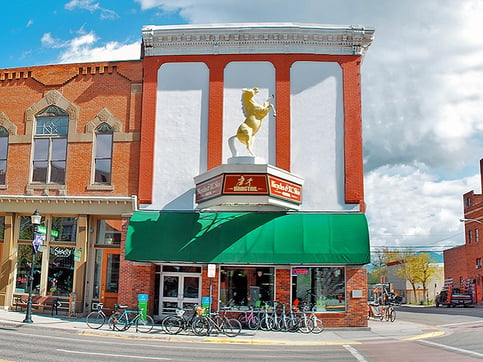 The irony of this story is when the business moved downtown, the building sported a revolving horse on the second floor exterior; one of a handful left in the United States. The iconic horse, "Jubilee," has withstood someone trying to shoot it with an arrow, a college kid who tried to climb it, (causing it to fall off the building), and the changing city codes of downtown signage.
Hence, you won't be hard pressed to find this gem of a business, just look for Jubilee!
Long story short, you won't find a bad ski shop in Bozeman. What you will find are unique personalities, a variety of brands and a passion for living and playing in this unique neck of Montana.
If you enjoyed this blog, take a look at some of our other related articles: