Bozeman's Ski Area Comparison: Bridger Bowl and Big Sky
There is no doubt that Bozeman offers some of the best skiing in the United States, North America, and even the world. Bozeman has been named to National Geographic's list of The World's Best Ski Towns due to its proximity to Big Sky Resort and Bridger Bowl, plus a variety of backcountry skiing opportunities available in the surrounding National Forest. While you can find incredible skiing at Bridger and Big Sky, each has a unique vibe and different amenities (or lack thereof) to offer. Big Sky Resort is a full-service resort offering lodging options, dining, nightlife, shopping, and other activities beyond skiing⸺similar to the big-name resorts you find in Colorado and Utah. Bridger Bowl is a community-based non-profit ski area that provides a pure skiing experience without lodging, fine dining, and shopping. The skiing at both is fantastic, but we thought we would break them down in more detail to help you get a feel for each option.

Big Sky Resort
Skiable Acreage: 5,850 acres
Top Elevation: 11,166 ft
Vertical Drop: 4,350 ft
Lifts: 36 total lifts
Annual Average Snowfall: 400+ Inches
Distance from Bozeman: 50 miles


Big Sky Resort has proudly positioned itself as the "Biggest Skiing In America," meaning that it offers the most skiable acreage of any resort in the United States. Whether you're a beginner or a serious athlete, Big Sky offers an excellent mix of green, blue, and black runs⸺truly something for everybody. Boasting 1,800 chairs and the ability to transport 42,000 skiers per hour, its lift system is composed primarily of high-speed chairlifts, including the brand-new Ramcharger 8, North America's first high-speed eight-person lift. Always looking to upgrade its amenities and provide a complete luxury experience, Big Sky recently renovated its Summit Hotel (including the in-hotel restaurant, Peaks Chophouse) and opened the glass-enclosed Umbrella Bar on the adjacent property. More in-the-works updates expected to be completed in 2025 include a brand new tram; a two-stage, glass-enclosed gondola; two mid-mountain food and beverage complexes, and an on-mountain teaching center. Big Sky's ongoing efforts to meet and exceed skier demand both on and off the mountain make it a true destination resort for every type of skier.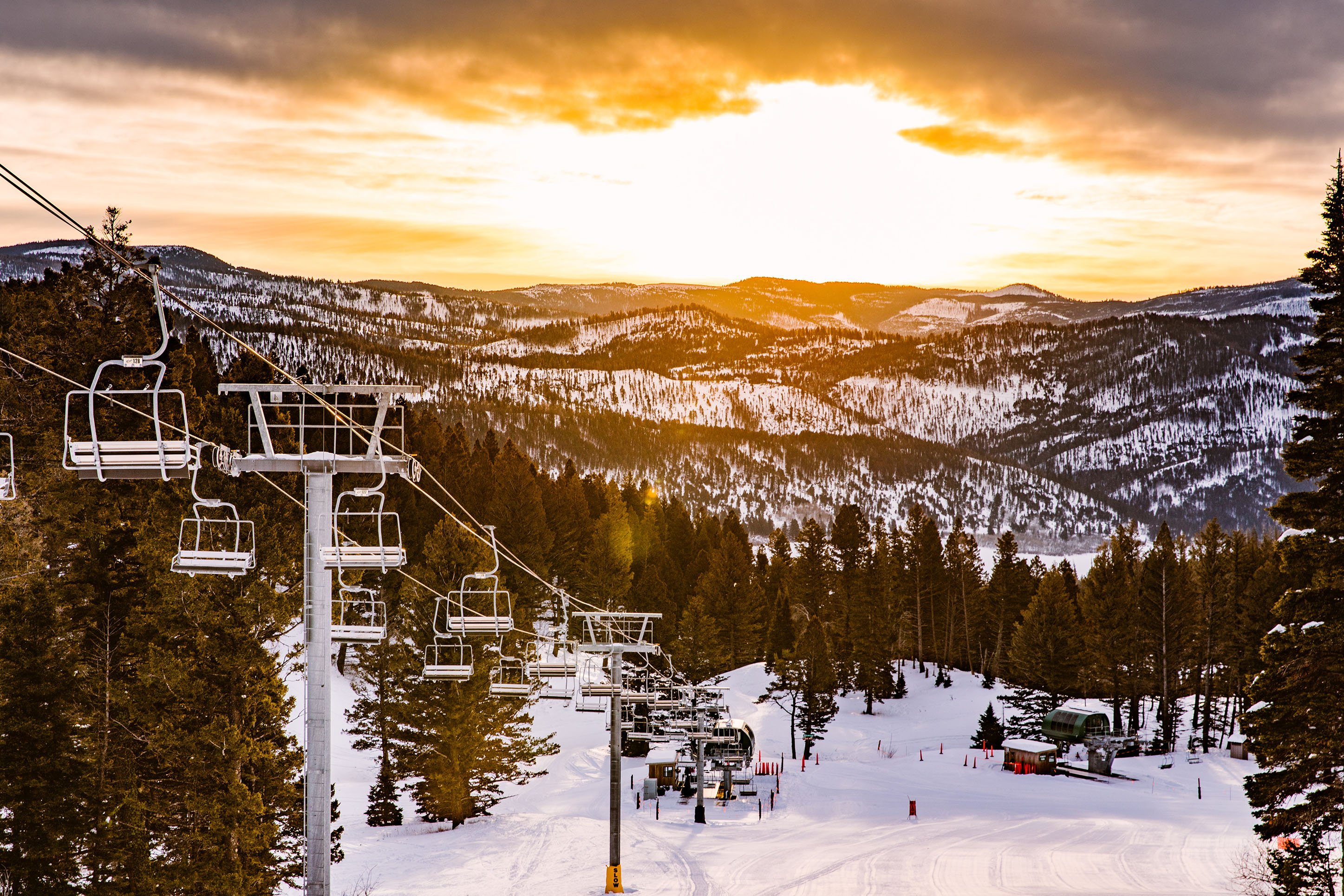 Bridger Bowl
Skiable Acreage: 2,000+ acres
Top Elevation: 8,800 ft
Vertical Drop: 2,700 ft
Lifts: 11 total lifts
Annual Average Snowfall: 350+ Inches
Distance from Bozeman: 17 miles


What Bridger Bowl lacks in high-speed chairlifts, it more than makes up for in character. Only 17 miles from Bozeman, Bridger is a non-profit ski area that is very family-friendly and community-minded but still offers some of the best terrains in North America. A locals' favorite, Bridger can also be much more accessible to your everyday skier, not only because it's so close to town. In fact, the area was recently included on the Wall Street Journal's list of only four "World Class Ski Resorts That Don't Cost A Fortune." Improvements to its lift system in the last couple of years have helped to spread out crowds across the upper mountain with various terrain. Beginners will love the Alpine lift, intermediate skiers can find plenty of options on Pierre's Knob or Powder Park, and experts will enjoy pushing their abilities on the Bridger lift. Looking for more of an extreme experience? Head to Schlasman's lift or hike up to the Ridge: both locations require an avalanche transceiver and should only be skied by experts. Future expansion plans at Bridger Bowl include additions to parking, lodging, lifts, and terrain.
Bozeman residents and visitors are lucky to have both of these winter wonderlands in our backyard. It's hard to go wrong with either ski resort, and if you're planning a ski trip to the area, we recommend you use Bozeman as your base camp and make time for both. To learn more about restaurants, shopping, and activities you can enjoy during your off-mountain time in the Gallatin Valley, download our Visitor's Guide below, and we'll see you on the slopes!
In our never-ending quest to keep up with all things new in Bozeman, we have been producing content for years and can't possibly update every blog when new businesses open or existing businesses close. Please reference the publish date and do your own due diligence when making plans.