A Beginner's Guide to Skiing in Bozeman, MT
Bozeman, MT is a hot spot for those looking to shred the famous "cold smoke" snow on a pair of skis. And while the area draws many pros and Olympic team alumni, that isn't most of us. Bozeman is incredibly welcoming to new skiers and skiers who are new to this terrain. In this welcoming spirit, we put together a guide with everything you need to know about skiing in Bozeman as a beginner.
The Draw
First, it's important to understand what's different about skiing in Bozeman compared with other places in the world. Bozeman is known for its dry, weightless snow, producing what locals call "cold smoke" – an airy trail of white powder that follows skiers as they zoom down the hill. It makes for a playful, novel skiing experience even for seasoned skiers. Bozeman also provides access to tons of options for skiing, with a downhill ski resort and a nordic ski area just 30 minutes from downtown, and tons of backcountry opportunities just outside the city. Not to mention, the scenery here is breathtaking no matter where you are or how experienced you are. You'll see snow-covered mountain ranges in every direction you look on a sunny, bluebird day.
Types of Skiing
It's important to first identify what kind of skiing you want to try, as it will determine what kind of gear you need and where you'll go. There are many types of skiing you can do around Bozeman, but for beginners, we'd recommend downhill skiing or cross-country skiing. Downhill (also called alpine) skiing is the most common type of skiing because it's relatively intuitive, accessible and easy to learn. It usually involves hopping on a lift at a ski area like Bridger Bowl, riding up to a high point, and then skiing down groomed snow to a stopping point. People new to downhill skiing will want to start with smaller hills, often called "bunny hills," to get comfortable with navigating on skis and stopping safely.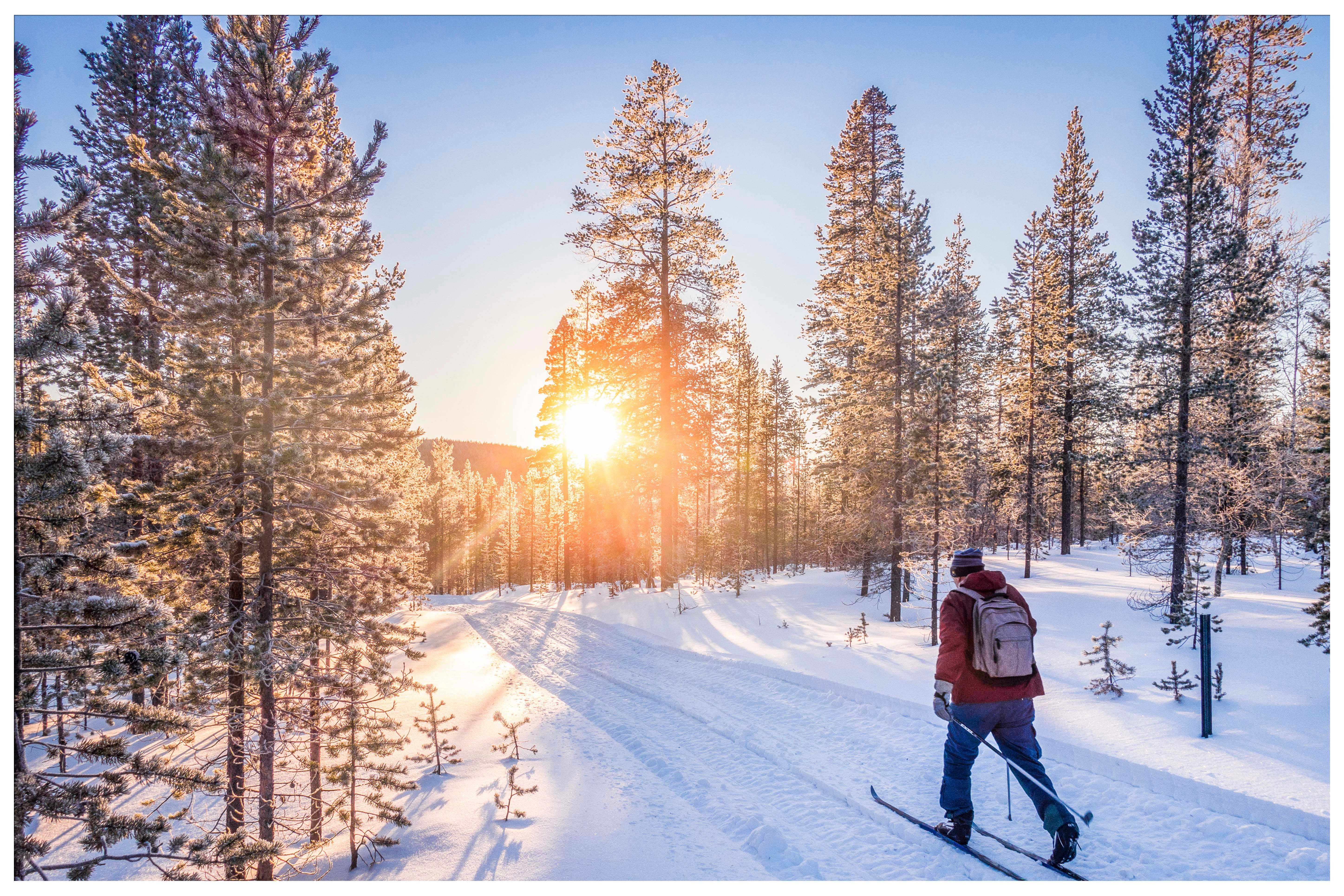 Cross-country skiing, on the other hand, relies on you to propel yourself forward, as opposed to ski lifts and gravity pulling you downhill. Cross-country skiing is often done on trails (the same ones used for hiking, in many cases) with much more mild hills, gliding across the snow with a motion similar to ice skating or running. Unlike downhill skiing, cross-country skiing is a more cardio-intensive sport, great for skiers who are afraid of heights or a bit unsure about bombing down a mountain. You'll find 45 kilometers of pristine trails at Crosscut Mountain Sports Center, right next to Bridger Bowl.
The Stuff You'll Need
Once you decide which type of skiing is for you, you'll need to get the right gear for it. There are countless outfitters in Bozeman that will fit you with the right stuff for your size and level of experience, and rent it to you for one or several days.
If you're downhill skiing, you'll want skis with fixed-heel bindings, boots, and ski poles. A helmet is highly recommended for safety, as well as goggles, which will benefit your vision. When it comes to clothing, warmth is key. You'll need a ski jacket and pants that are insulated as well as waterproof and wind-resistant. Tall, warm socks and insulated, waterproof gloves are necessary as well.
For cross-country skiing, you'll also need skis, bindings, boots and poles, but of a slightly different variety, optimized for this type of skiing. Generally, everything is a bit slimmer and lighter in weight. Unlike with downhill skiing, you won't necessarily need a helmet and goggles, as you'll be moving slower and subject to less danger of falling. And because you'll be working harder to propel yourself, you'll want to wear lighter, breathable clothing so you don't get too hot. However, you'll still want it to be relatively water- and wind-resistant.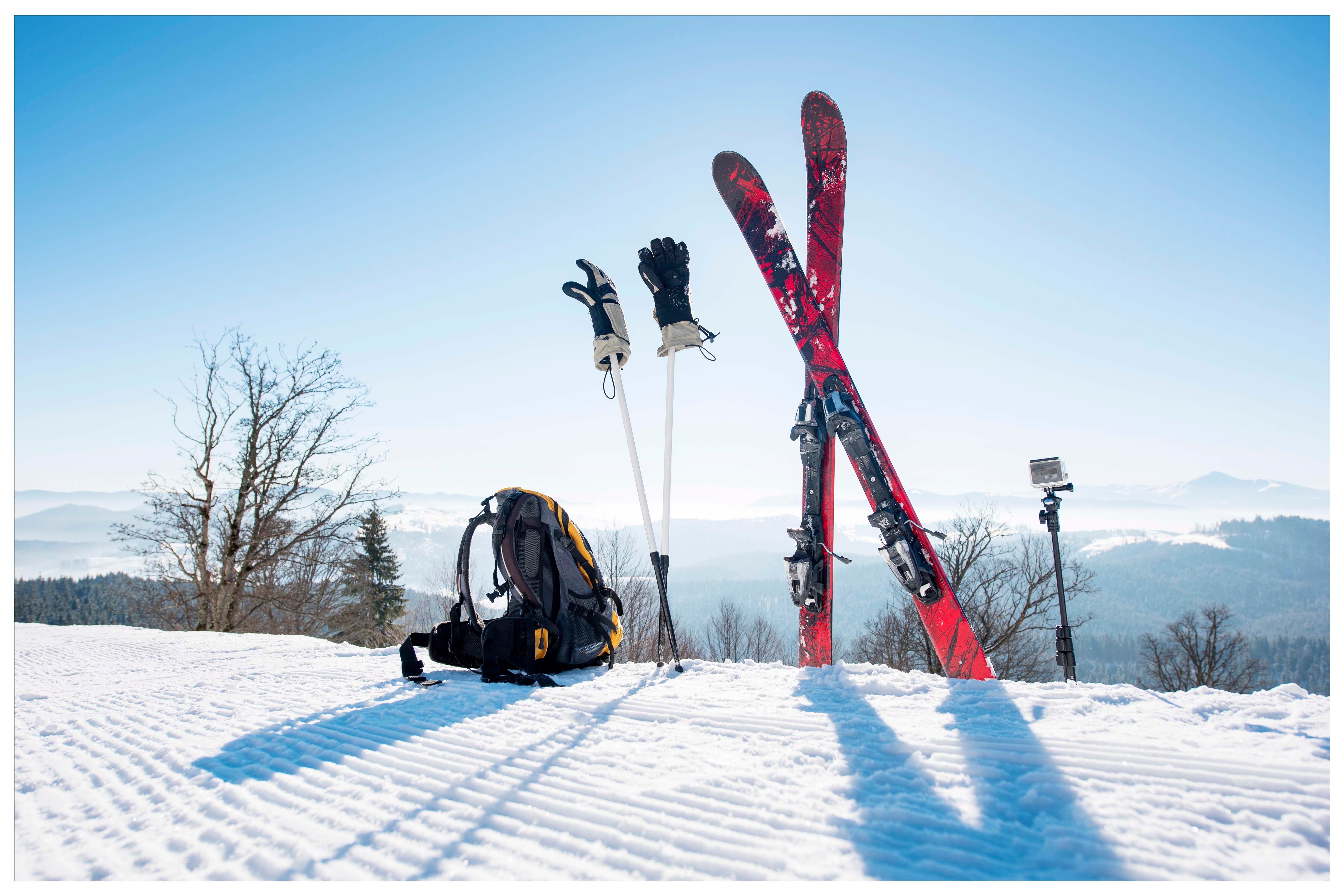 In either case, layering is always a good idea. Weather can change rapidly in the mountains, so wearing multiple layers allows you to stay comfortable regardless of the temperature.
Outfitters in Bozeman and at ski areas like Bridger Bowl and Crosscut have extremely knowledgeable staff. If you let them know what kind of skiing you intend to do and that you're a beginner, they'll make sure you have everything you need.
Classes for Beginners
A little bit of beginner's instruction can go a long way in making a new activity enjoyable. Bridger Bowl offers private and small group lessons for downhill skiing that earn you discounts on rental gear as well as lift tickets. For new cross-county skiers, Crosscut Mountain Sports Center offers private and group lessons as well, with discounted skis available. Head to their websites to reserve a class for yourself or a group.
Plan Ahead
With the presence of COVID-19 this winter, many of the popular ski areas are making changes to promote social distancing and reduce the chance of spreading the virus. Because of this, it's all the more important that you do your research and plan ahead. Bridger Bowl, for example, is requiring reservations for all visitors and pass holders this year, so make sure you purchase your ticket and reserve your spot online in advance. At most ski areas, lodges and cafeterias will be closed, and group sizes will be limited. Look into COVID-19 regulations at each area before visiting so that your days on the slopes and trails will be smooth and stress-free!
If you enjoyed this blog, take a look at some of our other related articles:
In our never-ending quest to keep up with all things new in Bozeman, we have been producing content for years and can't possibly update every blog when new businesses open or existing businesses close. Please reference the publish date and do your own due diligence when making plans.