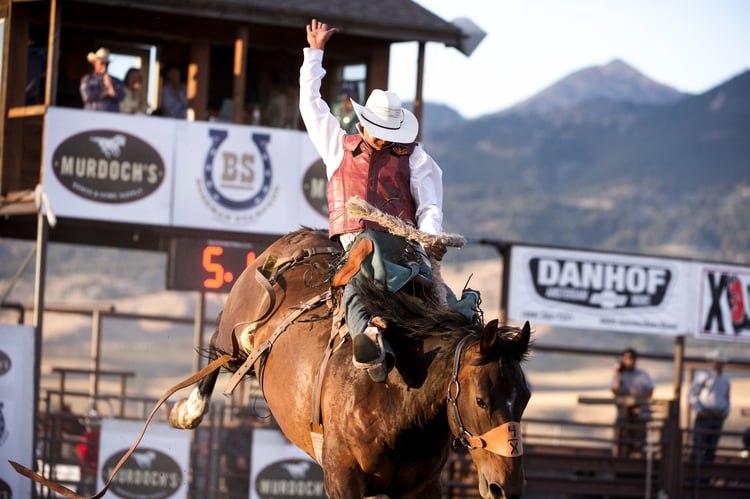 Rodeos and Montana go together like peanut butter and jelly and summer around Bozeman is rodeo season. Bozeman hosts its own rodeo, the Bozeman Stampede for one weekend, but there are plenty of other rodeos around the area to check out. Plus, small town rodeos can really be a blast because the whole town gets excited for their annual chance to show off their Montana heritage. Here are a few of the best Montana rodeos near Bozeman to put on your calendar.
Livingston Roundup PRCA Rodeo
July 2nd - 4th
Livingston, MT
One of the most popular rodeos in the state, the Livingston Roundup starts with a parade through downtown Livingston on 4th of July weekend. People come from all over the state to enjoy this one. Book your tickets early because they usually sell out each year.
Tickets: (406) 222-3199
More Info: livingstonroundup.com
Ennis 4th of July Rodeo
July 3rd - 4th
Ennis, MT
Another fun 4th of July rodeo is located just west of Bozeman in the heart of the Madison Valley, in Ennis. This event has been going on since the early 1950s and is sure to bring out the whole town of Ennis.
Tickets: At The Gate
More Info: ennischamber.com
Three Forks NRA Rodeo
July 14th - 15th
Three Forks, MT
Three Forks is located right down I-90, just west of Bozeman and offers a great small town atmosphere. Their annual rodeo is a favorite of Bozemanites looking to get out of town for a night and enjoy a classic Montana rodeo. We recommend making a night of it and stopping by the Sacajawea Hotel for dinner. The food and drinks are amazing.
Tickets: At the Gate
More Info: threeforksrodeo.com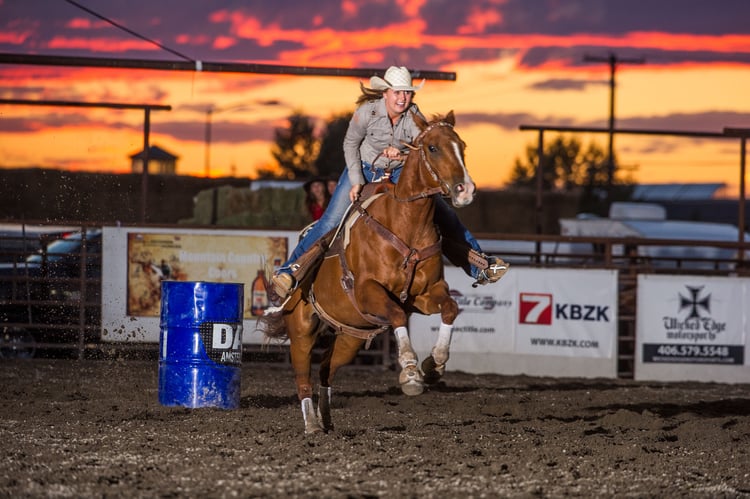 Last Chance Stampede PRCA Rodeo
July 27th - 29th
Helena, MT
This award winning rodeo is located at the Lewis and Clark County Fairgrounds in Helena, about an hour and a half drive from Bozeman. Expect to see good broncs and bulls and an entertaining atmosphere.
Tickets: (406) 457-8516
More Info: lastchancestampede.com
Big Sky PBR
July 28th - 29th
Big Sky, MT
This is quite the fun night with bull riding, live music, and some great cowboys. The Big Sky PBR has won Event of the Year four years in a row. We highly recommend the hour drive to Big Sky for this fun event.
Tickets: Available on Website
More Info: bigskypbr.com
Livingston Classic PBR
August 5th
Livingston, MT
A one night only bull riding event located in Livingston, Montana. This high energy event is usually packed and a great time. Swing into the Rib & Chop house afterwards for a delicious dinner.
Tickets: Available on website
More Info: livingstonclassicpbr.com
Bozeman Stampede PRCA Rodeo
August 10th - 12th
Bozeman, MT
Bozeman's own rodeo event is the Bozeman Stampede held at the Gallatin County Fairgrounds. This has been one of the fastest growing rodeos in the state and has won multiple awards. The event benefits local youth rodeo organizations and the rodeo team at Montana State University. It is very entertaining with great stock, great cowboys, and a fun atmosphere. We can't recommend this rodeo enough. Be sure to check out their website for news, information, tickets and more.
Tickets: Available on Website
More Info: bozemanstampede.com
If you are in Bozeman around any of these rodeos, take some time and check them out. Rodeos are a part of Montana's culture and once you attend one, you will see why. Each rodeo is a chance for local communities to share a piece of their agricultural heritage with guests. They are a chance for friends to get together and have some fun, and they are a chance attendees to have an authentic western experience.
If you enjoyed this blog, take a look at some of our other related articles: