3 Easy Hikes in Yellowstone
There are hundreds of miles of trail for hikers of all abilities in Yellowstone National Park. So you don't need to lace up your boots and pick up your pack for a multi-day backpacking trip in order to take advantage of the trails. Here are three of the best easy hikes in Yellowstone National Park.
Storm Point
The Storm Point trail is a relatively level 2.3-mile loop hike that starts at the north end of Yellowstone Lake. The gentle path takes you through open meadows along Indian Pond—with plenty of wide-angle views of the lake and surrounding mountains—before heading into mature forest.
This is a great place to spot wildflowers and wildlife. So good, in fact, that you should be sure to check in advance for trail closures relating to bear activity, especially in the late spring and early summer. And be sure to make plenty of noise and carry bear spray as you hike here and anywhere in the park. A large colony of yellow-bellied marmots calls the rocky area of Stone Point home, so you have a good chance of spotting one on the walk.
Trailhead: Indian Pond trailhead at the north end of Yellowstone Lake
Distance: 2.3-mile loop
Elevation gain: 83 feet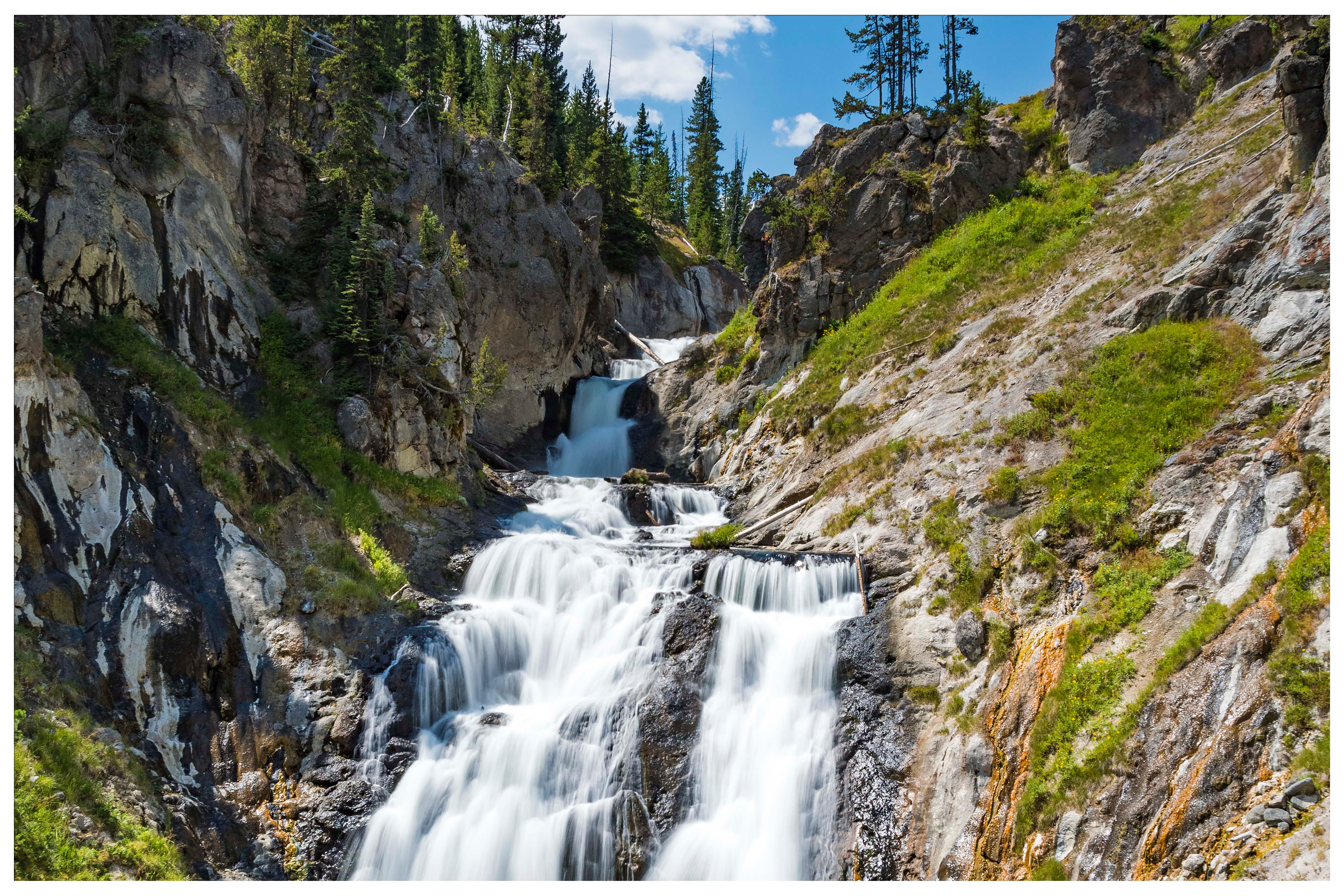 Mystic Falls
Expect to spend a few hours on the Mystic Falls hike, which will give you ample time to traverse this 2.4-mile out-and-back trail while taking time to stop and smell the wildflowers and take plenty of photos.
This waterfall is unique in Yellowstone because you can often see the geothermal activity as steam rises from several points along the 70-foot falls. You have the option to make this hike a loop if you're feeling energetic, taking the right fork that leads up several steep switchbacks—gaining 500 feet of elevation in just half a mile—to enjoy a view of distant Old Faithful. Or you can stick to the more gradual incline by just going to and from the falls.
Trailhead: Biscuit Basin Boardwalk
Distance: 2.4 miles out and back
Elevation Gain: 500 feet
Grand Prismatic Overlook
The view of Grand Prismatic Springs from the boardwalk is an up-close look at one of the park's most captivating geothermal areas. It's pretty hard to beat strolling a wooden path that sits just inches above such an amazing natural feature. But you'll notice that most of the picture-perfect postcard views are taken from above to get the full scope of the vividly colored springs. A hike to the Grand Prismatic Overlook is the best way to get that view.
This 1.2-mile out-and-back hike gains 105 feet in elevation, so it pays to take your time on the walk. It departs from the Fairy Falls parking lot, just south of the Midway Geyser Basin, which is where you access the Grand Prismatic boardwalk.
The trail climbs through sparse trees, giving you peaks of the springs as you make your way to the overlook, where you can take in the spreading rings of color from above. Parking is pretty limited, so this is a good place to visit on off-peak times. Keep in mind that the trail won't open until late May, as a bear management closure.
Trailhead: Fairy Falls
Distance: 1.2 miles out and back
Elevation gain: 105 feet
#PlanYourEscape #VisitBozeman #PlanNowVisitSoon


If you enjoyed this blog, take a look at some of our other related articles:
In our never-ending quest to keep up with all things new in Bozeman, we have been producing content for years and can't possibly update every blog when new businesses open or existing businesses close. Please reference the publish date and do your own due diligence when making plans.