Iconic Bozeman: Country Bookshelf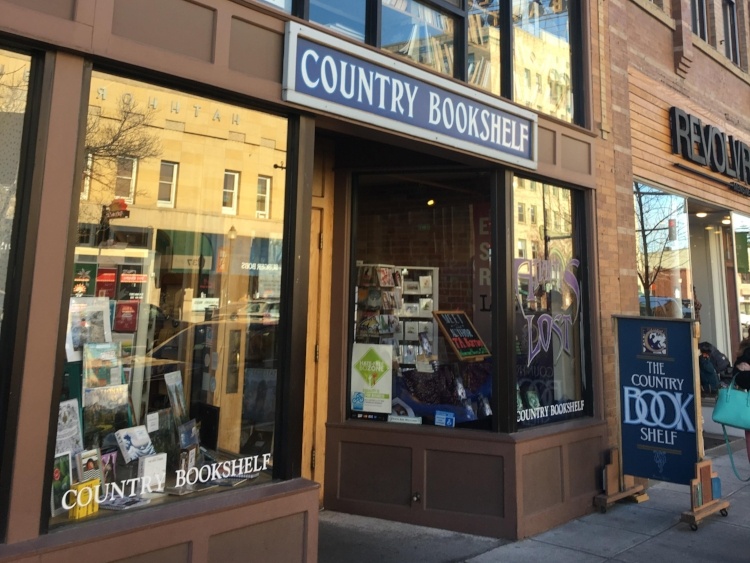 I have a special place in my heart for bookstores. When I was young, I had a real concern about the world running out of books and music. I had to rationally remind myself that as long as people kept writing, we wouldn't run out. I love to peruse the titles, read the back cover and check out the author. I don't always find something I can't live without, but am thrilled when I do.
Later in life I worried online giants and downloadable books would take market share and the local bookstores wouldn't survive. Fortunately, they are, and Country Bookshelf in Bozeman, MT is one of them.

This year marks their 60th anniversary, and the store is thriving. The owner, Ariana Paliobagis bought the store nearly seven years ago having already worked there for several years. After obtaining her graduate degree, she began teaching at Montana State University and simultaneously working at the bookstore. "The bookstore was stimulating," she says. "it was always something different. I realized I needed to pick a path and so I asked myself, 'Where do I want to go every day?' "

Ariana is now the 3rd generation of owners, all women.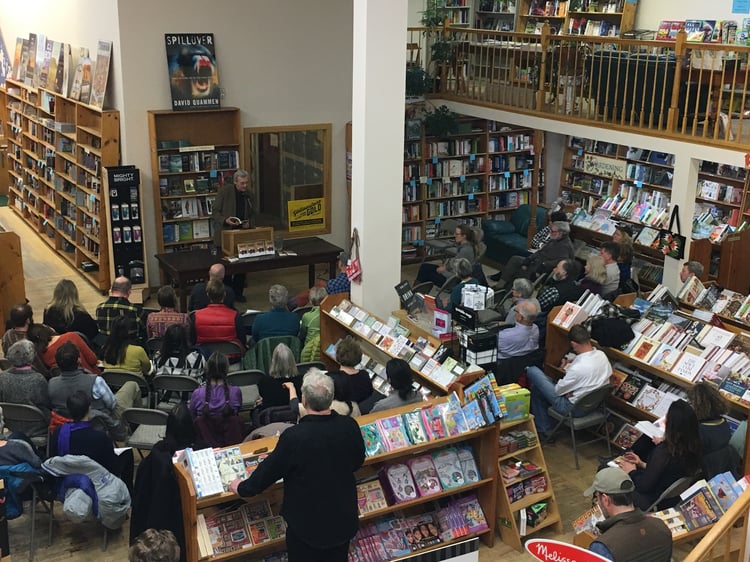 I asked her how she has remained successful through the changing retail climate of bookstores. "We've had to stay nimble and adaptable over the years. We had to find things that weren't online," Ariana explains. "Staying connected with the community is how independent bookstores have weathered the storms."

Being connected to the community is exactly what Country Bookshelf has done.The store works with non-profits, schools and libraries and whether it's donating books, supporting events or bringing in an author, a portion of the proceeds go toward local organizations. "We do a lot with the Library Foundation," she says. This summer, the bookstore has increased their community support by hosting more fundraisers, giving organizations more opportunities to tell their story. "One year we had Heart of the Valley Animal Shelter bring puppies and kittens to the Christmas Stroll," she remembers. (Who wouldn't love seeing a window full of puppies?)

The writing community is strong in Bozeman where most authors know and support one another. The Montana Society of Children's Book Writers and Illustrators have their monthly meetings at the store, and local authors can submit their books to be carried in stock. The bookstore also hosts writing workshops. "People see us as a place to meet other people, other authors," she explains. "It's a great space and a great way to use it." She goes on, "We're nothing without the community."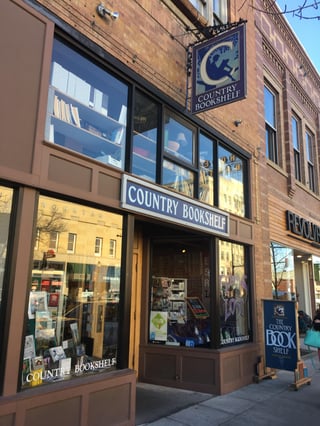 Ariana is active about bringing authors to speak, the most famous being David Sedaris who read from his new book, "Theft by Finding." "He sticks around and talks to everyone," she recalls. "He stayed until one in the morning!" She goes on to say, "It's really fulfilling and exciting to see people coming to events and having an experience they wouldn't have otherwise," she says.

One thing that has not been affected by digital books is the children's section, which continues to grow every year. "It's not the same on a screen," she says. "You can't sit on Grandma's lap and turn the pages." They also carry activities, puzzles and things to keep kids occupied on road trips.

"I'm very grateful that both locals and visitors have supported us over the years," says Ariana. People love Country Bookshelf because of the selection, which includes current best sellers, classics, books about Montana, hiking guides, maps, cards designed by local artists and other unique things. "The Staff Picks are the customers' absolute favorite thing," she says. "I hear it all the time."

Ariana has cultivated great relationships with both the Bozeman Public library and Montana State University. "I grew up in libraries," she explains. "They are some of my favorite places. The towns I lived in were too small to have bookstores." Each November, Country Bookshelf partners with the public library for the "Children's Festival of the Book," a day of celebrating reading, writing and illustrating. Authors do presentations and conduct writing workshops aimed at children. There are crafts, panel discussions, and a children's writing and illustrating contest. "We're all out to do the same thing," she says," Get people excited about reading."

When I asked her how she was facing the challenges of getting kids off of screens, she had a quick answer. Their summer reading program, "Reading Without Walls" encourages kids to read what they don't know about: other parts of the world, a broader community, people. The program works as a Bingo challenge focusing on different topics, place, cultures and time periods. Kids then bring the completed bingo sheet to the store for prizes. Ariana talks about the success of the program, "We provide a variety of good, exciting books. Kids don't have to read all the important stuff," she says. "We encourage them to read the books that are just fun. Maybe it's quirky facts about animals, which would be thrilling for a lot of kids."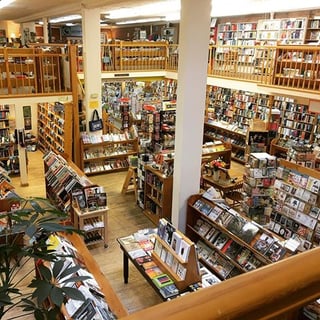 This October brings "One Book-One Bozeman," a collaboration with the public library and MSU. The program encourages everyone in the community to read the same book and have common conversations.

Which, as it turns out, is her favorite part of the business. "I love the conversations I have," she says, "the relationships I have formed with people across the community and hearing their stories."

What's next for Country Bookshelf? Ariana explains, "I would love to see a continued focus on opportunities for the community to get together and have meaningful discussions— more workshops that bring people together in interactive ways."

"It's far more than selling books," she says. "Books themselves are experiences, not static objects. They can become an important part of someone's life."

For upcoming events, new releases and staff picks, watch the website, follow their Facebook, Twitter, and Instagram pages, or sign up for their e-mail newsletter.

If you enjoyed this article, check out our related blogs:
In our never-ending quest to keep up with all things new in Bozeman, we have been producing content for years and can't possibly update every blog when new businesses open or existing businesses close. Please reference the publish date and do your own due diligence when making plans.