Iconic Bozeman; Community Food Co-Op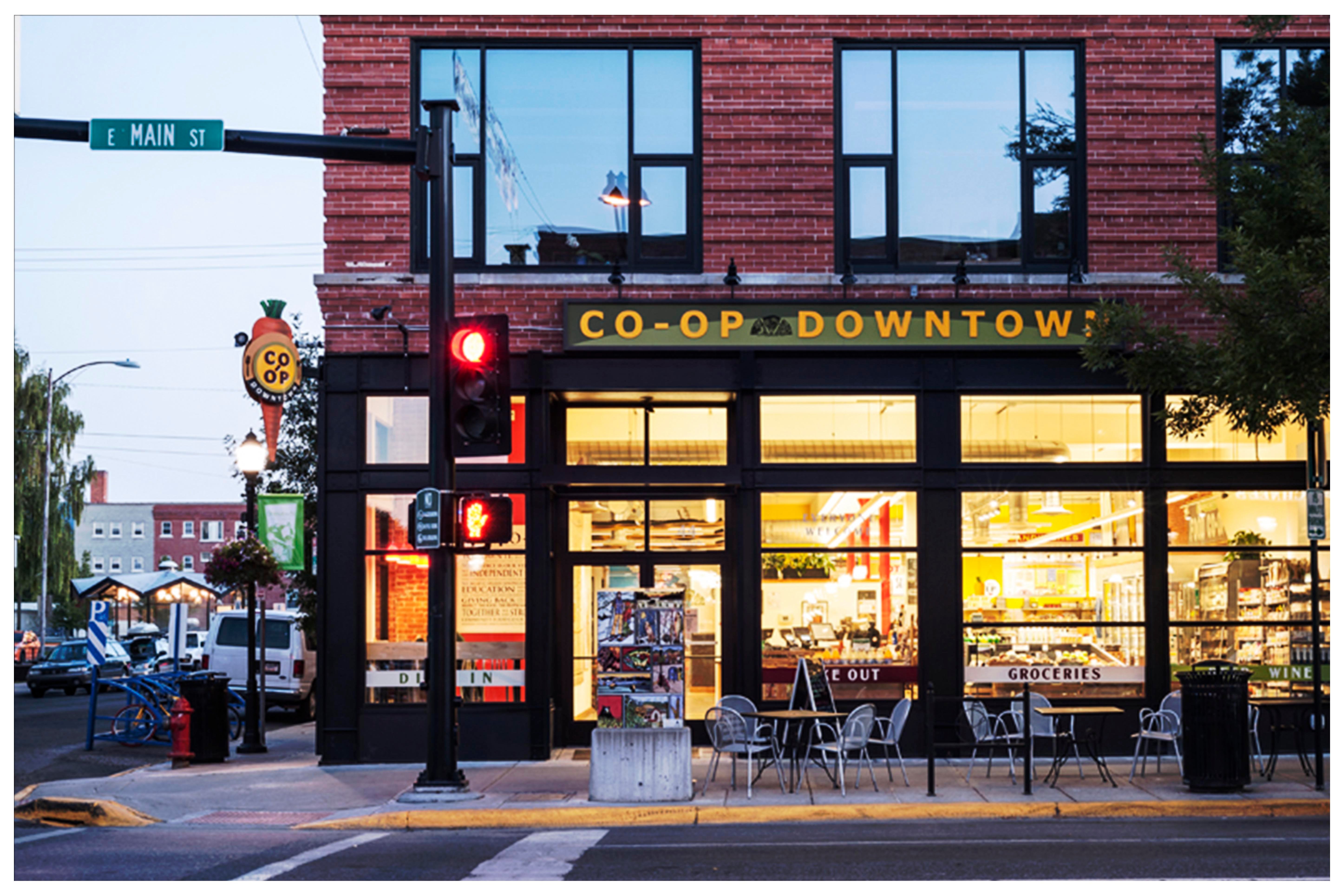 It was more than a love of food that brought to life the Community Food Co-Op in Bozeman, MT. It was bigger than that. I sat down with Kelly Wiseman, General Manager, to talk about the flavor and success of this Bozeman staple for healthy food and groceries.
The co-op started in 1979; brought to life by a few fringe residents seeking democratic control over their food source. It is now arguably one of the most respected and well-loved community food co-ops in the country. "The group wanted to choose what products were in the store; to choose the destiny of the organization," Wiseman says.

He goes on, "At first it was a mix of conventional and bulk foods. They had things like Kellogg's Corn Flakes and Ritz Crackers, but they would also have flour and rice in bulk." In 1984, as they moved into a bigger building on College Street, the decision was made to become a natural foods store. They would no longer sell products with things such as artificial preservatives and added color. They also decided to buy more locally produced foods, starting with farm fresh eggs; a practice that is still alive today.

The store continued to grow, eventually taking them to a larger building on Main Street. "Over the years it has evolved," Wiseman says, "we were one of the first stores in town to have a deli, making everything from scratch." The deli was also an outlet for reducing produce waste. "If a tomato is bruised, we can make sauce out of it instead of throwing it away," Wiseman explains. "The deli has driven the success of the store. In 2001-2002, we doubled the size of the store, the sales and the staffing."

He goes on, "Sometimes we were successful on a wing and a prayer. There were times where we didn't have any money and no outside source of funding. For years, we had a booth at the Sweet Pea Festival. We sold bean burritos which paid our capital expense for a year. We haven't been cash rich," he says, "but we've been aggressive about folding profits back into the business."

Continued Growth
As the co-op continued to grow, adding a second location downtown, they stayed true to their original goal; to buy as much local food as possible. Today, a high percentage of their food is grown within 100 miles. "We're proud of the produce department," Wiseman says, " it's almost 100% organic and we've worked hard to display it nicely. We do a lot of price checks, we're very competitive on grocery pricing. A lot of folks assume will be expensive, but literally comparing apples to apples, we stack up nicely with bigger stores."

Their strategy is smart; 140 co-ops nationwide teamed up to increase buying power as a group, allowing them to purchase goods a lower price. (Look for the Co-Op Basics Program product signs and compare.)

The organization, while needing to be financially sound, isn't just about profits and keep their margins modest. It's important to them to make local food accessible to everyone. Wiseman lets me in on a secret, "We have the cheapest organic milk, eggs and local ground beef in town, and our milk is just about the cheapest in the country. We sell them at a loss," he explains. It's not a sales gimmick, the idea came from a store manager with three little kids. "She pointed out that these are the items that young families consistently buy and we want to make organics affordable, so we implemented it," he said.

Company Culture: value

For Wiseman, selling stuff is only part of it. Being responsive to the other needs of the community is equally important. " It's a full circle that we make," he says. "We compost our kitchen scraps and turn them into dirt, which we give to one of the farms we buy our veggies from. Thinking holistically is a big part of agriculture."

Wiseman loves being a part of building an organic movement that is the fastest growing part of the food industry. That said, he also talks about the challenges of watching large retailers moving into an industry without embracing the philosophy behind it. "Everyone talks about climate change, but not things such as soil degradation and the effects of pesticides. But," he says " people are still buying organics, so they are supporting the notion."
The people who work for the co-op are an essential part of the value experience. Many employees will tell you it's the best place they've ever worked, with due reason. The co-op pays well, is transparent about where they spend their money, offer the same benefits to everyone and are mindful about the rights of workers. "We've errored on the side of trying to be as generous and humane as we can," Wiseman explains. "We provided health insurance 20 years before it was required."

Local Favorite

What makes this locally sourced deli so popular? Easy; the food tastes great. (I should know, it's my go-to lunch haunt and my favorite market for groceries!) You'll find a large salad bar, four different homemade soups, made-to-order sandwiches, and a rotating hot bar. (Locals will tell you Thursday's Indian food spread is not to be missed.)

They also have a rule that kid food and greens should be available at all times, so you can always add steamed kale to the little one's mac and cheese or pizza. The coffee, breakfast burritos, smoothies, juices and baked goods make it a popular spot for a quick breakfast.

You can't miss the meat and fish department, nor should you. The selection of locally raised meats and fresh fish are outstanding and the wine selection offers a plethora of options to pair it with. The packaged goods section is small but mighty, stocking items from bone broth to punchy hot sauces.


So what's next?

"We're going for the 20 year plan," Wiseman says. A new addition is underway which will expand the meat, deli and produce sections, along with a 1000 square foot bulk room and more parking. The building will have a back room kitchen, bakery, meat processing space and offices. "We currently have five buildings, we want to get that down to two," he says. "That sets up our twenty year plan, which is to have additional stores in the area."

When I ask what has been most gratifying for him personally, he answers without hesitation. "It's been gratifying to see the organization thrive and prosper. It's touched a lot of people's lives. We have 220 employees and have had thousands over the years," he says. "We meet people with small kids and watch them graduate. It's great to watch an organization so deeply tied into the fabric of the community, and to succeed without outside help or a corporate takeover."

For more information, go to Bozocoop.com.

If you enjoyed this blog, take a look at some of our other related articles:
In our never-ending quest to keep up with all things new in Bozeman, we have been producing content for years and can't possibly update every blog when new businesses open or existing businesses close. Please reference the publish date and do your own due diligence when making plans.