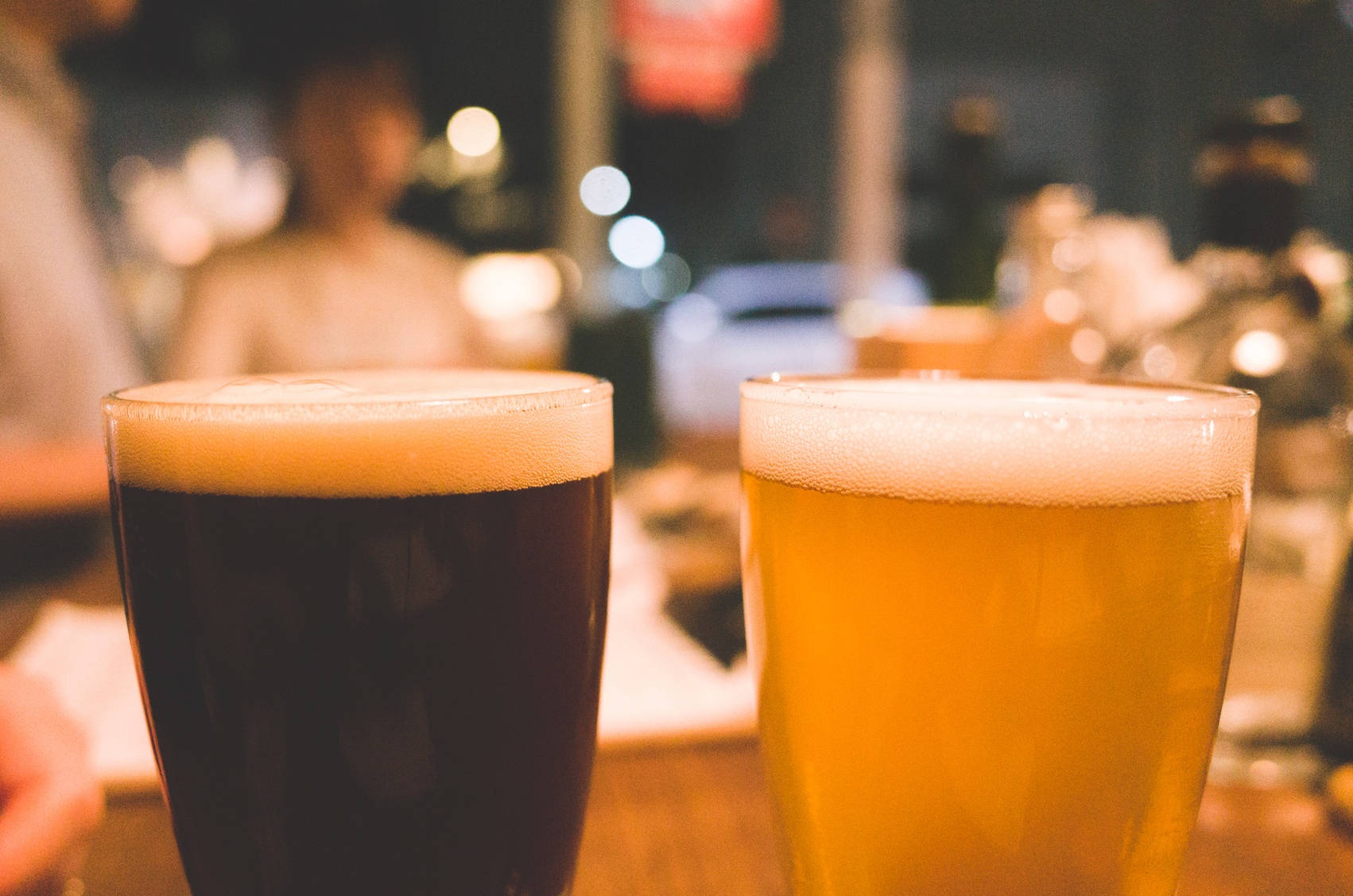 Brewing beer in Bozeman is not a new trend. The roots of Bozeman's brewing industry date back to 1867 with Jacob Spieth and Charles Krug operating the Spieth and Krug Brewery which was later purchased by Julius Lehrkind, a German immigrant, in 1895. Nonetheless, these days breweries are hoppin' spots in Bozeman. Bozeman currently plays home to eight breweries with two more located in Belgrade and plans are in the works for more. To say the micro brew industry is booming in Montana is an understatement. So, which breweries should you visit while you are visiting Bozeman? Here's a quick breakdown of all the Bozeman breweries to help you make your decision.
The oldest of the breweries in Bozeman, Bozeman Brewing Company has been brewing beer since 2001. Their tasting room is located at 504 North Broadway. Their most popular beer is the Bozeman Amber and can be found at most bars and restaurants around town. The tasting room is small with only a few tables but the atmosphere is a fun locals hangout.
406 Brewing Company is located in the newly renovated Cannery Building on East Oak Street. They take an experimental approach with their brewing and always have new beers to try. They do have some staples that are rather good, but the fun is in trying new things. 406 is now offering food so if you want to hang out and grab a bite, you can get good beer and good food at 406.
Bridger Brewing is located right across 11th Street from the Brick Breeden Fieldhouse. They feature some great beers and delicious pizza. This is a popular hangout for MSU students or anyone attending events at the field house. Try out their Vigilante IPA or the Ghost Town Coffee Stout. If you want something a little lighter, the Blond Ale or the Climb Every Mountain Hef are great too. Their pizza is delicious and they even brew root beer if you are looking for kid friendly option.
MAP has, hands down, the best view of all breweries in Bozeman. It sits along the west shore of Glen Lake and the East Gallatin Recreation Area and looks out at the Bridger Mountains. During the summer you can rent paddle boards nearby and spend a few hours cruising around the lake, and of course finish with beers on the patio. They do have food so it is a great choice for dinner or lunch. The have a couple of award winning beers like the Northbound Ale and some local favorites like the Destination Session IPA or the Smoked Lion Wheat Beer.
If you are hanging out downtown, White Dog is the brewery to check out. It sits on the west end of the downtown area along side Bozeman Spirits distillery. It's got a great little trendy vibe and some good beers that pack a punch. If you are looking for something light and refreshing, check out the Blood Orange Hef or the Blond Ale. If you crave something a little more full, check out the Scotch or the Double IPA. If there is room to belly up you will be amazed at the bar top. It features a chilled metal strip to place your beer on to keep it frosty, and it actually works. The don't serve food there so you will have to run across the street to Victory Taco, but that is a great option.
Outlaw is located a little off the beaten path behind Target and Bob Wards on North 27th Street. It sits at the edge of a neighborhood and has a very local feel. But don't sleep on Outlaw. The beers are great, including their Irish Cream Ale and Passive Aggressive IPA. In the winter the Russian Bill Imperial Nitro Stout is great after a day shredding Bridger Bowl. If you are feeling strong, hop on the pull-up bar to earn a free beer. Outlaw does not serve their own food but there is usually a food truck outside if you get hungry.
Bunkhouse is one of the newest breweries in town and is located right near campus and around the corner from Bridger Brewing. They are focused on bringing back an older style of German brewing while still producing popular beers. Check out the Broadhorn Brown Ale or the High Lonesome Hef. This is a great spot to pair with a brew tour that includes Bridger Brewing.
If you are looking for something a bit sweeter, Lockhorn Cider House offers some great alternatives to beer. Located on the eastern edge of downtown on south Wallace behind Heebs Grocery, Lockhorn is a fun atmosphere with indoor and outdoor seating.
As with all the breweries in the state of Montana, they are not allowed to serve alcohol after 8pm unless they own a liquor license from the State of Montana. So if you are looking to howl at the moon, you will have to do so at one of the popular nightlife spots around Bozeman. We recommend checking out the breweries during the day or in the evening. Enjoy the fine beers that Bozeman has to offer but remember to do so responsibly.
If you enjoyed this blog, take a look at some of our other related articles at Bozemancvb.com: