Take Pride In Bozeman May 19-21, 2023
Pride celebrations are a staple of summertime in Montana, with the state's longest-running Pride week set to mark its 30th anniversary July 30-Aug. 6, 2023, in Helena. This May, Bozeman is joining the party, kicking off Pride season with a weekend full of events for LGBTQIA+ folks and allies of all ages. Events will take place May 19-21 at a variety of locations around Bozeman.
This local Pride weekend is being spearheaded by The Imperial Sovereign Court of the State of MT (ISCSM), an organization dedicated to advocacy, education and outreach for and in support of LGBTQIA+ people in Montana, with support from Queer Bozeman, the Bozeman Public Library Foundation, and other community groups.
So if you're ready to participate in a fun, Pride-filled extravaganza in Bozeman, here's what's on the agenda.
Friday, May 19th, 2023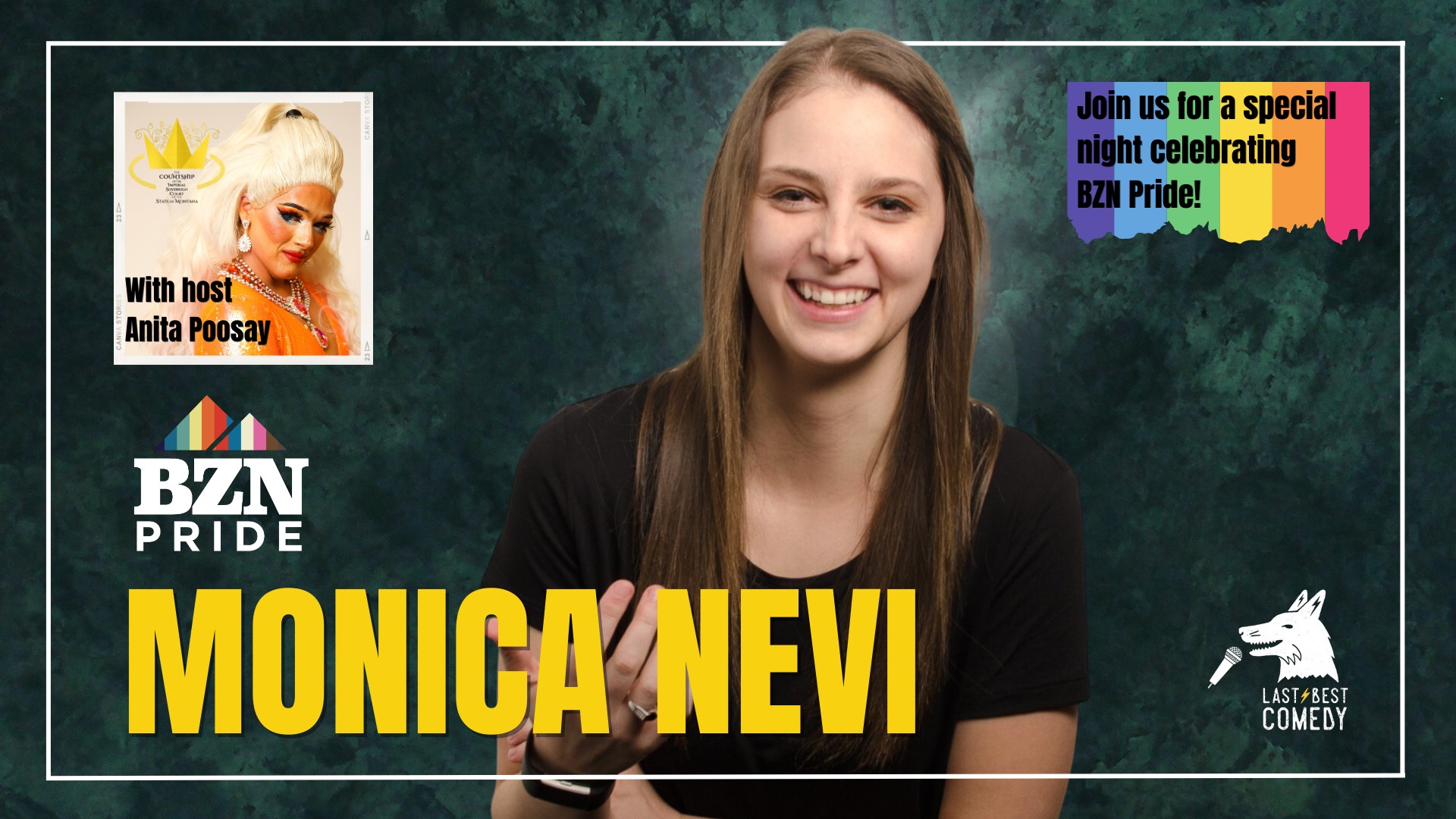 Queer Comedy Show with Monica Nevi
Time: 7-11 p.m.
Location: Last Best Comedy
Tickets: $20
Details: Want to Laugh? Interested in a chuckle? Care for a giggle? Then all you have to do is come see Anita's face!
Countess B of Reign V, Anita Poosay, will be hosting a very special event at Last Best Comedy to help kick off Pride Weekend! With special guest Monica Nevi, this Queer Comedy night is sure to be the best night-one activity for the Pride festival! Make sure you don't miss it!
Saturday, May 20th, 2023

Pride Stroll
Time: 10:30 a.m.
Location: Bozeman Public Library, various downtown Bozeman businesses
Details: Saturday, May 20th, marks Bozeman's first Pride Stroll in 10+ years! from business events and discounts to resource tables and more; This is sure to be quite the festival!
The Stroll will start off with a gathering at the Bozeman Public Library from 10:30 AM to 11:30 AM. From there, we will have various speeches from the queer community till 12PM! during the gathering, all pride merch will be handed out for free! Afterward, we will continue down to Main Street, where various vendors and businesses will be hosting specials for everyone to roam to.
***This will be a family-friendly and free event for all who wish to attend the gathering. The businesses will run as normal except for specials and discounts related to the stroll!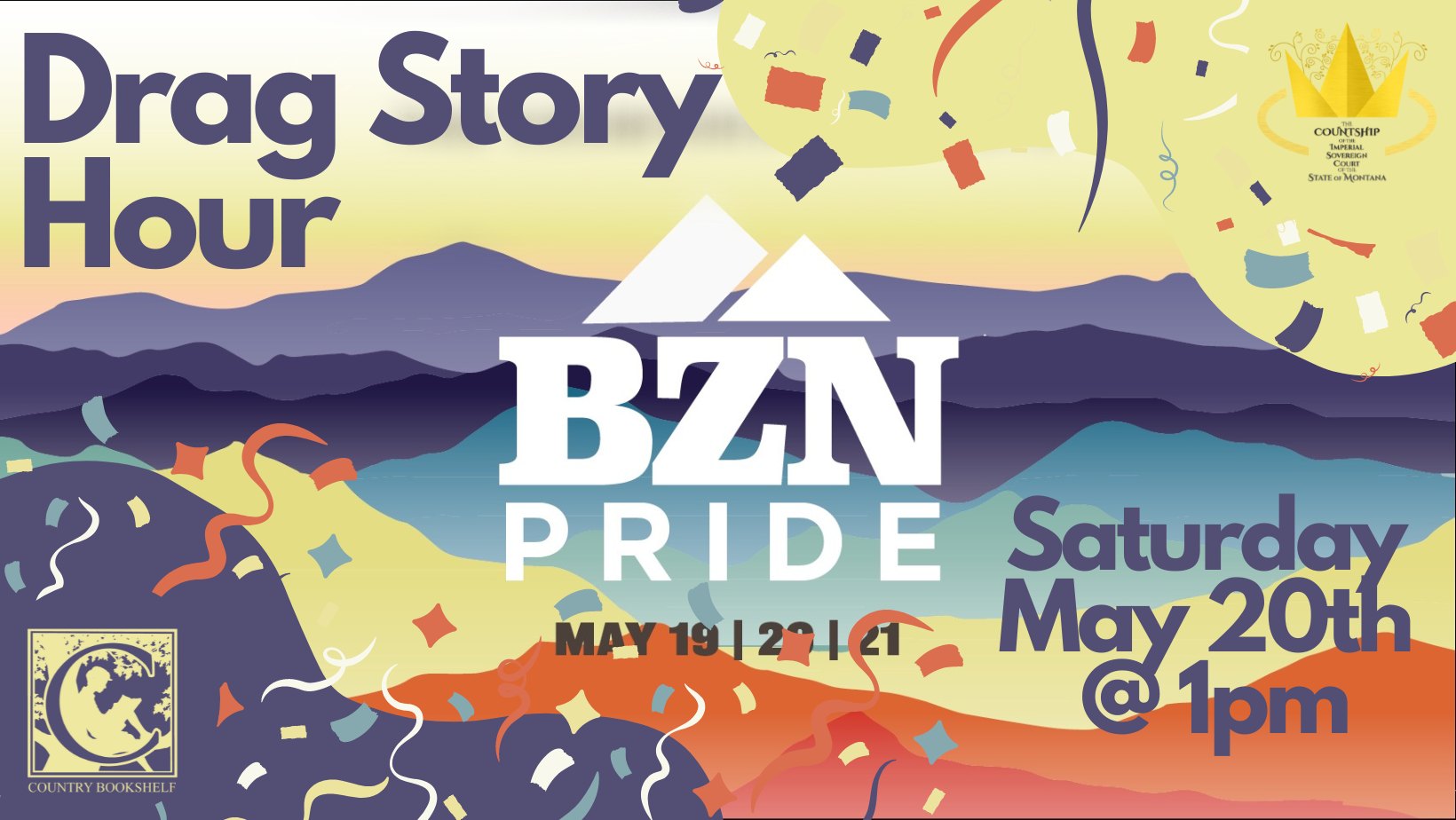 All Ages Drag Story Hour
Time: 1 p.m.
Location: Country Bookshelf
Details: Storytime is a core memory from any person's childhood. After all, what's more wonderful than building entire worlds with others? The Countship, more than anyone, understands what benefits a well-nourished imagination can have.
To that effect, we are so excited to have our very own "Drag Story Hour." With performers like Julie Yard, Dita Von Doome, and Jackie Rosebutch reading to the kids, the Story Hour is always an exceptional event!
Bozeman Pride Weekend 18+ "Pride & Lust" Drag Show
Time: 4:30 p.m. and 8:30 p.m.
Location: Bozeman Eagles Club Ballroom
Tickets: Starting at $10, with VIP/early admission tickets available. Tickets for the early show are available at this link. Tickets for the later show at this link.
Details: For Bozeman's first Pride in over 10 years, we decided that just one Sin isn't quite enough! We need at least 2 to really get this ball rolling! So, without further ado, Bozeman Pride's main Drag Show will be "Pride and Lust"! Come as a representation of the sins or come as you are; We celebrate one and all!
To live is to sin, so let's live well!
This show will be 18+, with IDs needed and checked at the door. As with the last shows, security will be making bag and person checks at the door as well.
This is a special two-part drag show! Below, you'll find the various times of the shows and the planned schedule!
Show 1: VIP early access will begin and 3:30 PM. After a 30-minute early access period, General Admission will begin at 4 PM with the show starting at 4:30. The show will end a bit before 7 PM
Show 2: The schedule for show 2 will follow the same schedule as show 1, with VIP Starting at 7:30 PM and General admission starting at 8. The show will begin at 8:30 PM.
Sunday, May 21st, 2023

Drag Me To Brunch
Time: 10 a.m.-2 p.m.
Location: Bay Bar & Grille
Tickets: $15 and up, available at this link.
Details: Brunch is always a staple in any pride celebration, and ours is no exception! We are very excited to be partnering with The Bay Bar and Grill to bring you all an amazing drag experience to round out Pride. On May 21st (the last day of Bozeman Pride Weekend😞), we will be hosting 2 brunch shows at The Bay. There will be a show at 10:30 and at 12:30, so everyone will have plenty of chances to attend!
This is an all-ages show; as such, all individuals, regardless of age, are welcome. Drinks will be served, as it is a restaurant, and a 21+ ID is required for all alcoholic purchases. Otherwise, food and non-alcoholic beverages are available for those unwilling or unable to participate in the consumption of alcohol.
For more information about Pride Weekend in Bozeman, visit the ISCSM Facebook page. Check out our upcoming events page to find out more fun things to do in Bozeman.
If you enjoyed this blog, take a look at some of our other related articles:
In our never-ending quest to keep up with all things new in Bozeman, we have been producing content for years and can't possibly update every blog when new businesses open or existing businesses close. Please reference the publish date and do your own due diligence when making plans.