Top 10 Most Instagrammable Spots in Bozeman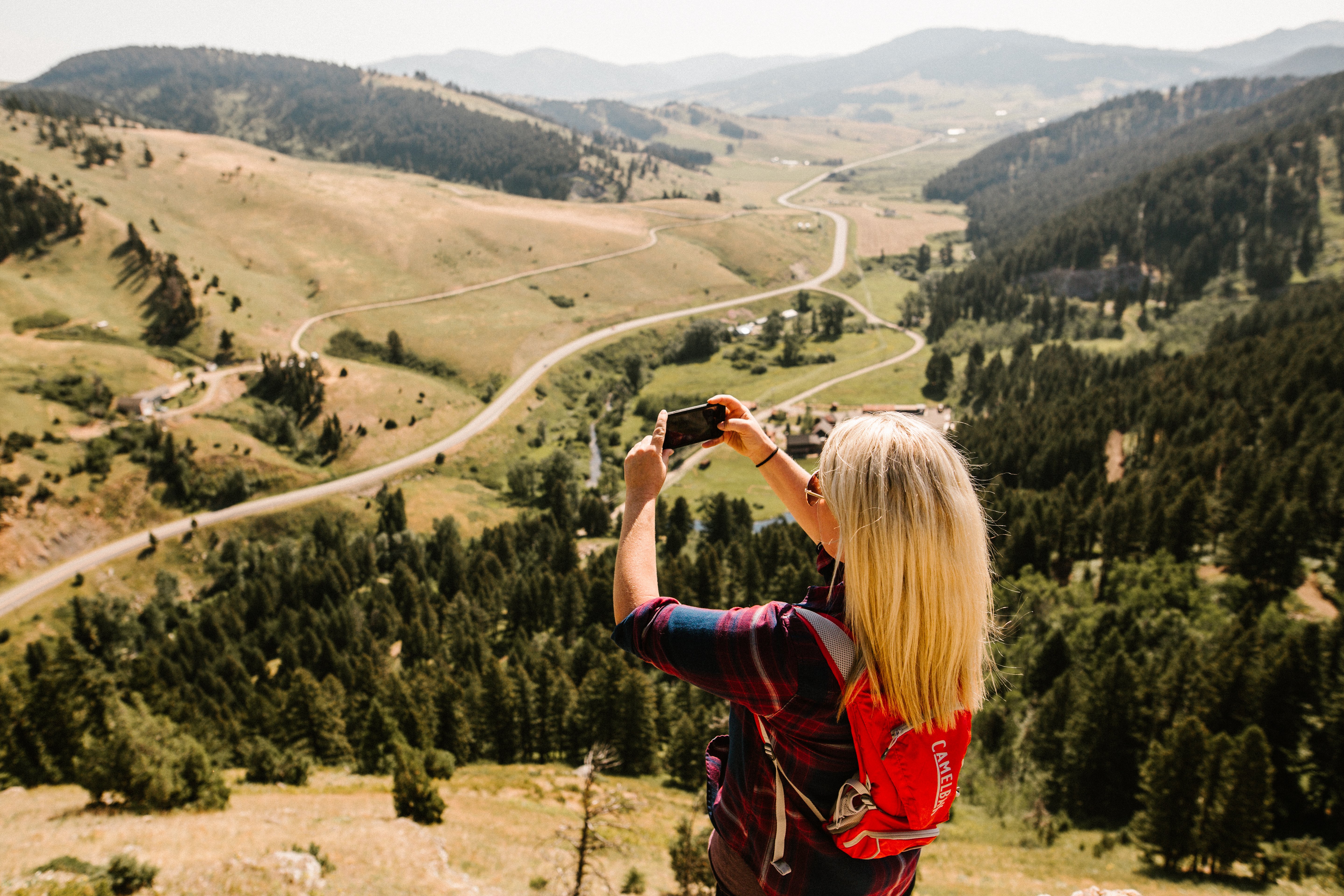 It's not hard to find a great photo in Bozeman, Montana. A glance in any direction will provide a gorgeous view of tall mountains, babbling creeks, or historic buildings. Add in a bit of street art or a few unique murals, and you can turn your Instagram feed into some serious eye candy. But for those who want to capture the essence of this vibrant college town tucked up in the mountains, there are a few spots that are worth capturing and, more importantly, exploring! Here's a rundown of the top 10.
Summit of Drinking Horse Trail
This short loop outside of town takes you to a summit with 360-degree views, including Bridger Canyon, the Bridger Mountains, and the Gallatin Valley. This one is worth a panoramic shot (or, for IG, multiple posts!).

The College M
Located just across the street from Drinking Horse, the College M trail is a bit longer (and on one side, notably steeper), but the view is spectacular. There's a nice bench at the top to relax and take it all in. Snap a photo of the surrounding view, or of you and your friends in front of the massive letter M.
"Spirit" at Montana Hall, Montana State University
Located in Alumni Plaza north of Montana Hall, this bronze bobcat sculpture named Spirit has become an iconic photo-op for current and former MSU students and faculty.
Top of The Ridge, Bridger Bowl
The Ridge makes for some epic photography and some adrenaline-pumping skiing! In winter, hop on Schlasman's ski lift and ride it all the way to top for a photo-op above the clouds. Just make sure your well-equipped with a tranciever, avalanche safety knowledge and the skill to get back down in one piece. (Experts only please!)
Hyalite Canyon
In this scenic recreation area just south of town, there's more than one spot to grab a shot at Hyalite. If you're playing on the water, the mountains in the backdrop are pristine. If you decide to bag either Hyalite or Blackmore Peak, the views of the mountain ranges are seemingly endless.
Palisade Falls
Also located in Hyalite Canyon, Palisade Falls is excellent in summer and winter when the falls turn into massive ice formations. It's a paved path leading there, so it's easy for those of any age or ability to access.

Peet's Hill
Everyone's favorite sunset spot, Peet's Hill (formally known as Burke Park) is located just off of Lindley Park within the city limits. This is one of the town's off-leash dog parks as well, so if you're traveling with a furry friend, it's the perfect spot to take them to get some exercise.
The B Concourse at Bozeman Yellowstone International Airport
If you're flying into Bozeman, be sure to stop at the new B Concourse and grab a photo. The wall-to-wall windows on both sides provide views of both the Bridger Mountains and the Spanish Peaks. It's hard to find a view like this in an airport!

MAP Brewing
With stunning views of the Bridgers set alongside the pond at Glen Lake Rotary Park, you can enjoy a craft beer and some fantastic noshes on the patio while you document your trip to Bozeman.

Downtown Bozeman
There are plenty of spots to choose from on this historic Main Street. The marquee at the Ellen Theater, the back patio at PLONK, or one of the many murals or street art pieces makes for engaging backdrops.
Bonus Spot in the Making
The RSVP Motel has commissioned a hand-painted mural that's currently underway, showing the vast flora and fauna of Bozeman. We're sure that people will soon be stopping by to snap a selfie on their latest trip to Midtown — a newly blossoming area of town. It features local bees and bison, handcrafted by the ladies at Brelse Lewis Illustration. Stop by and check it out.
If you enjoyed this blog, take a look at some of our other related articles at Bozemancvb.com.
In our never-ending quest to keep up with all things new in Bozeman, we have been producing content for years and can't possibly update every blog when new businesses open or existing businesses close. Please reference the publish date and do your own due diligence when making plans.