The Most Amazing Places To Go Zip Lining In Bozeman Montana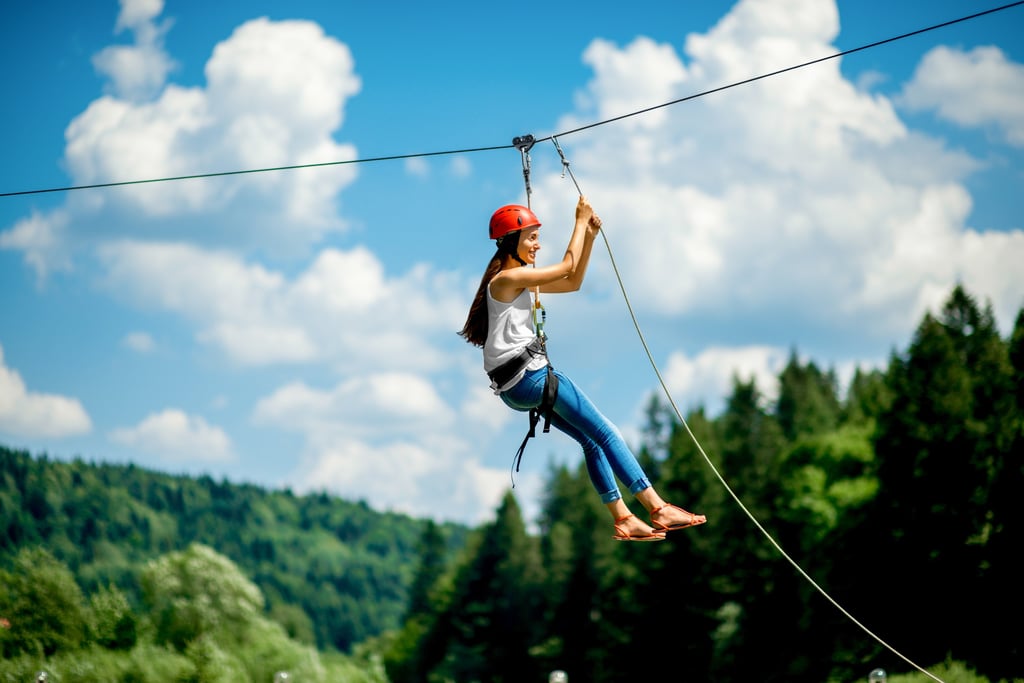 Taking a ride on a zip line is an exciting way to experience a flying sensation while enjoying a scenic view of that of a bird. While cruising along a steel cable, thrill-seekers have been coming back to the couple zip line courses offered around Bozeman. Whether you are a beginner and want to experience the zip lining for the first time or if you consider yourself a zipping expert, check out these options for zip lining in Bozeman.
Big Sky Resort Zipline Tours
Opening on May 29, the Big Sky Resort Zipline Tours provides tours that don't disappoint. They provide two options of heart pumping tours.
Their first tour that Big Sky Resort offers is their Adventure Zipline which is designed for speed. Guests enjoy the scenic views of Lone Mountain and the Spanish Peaks of the Madison Range while they ride up to the zip lines on a chair lift. Once at the top, four zip lines will be waiting for you and your group with one being the Twin Zipline which lets you and a partner zip line together through the scenery. Each tour can take up to three hours with starting times either at 9 am, 12:30 pm, or 3:30 pm. A ticket for all ages is $90 with a maximum group number of 10.
Their other option is the Nature Zipline. You'll start the tour with a 20-minute hike up the Lone Mountain with three zip lines waiting at the top. Starting at their Huntley Hollow and ending at the bottom of Middle Road and the Lower Calamity Jane. A Nature Zipline tour will also take up to three hours with tour start times at either 8:30 am, 10:30 am, 1:00 pm, 3 pm, or 5 pm. Groups can take up to a max of 12 individuals per tour at a rate of $70 per ticket.
Visit Big Sky Resort Zipline Tours
Yellowstone ZipLine and Canopy Tours
This guided aerial adventure has two locations with one being located between Bozeman and Big Sky. Upon zipping over the Gallatin River and through the Gallatin Canyon, guests can take a pick between two zip line tours.
The first option is their Gallatin River Classic ZipLine Tour. This tour takes visitors over the unique ecosystem filled with Douglas Firs, Yellowstone Sage, and Juniper. It includes three zip lines, three sky bridges, and one ladder. This option is ideal for families, beginners, and adrenaline junkies. Each trip takes roughly two hours with a maximum group size of 12. For this Classic option, adult tickets are priced at $60 whereas children ages between five and 12 are only $50. These tours are offered from 8:30 am to 5 pm so plan accordingly.
Yellowstone ZipLine and Canopy Tour's second option is the Gallatin River Super Zipline Tour. This tour includes all of the fun thrills that the Classic options offers and then some. In total, there are 6 zip lines, 6 sky bridges, and 2 ladders. It is a dynamic experience for challenge and thrill seekers. The maximum group size is nine with each trip about 3.5 hours. When it comes to prices, the Super Tour is $88 for adults and $78 for children ages eight to 12. The Super Tours are only offered from 8:30 am to 3 pm so plan accordingly.
Visit Yellowstone ZipLine and Canopy Tours
---
Not only is zip lining a fun, heart-pounding adrenaline rush but it also offers some stellar views of the sights that the Bozeman area has to offer while bonding with your group in a new and unique way.
If you enjoyed this blog, take a look at some of our other related articles: