Backpacking in Yellowstone National Park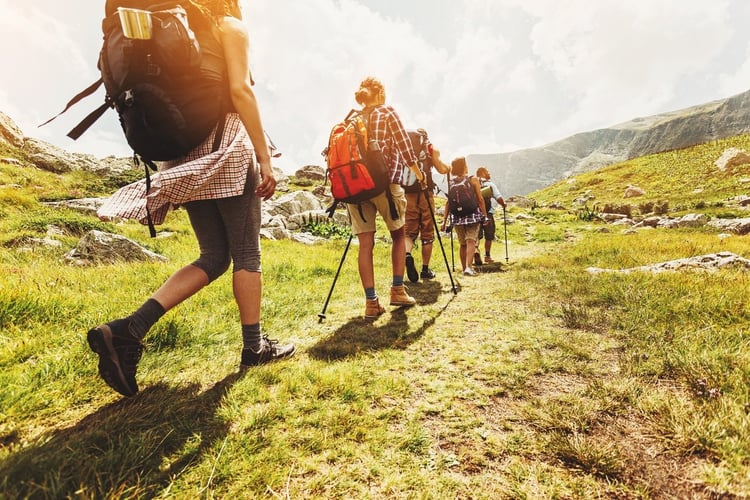 Yellowstone National Park spans over 2 million acres. To give you perspective, that makes it bigger than Rhode Island and Delaware combined. While the park is accessible to everyone, it's hard to see more than a fraction of the country from the road or nearby trails. Full of wildlife, geysers, majestic peaks, 14 rivers and nearly 200 creeks, Yellowstone is an outdoor wonderland.
For the adventurous spirit, backpacking in Yellowstone is one of the best ways to experience the nooks and crannies in the park. If you are up for the challenge, the options are awesome. Beginning backpackers may want to take a guided trip from a local outfitter to "get your feet under you," so to speak. For the experienced hiker, get ready for some serious backcountry beauty.

With over 900 miles of trails, it's hard to know where to start. To get you going, here are three hikes with varying levels of difficulty.

Hellroaring Creek-Beginner

A moderate hike, this is a good option for new backpackers. The elevation in this area is lower than most places in the park which make it good for early season hiking. The trail is 4 miles out and back, with six campsites along the creek. A mile into the hike, you'll reach an impressive suspension bridge crossing the mighty Yellowstone River.

Pebble Creek-Moderate

Two of the many advantages of hiking Pebble Creek are the breathtaking mountain views and the fishing. Add to that the lupine filled meadows along with the mountain goats, elk, and moose and you've got a recipe for serious beauty. The first mile of the hike is steep, followed by 10.5 miles of downhill. Campsites are spread out along the creek, so you'll have privacy and open space. The hike starts and ends on the Northeast Entrance Road, so shuttling is required.

Dunraven Pass to Canyon-Difficult

This trail is an old road, now abandoned except for official vehicles going to the Mount Washburn Lookout. The lookout is a half mile side trip that is well worth your while. The view alone stretches 20-50 miles. An interpretive display illustrates how Mount Washburn was formed and 20-power telescopes give you an up close look at the landscape. This area has one of the densest concentrations of wildflowers in the park. The trail is 11.2 miles with a shuttle required. This is a strenuous, high-elevation trail climbing 1,400 feet and is not recommended for people with heart or respiratory problems.

Keep in mind, Yellowstone has a designated backcountry campsite system, and a backcountry use permit is required for all overnight stays. Reservation Applications are accepted from January 1 through October 31 each year. Don't forget you are in bear country, be sure you are familiar with Bear Safety.

To assist with planning, start with the National Park Service Guide to Backcountry Hiking, and utilize the Backcountry Trip Planner to be sure you have the right gear and provisions. Happy trails we hope you enjoy backpacking in Yellowstone!

If you enjoyed this article, check out our related blogs:
In our never-ending quest to keep up with all things new in Bozeman, we have been producing content for years and can't possibly update every blog when new businesses open or existing businesses close. Please reference the publish date and do your own due diligence when making plans.