Best Burgers in Bozeman
It should come as no surprise that there is no shortage of great burgers in Bozeman. Given our access to high-quality beef and bison meat, burgers are part of the history of Montana. There are plenty of places around town with burgers on the menu, but these are some of our favorites.
Backcountry Burger Bar
You'll find nothing but Montana-raised and processed beef and bison in the burgers at Backcountry Burger Bar on Main Street in downtown Bozeman. Offering six burgers in their regular rotation and one vegetarian option, Backcountry Burger has options for burger lovers of all kinds. Their mac and cheese is also some of the best in town and allows you to customize your toppings.
Best Burger
What may seem an unassuming drive-thru, Best Burger is a family-owned burger joint near the Four Corners area of Bozeman and churning out some of the best burgers around, as their name implies. They serve 100% Angus beef in their burgers and offer various french fry options, including waffle, fresh, cut, and sweet potato fries. Because what goes better with a burger than fries?
Burger Bob's
With a sign proclaiming "Sorry we're open" during operating hours, Burger Bob's has a wry atmosphere along with its tasty burgers. The self-proclaimed "semi-classy eating establishment with dishwater coffee & a questionable atmosphere" doesn't skimp on their burgers. The Cardiac Arrest is a local favorite, with four kinds of cheese and plenty of other toppings piled high, or try one of their rotating specials.
Copper Whiskey Bar
Though it is primarily known as a whiskey bar, Copper has three different burger options on its menu for you to try. The self-titled Copper Burger is probably the one they're known best for, but you can't go wrong with any of their burgers. You can even substitute a portobello mushroom cap if you're a vegetarian burger lover!
Nordic Brew Works
When people think of Nordic, their pizzas often come to mind first, but their burgers are a hidden gem. Both of their burgers use local 406 farms wagyu beef as the base for the deliciousness they stack on top. The Nordic Burger is their take on a classic cheeseburger with a twist, but the Bjorn Burger is for those with an appetite as mighty as a Viking's.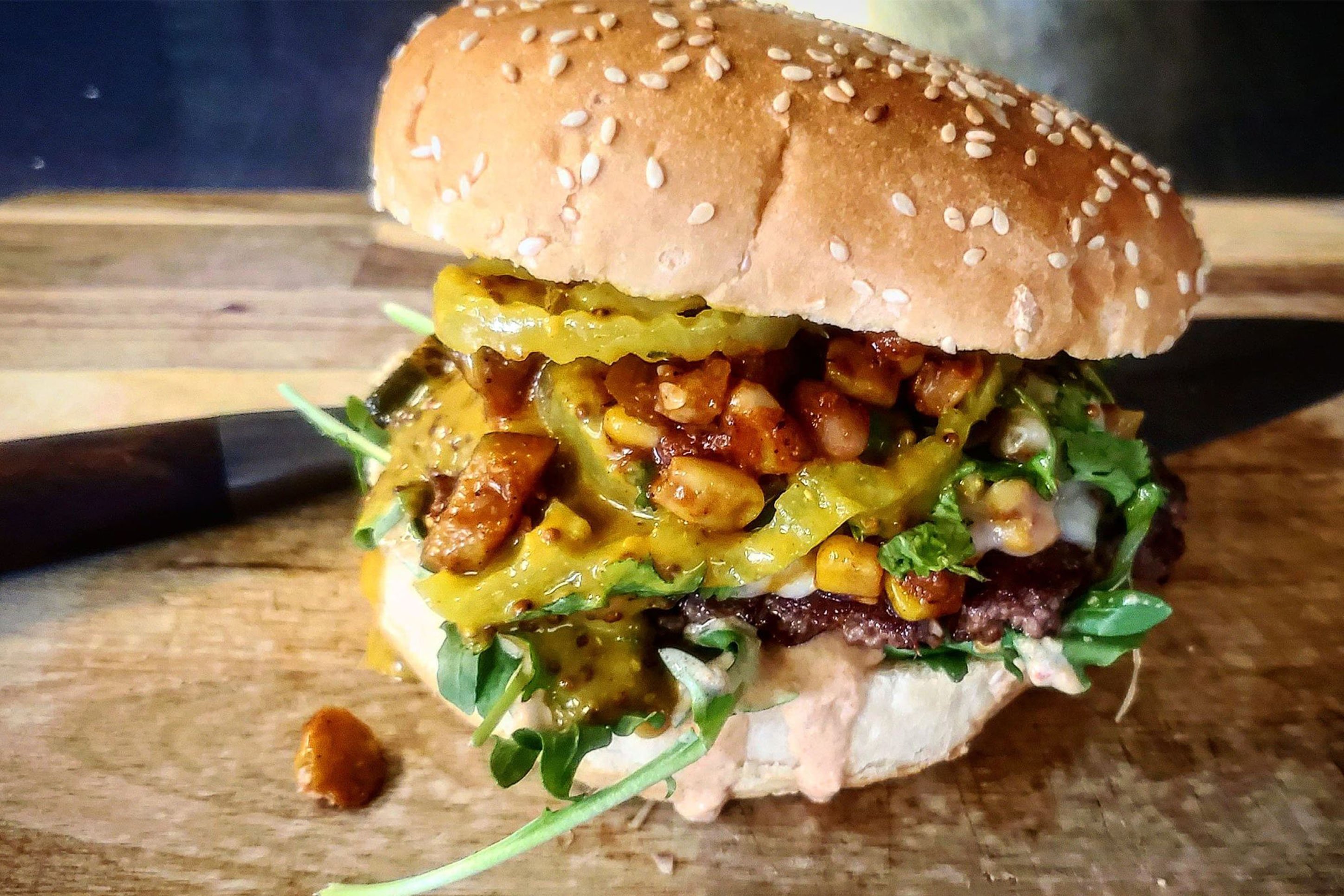 Punk Rock Burger Shop
Formerly known as U-Burger or University Burger, the newly rebranded Punk Rock Burger Shop has been slinging some of Bozeman's finest burgers right next to Montana State University for over three years. Their burger options reflect their advertised "culinary anarchy" style, including the Bobcat patty – a half beef, half bacon, all delicious burger base to build up.
Revelry
At Revelry, you will find three different burger options befitting its craft-pub vibe. All their burgers are made with regional freshly ground beef patties, and each burger takes your palate in a different direction. A Montana Burger might be precisely what you're looking for if you're the more traditional. But don't count out the flavors of the Poblano or Forager burgers. Each one is excellent in its own way.
Food Trucks
Cholms Burger
If you're a fan of smash burger style, look no further than the Cholms Burger truck. Their patties are made with hand-ground beef from local favorite Daniel's Gourmet Meat & Sausages. Add a Chopped Cheese Fry to your list if you're hungry for more.
Little Belt Burger Bar
Veteran-owned startup ranch Little Belt Cattle Company is new to the Bozeman scene, and their Little Belt Burger Bar Food Truck serves up some delectable eats. Though they are primarily parked by the Museum of The Rockies, the Little Belt truck can also be booked for special events. Their burgers are made of high-quality Angus beef, raised at their ranch locally.
Low-Key Sandwiches
Though their operation may be low-key, the burgers at Low-Key Sandwiches are anything but. Located in a school bus permanently stationed at the Kenyon Noble on Oak Street, Low-Key Sandwiches has its "sandwich game on lock" as advertised, and their burgers are no exception. With five burgers and a build-your-own option, Low-Key has a little something for everyone and serves up local Montana beef in smash patties.
The next time you're craving a burger while in Bozeman, give any of these shops a try for a taste of the local beef that Montana is known for.
If you enjoyed this blog, take a look at some of our other related articles: