Exploring The Market at Ferguson Farm
Bozeman's west end is turning into quite a hub for dining and retail, and The Market at Ferguson Farm was one of the first to venture out. A fully enclosed community gathering place, The Market is a lovely destination for an afternoon or evening. Anchored by Nordic Brew Works and Tanglewood Grill and Tap, with Foxtrot All Day Eatery in the center, the dining scene is top-notch. Lifestyle boutiques, The Garden Barn, Salchicha, Catch Boutique, and Cat Show Cat Cafe round out the experience with great shopping. Whether it's a conversation over a beer or perusing the retail, The Market is a great way to spend time with friends.

Photo by 40 Watt Photo
While the beer is delicious, don't let the name fool you, there's more than beer served here. Lunch and dinner are served daily, beginning at 11:30 a.m. Brick oven pizza is their specialty, but they have an excellent selection of salads, soup, and sandwiches. (Check out the Cubano!) The dinner entrées begin at 4:00 p.m. and include favorites such as winter ramen, ravioli, or seared sirloin. The atmosphere is what makes Nordic extra special. It's bright, cozy, and full of cozy coves of seating, perfect for enjoying a glass of wine or one of their signature cocktails.
What started as a little pink fashion truck has now become more than one woman's "go-to store." With styles ranging from casual to elegant, you can find something for any occasion. We're not talking run-of-the-mill fashion; here, you'll find unique, stylish, yet comfortable clothing, all selected with quality in mind.
Described as a fast-casual modern diner, Foxtrot's menu is full of delicious and healthy breakfasts, sandwiches, salads, juices, and smoothies. The power bowls pack in a rainbow of vegetables and flavors, and the giant breakfast burritos are not for the faint of heart. There is plenty of open seating, but all items can be made to go for those in a rush.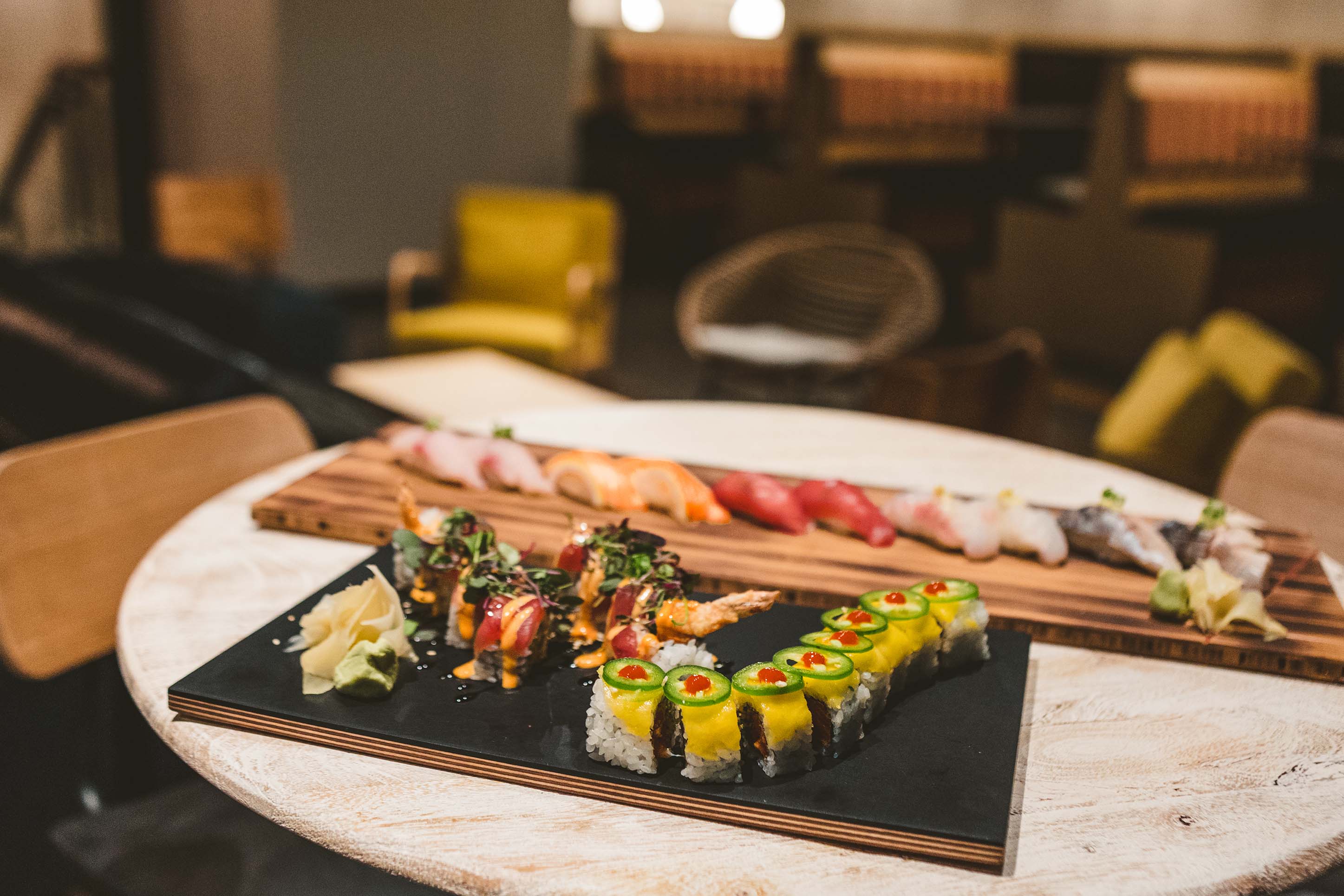 Photo by 40 Watt Photo
This street casual restaurant is heavily influenced by Japanese pubs called, izakaya. Focusing on the seasonality of fish, and drawing from markets like Seattle and Los Angeles, Hachi aims to bring unique fish, offering plenty for adventurous eaters. The restaurant has an equal focus on hot food as well as sushi, with a wide selection of Japanese comfort food.
The first of its kind in Montana, Cat Show Cat Café is a partnership with Heart of the Valley Animal Shelter. Providing a foster home for cats waiting for their forever home, Cat Show gives them a place to showcase their personality. Whether you are considering adoption or just craving some cat time, these felines welcome the company. All visits are by appointment, so you'll have quality time with these precious animals.
Garden Barn has long been known for its quality and selection of plants, both indoor and outdoor. Their second location in The Market is full of plants, pots, and lots of great gift items—all with as much attention to detail as the original store.
A modern mercantile, Salchicha has a plethora of handmade, sustainable goods that you won't find just anywhere. Each item is hand-picked—and trust us, there's a lot of great choices. Women and children's clothing, home items, scents, candles, and even chocolate treats! The selection of baby clothes is incredibly endearing.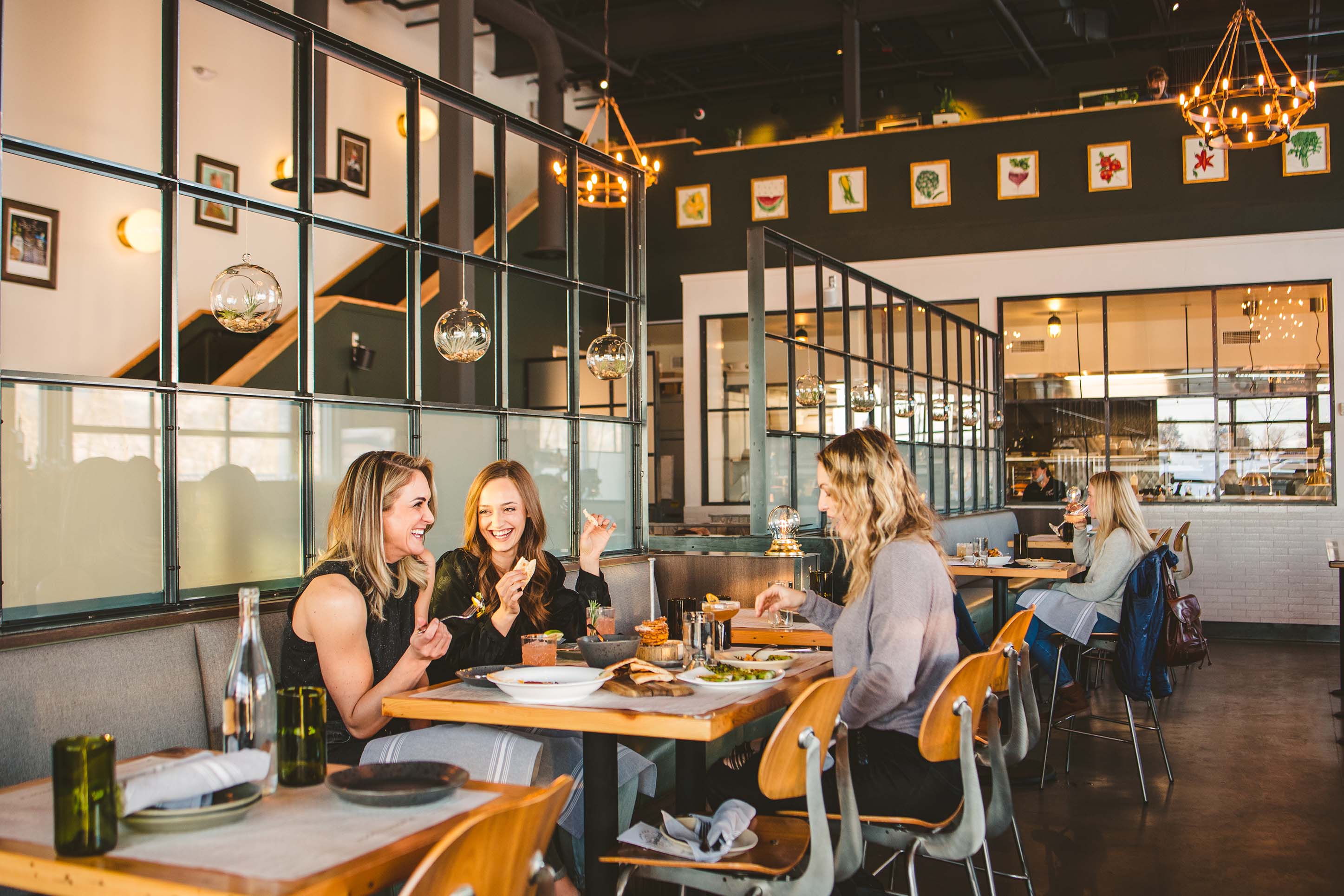 Photo by 40 Watt Photo
Focused on quality ingredients and simple yet thoughtful meals, the menu at Tanglewood is mouth-watering. The Southern-Style Fried Chicken comes with all the fixings: mashed potatoes, Carolina-style coleslaw, house pickles, buttermilk biscuit, togarashi, and sriracha-honey drizzle. Each meal has the same level of detail, making whatever dish you select outstanding. Be sure to check out their cocktail menu; the margaritas are some of the best we've ever had! Saturday and Sunday feature a brunch from 10 a.m.- 2 p.m.
If you enjoyed this blog, take a look at some of our other related articles:
In our never-ending quest to keep up with all things new in Bozeman, we have been producing content for years and can't possibly update every blog when new businesses open or existing businesses close. Please reference the publish date and do your own due diligence when making plans.