Best Viewpoints to Take Pictures of Yellowstone National Park
Whether you're an Instagram influencer, a photography hobbyist, or anyone with a smartphone camera, it's pretty difficult to leave Yellowstone National Park without snapping at least a few pictures. Yellowstone has many features you won't see anywhere else, so it makes sense that you'd want to document them and cherish them for longer than a few minutes.
Spectacular views can be found nearly anywhere across the more than 3,000 acres of public land at Yellowstone, but certainly, some stand out more than others. If you want to hit the high points of the most photographable spots in the Park, start with this list. Here are the best viewpoints to take pictures of Yellowstone National Park.
Artist Point - Grand Canyon of the Yellowstone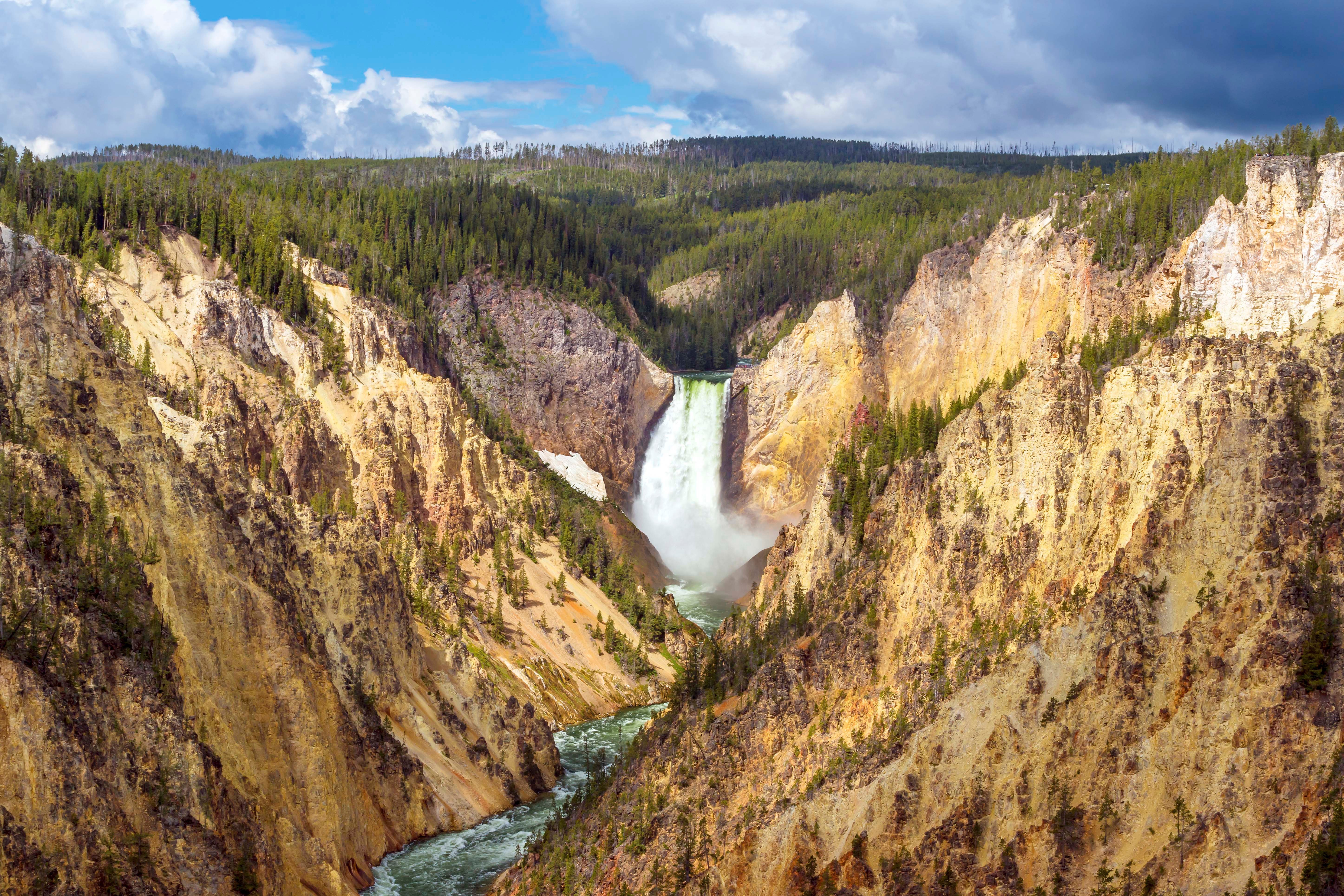 Grand Canyon of the Yellowstone is one of those iconic, must-see features of the park, and Artist Point is one of the best places to snap a photo of it. It's one of the most photographed views of the park for a reason -- you get a sense of how massive the river canyon is. The contrast of the warm, yellow and orange tones of the rocky canyon against the rushing, emerald blue waters is something you'll want to capture. To say it's grand would be an understatement.
Find This Viewpoint
Head toward Canyon Village and turn off the Grand Loop road onto South Rim Drive. You'll find the Artist Point Trailhead at the parking area at the very end of this road. From the trailhead, follow the paved 0.1-mile trail to the viewpoint.
Fairy Falls Trail - Grand Prismatic Spring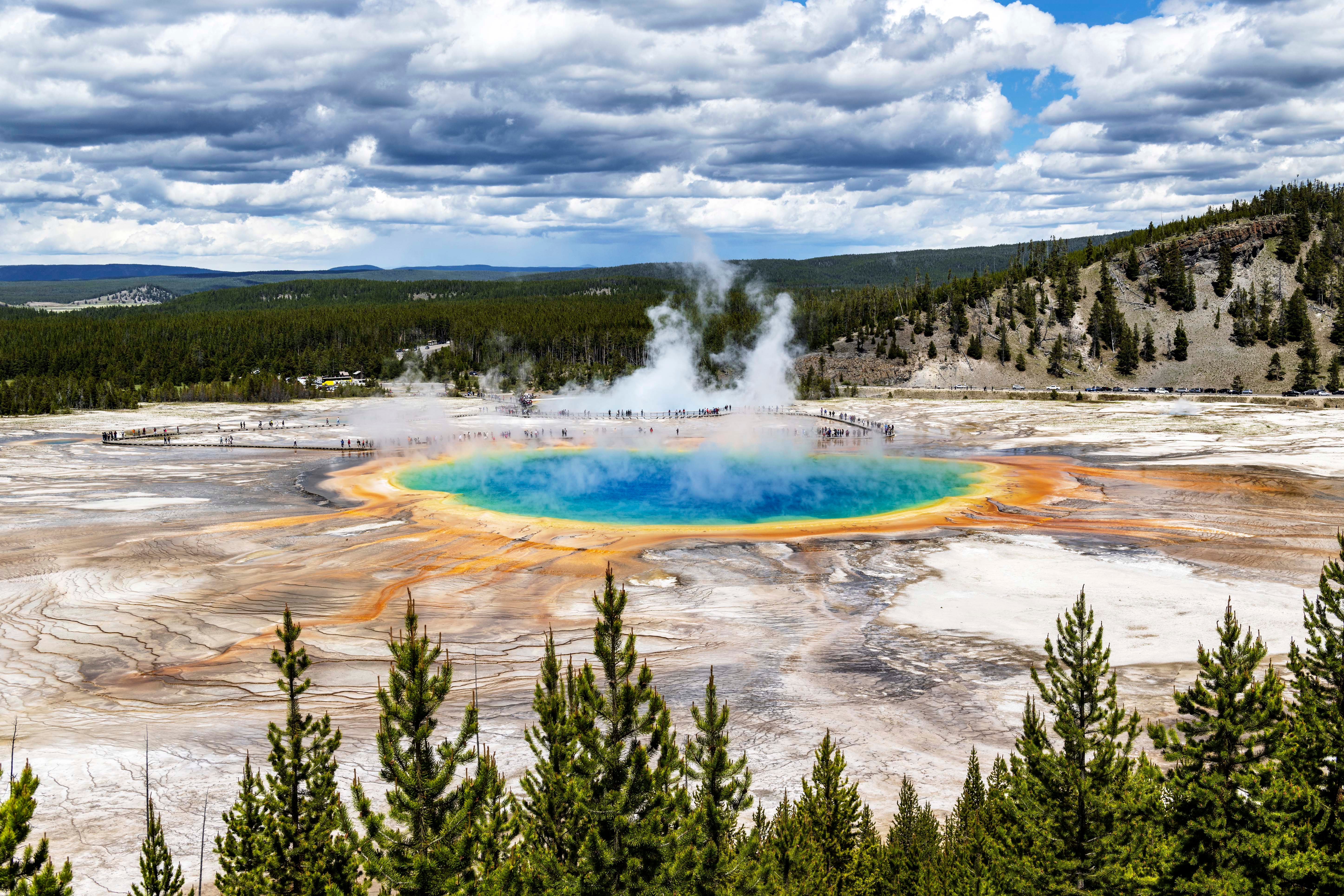 The Grand Prismatic Spring looks like something from another planet. Of all the thermal features in Yellowstone, the Grand Prismatic is the most photographed, and it's frequently paired with any mention of the Park. It's the third-largest hot spring in the world at 370 feet wide, and deeper than a 10-story building. Its rainbow of vivid colors in circular bands makes it incredibly eye-catching and otherworldly. Many visitors choose to get close and personal with this feature, walking the boardwalk right next to the spring. However, the best photo opportunity is from up above. Take the Fairy Falls Trail up to an overlook to get a sense of how massive this spring really is, and get the entire spring in your photograph.
Find This Viewpoint
On the Grand Loop Road, drive to the Fairy Falls Trail parking lot, about 1.5 miles south of the Grand Prismatic Spring parking lot. From this trailhead, hike about 0.5 miles until your reach a fork with a spur trail. Take the trail to the left for about 0.2 miles until you reach the overlook. You'll find a clear viewing platform that overlooks the Grand Prismatic Spring.
Observation Point Trail - Old Faithful
Old Faithful is another iconic Yellowstone feature, drawing more visitors than any other area in the park. This geyser is remarkable in part because of its predictability, lending itself well to planning for the perfect picture or video. You can find updated schedules on the Park's website here. Viewers generally gather at the base of Old Faithful to await its eruption, but (much like with the Grand Prismatic Spring) an even grander view is up 250 feet above the geyser at Observation Point.
Find This Viewpoint
Park at the Old Faithful Village and walk counterclockwise around the Old Faithful boardwalk. When you see the sign for Geyser Hill, take a right and you'll see the trailhead after you cross Firehole River. From there, hike up a half-mile of switchbacks to reach the observation point.
Mount Washburn Summit
This photo-op will require a bit more sweat and a 3-mile hike up to the summit of Mount Washburn. In early summer, you'll find several species of wildflower on the way up and bighorn sheep are often sighted near the trail. Once you reach the top at 10,219 feet of elevation, you're rewarded with 360-degree views of surrounding peaks and the Grand Canyon of the Yellowstone. Snap a photo with the summit sign, or a panorama from the base of the fire lookout. As with any summit, going on a clear day will give you better chances of a good photograph.
Find This Viewpoint
From Canyon Village, head north on the Grand Loop Road until you reach the Dunraven Pass - Mount Washburn Trailhead parking lot. Once there, follow the Mount Washburn South Trail the entire way until you reach the summit.
Lamar Valley (Wherever You See Wildlife)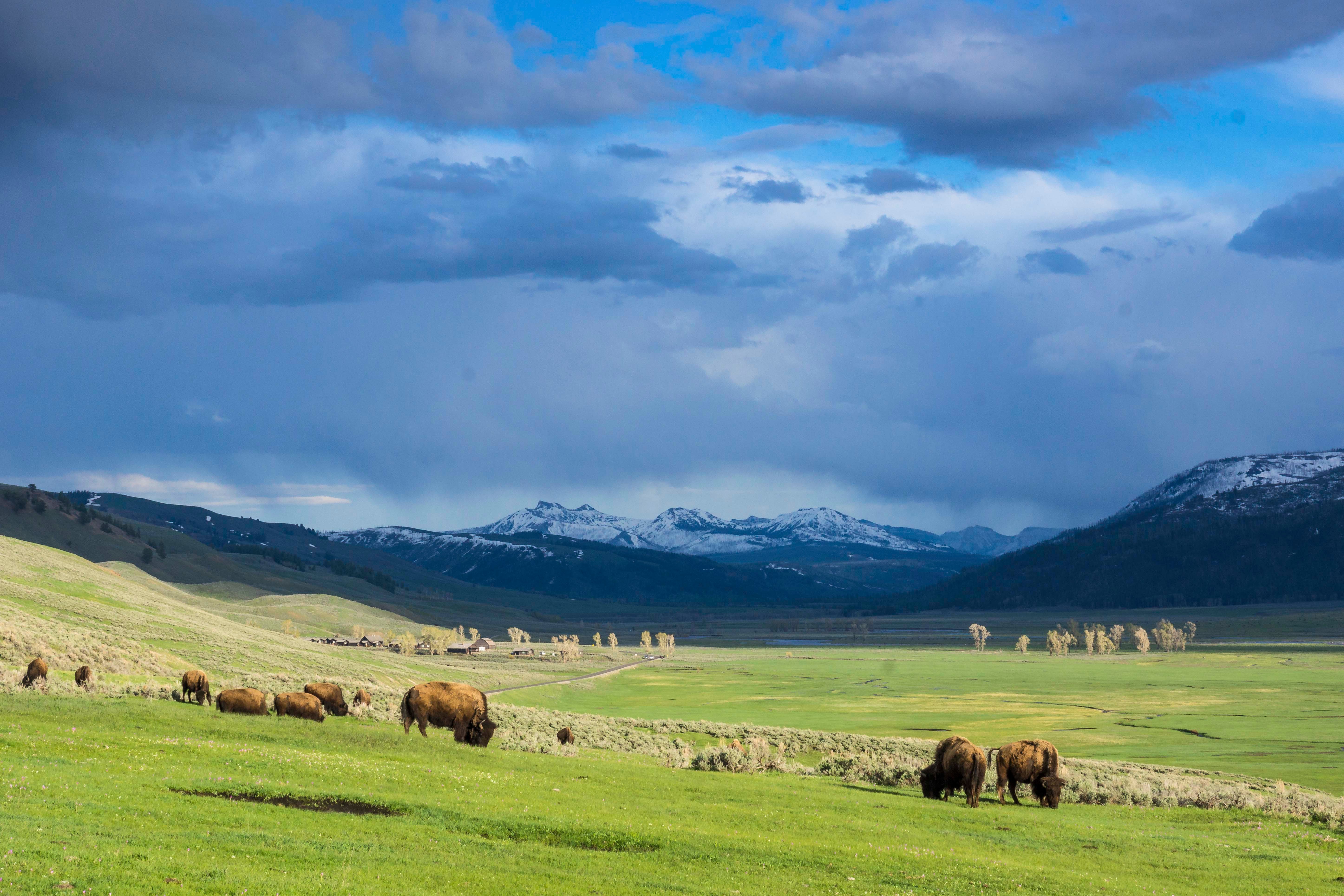 Driving through Lamar Valley (often called America's Serengeti), it's nearly impossible not to spot any wildlife. There's no specific point where you're guaranteed to spot wildlife for a photo-op, but that's part of the adventure! Lamar Valley is the best place to drive or hike around with your camera and wait for that perfect shot. Chances are good you'll see some bison, and if you're lucky, you might see the famous wolf packs that roam this valley. Several other animals including pronghorn, grizzly bears, bald eagles, deer and coyote can also be spotted here. As always, be sure to keep your distance from any wildlife and always carry bear spray. Even the best photo isn't worth an altercation with an animal!
If you enjoyed this blog, take a look at some of our other related articles at Bozemancvb.com.
In our never-ending quest to keep up with all things new in Bozeman, we have been producing content for years and can't possibly update every blog when new businesses open or existing businesses close. Please reference the publish date and do your own due diligence when making plans.