Making A Day Of It: Snowshoeing In Yellowstone National Park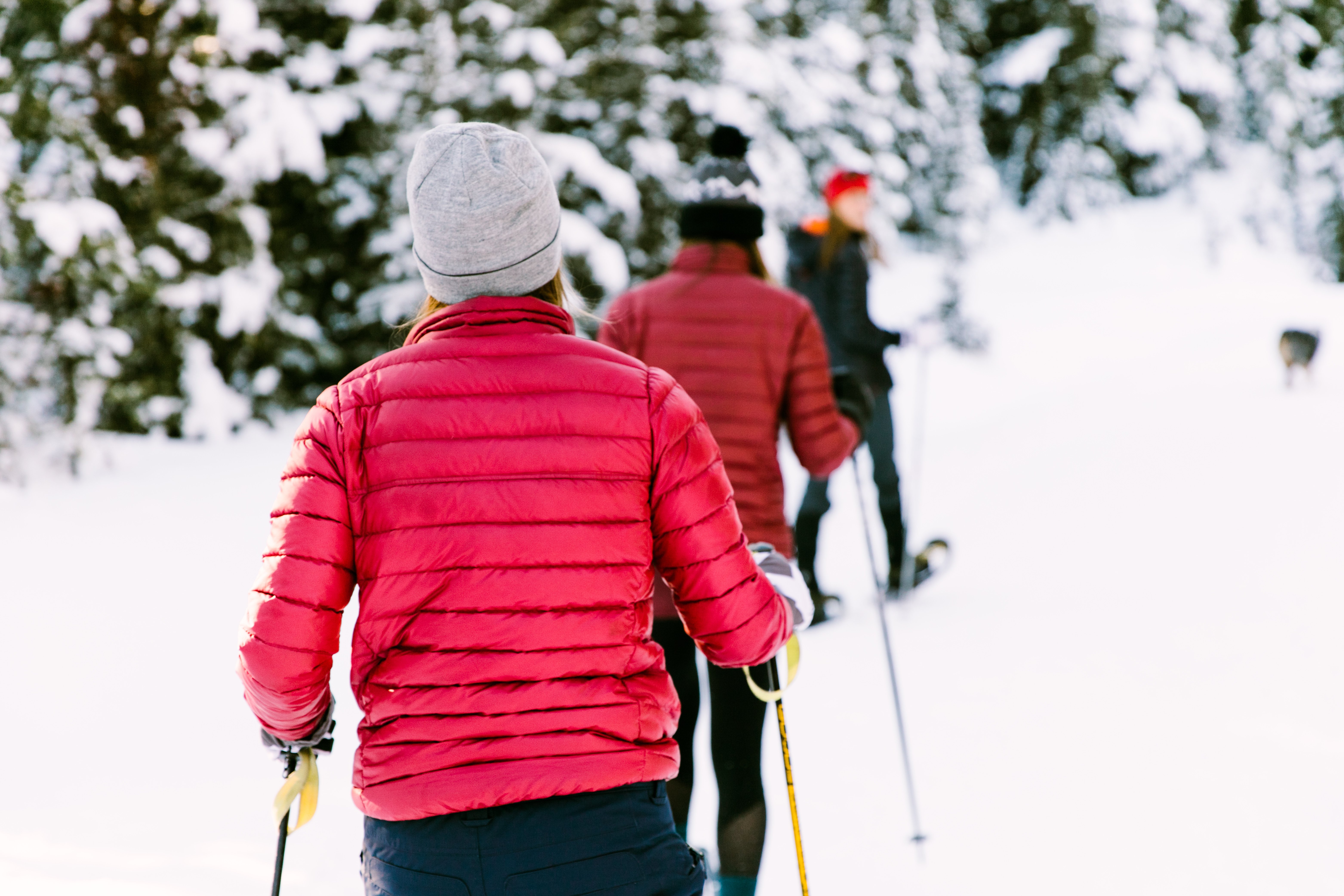 Yellowstone National Park is just a stone's throw from Bozeman, and seeing it in its winter glory is something special. Snowshoeing is one of the most intimate ways of experiencing the natural beauty, and it's an easy activity for any age and ability.
The options are plentiful; you can plan an excursion for any duration and skill level. All trails and roads are open to snowshoeing; however, if you are on a ski trail, snowshoers are required to walk alongside the trail to keep the ski tracks in order.
We've created a couple of itinerary options with one short and one long, but don't be afraid to get out and make tracks on your own!
Shorter Snowshoe Trip: Mammoth Hot Springs
For a shorter, more relaxed trip, Upper Terrace Loop Ski Trail at Mammoth Hot Springs is a great option. Located at the North Entrance just out outside of Gardiner, it's a 90-minute drive,(weather depending.) There's no need to feel rushed to get out of town, so you can enjoy an early breakfast in Bozeman beforehand.
The drive takes you to Livingston, then south on Highway 89 through the scenic Paradise Valley to Gardiner. The road runs along the Yellowstone River and is flanked by impressive Absaroka and Gallatin Ranges.
The North Entrance is open to motor vehicles year-round, so you can drive right to the trailhead at the Upper Terrace parking area. Starting from there, it's a 1.5-mile loop around hot springs and terraces, with a spectacular view of the Mammoth Hot Springs Historic District and its surroundings. The trail is considered easy to more difficult, but if you start the loop to your left, (clockwise) it's an easy trek.
We recommend stopping in Mammoth Hot Springs and exploring the Albright Visitor Center. Yellowstone is much more than beautiful scenery; it's natural and cultural gems are fascinating. On you're way home, grab a snack at the Yellowstone Pizza Company in Gardiner, MT.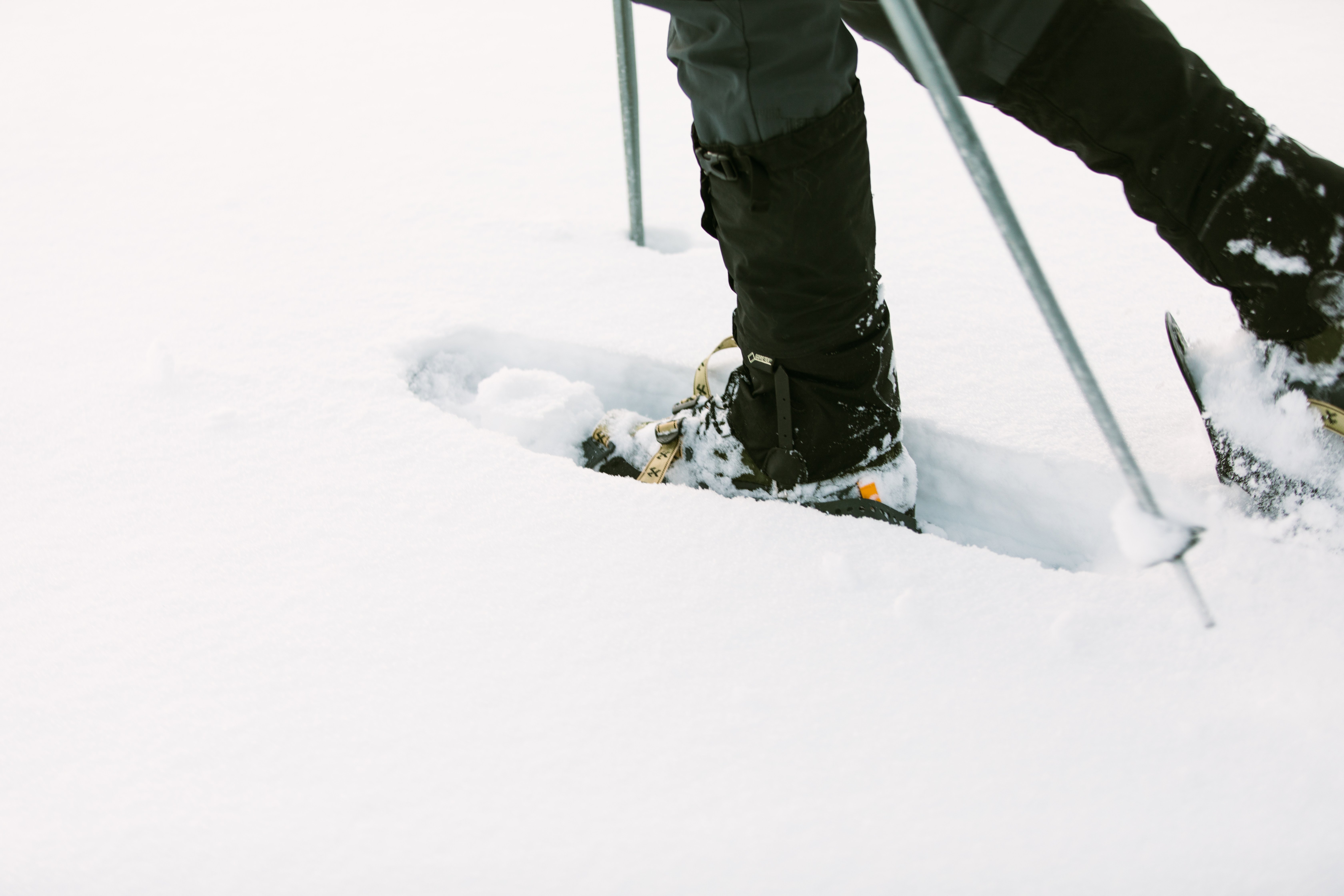 Longer Snowshoe Trip: Old Faithful Area
If you're up for a longer adventure, get up early, grab a coffee and a breakfast burrito, and head to the West Entrance of the park. Located outside West Yellowstone, it's a 90-mile drive from Bozeman on US Highway 191. (This road runs through Gallatin Canyon to Big Sky and can be busy with skiers heading to the hill, so consider an alternate route through Norris and Ennis, then back to Highway 191 to avoid the traffic.)
You can only access this area of the park through guided snowmobile or snowcoaches, but it is well worth it! The area around the West entrance gets a thick blanket of snow, the bison become covered in ice, and the steamy hydrothermal features seem even more spectacular in the winter.
The Observation Point Loop Snowshoe Trail is an easy 2 mile, snowshoe-only trail which takes about 1-2 hours, depending on your ability. The trail starts at the Old Faithful Visitor Education Center, heads up Geyser Hill and across the Firehole River where you get an unobstructed view of Upper Geyser Basin. A guided tour is a great way to learn more about the area. If you have some extra time, rent ice skates and take a whirl on the rink outside the lodge.
Stop for an early dinner in West Yellowstone. Firehole Bar-B-Que Co. and Madison Crossing Lounge are both local favorites!
In order to prepare, keep a few things in mind:
Talk with a park ranger before you head out to be sure the conditions are safe.
Always ski with a partner.
Bring plenty of water, don't let yourself get dehydrated.
If you are hiking around hydrothermal areas, stay on the marked trails. Veering off is both dangerous and prohibited.
The elevations can range from 7,000-10,000 feet so be aware that you may need to mover slower and pay attention to your breath. It may be a good idea to acclimate yourself beforehand.
Bison, elk, and other wildlife frequently cross the paths. It is recommended to stay 75 feet away from bison and elk, and keep a 300 distance from bears and wolves.
Weather can change rapidly, so bring extra layers of clothing.
For more information, go to www.nps.gov.
If you enjoyed this blog, take a look at our Bozeman Cold Weather Guide and some of our other related articles at Bozemancvb.com: