Cheers to Ladies' Night in Downtown Bozeman
If you've never been to Ladies' Night in Downtown Bozeman, mark your calendar. Each year before the holiday bustle, almost 60 downtown retailers and restaurants keep their doors open for an evening of pre-holiday shopping, specials, promotions, and girl time. It's one of the most anticipated events during the year, drawing thousands of participants. It's a fun energy and quite a site to see so many women gathered up and down Main Street!
Executive Director of Downtown Bozeman, Ellie Staley, tells how the event started. "This year will be the 13th year for Ladies' Night in Downtown Bozeman. It began with a night on the town with friends and two popular downtown businesses that decided to stay open late for a 'pre-holiday preview sale.' We had so much fun getting the chance to have a night out with shopping, food, and drinks that we thought it was a good chance to reach out to other businesses interested in staying open late. It only took one year before businesses were signing up with excitement, and now, we have over 60 participating businesses and thousands of participants."
Retailers and restaurants offer refreshments, libations, discounts, and giveaways. Guests can preview the season's latest fashions, peruse Christmas gifts, and discover new businesses. Many retailers invite guests to sip and shop; you'll find bubbly in more than one venue. Check out one of the many restaurant specials, such as pizza and wine at AC Hotel Bozeman. At the same time, register for a chance to win dinner and drinks for six at Benchmark, plus two hotel rooms at AC Hotel.
Other restaurant specials include charcuterie board or Crème brûlée at Copper, beer and cheese pairings from Maven's Market at Shred Monk, and French-inspired cocktails at PLONK! Be sure to stop by Blend for chocolate mousse with Syrah-poached Flathead cherries!
Last Best Comedy is hosting its second Ladies' Night show and wine tasting. Start the evening with a curated wine tasting from 7-8, then an all-male revue, Whiz Bang Down Under, beginning at 8 p.m.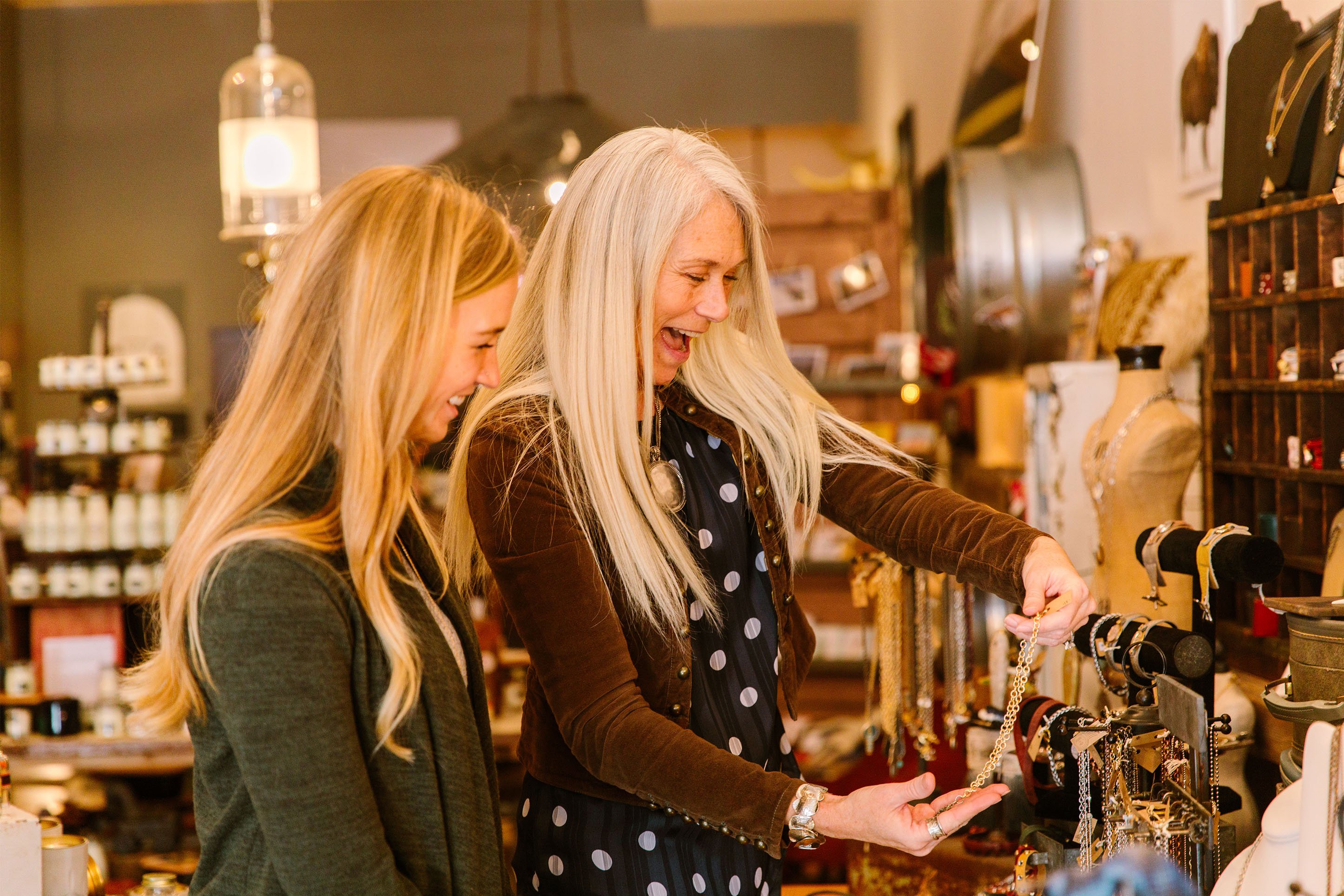 Watch for giveaways at fun stores such as Suelto Lingerie Boutique, where they give away luxury sleepwear, portrait sessions, and panties every 15 minutes! The Spice and Tea Exchange has gift bags for the first thirty people in the door and two gift baskets to give away. At LeeAnn Ramey Art (located in the Emerson), register to win an original "Blue Bear" painting by world-renown contemporary indigenous painter DG House (a $4,500 value!)
It's not just ladies' stores joining the fun; check out the gift-card promotion at Owenhouse Ace Hardware. There will be pop-up stores at the Baxter Hotel by Dry Hills Distilling, Apricot Lane, and Photo Art, plus drink specials at the Bacchus Pub. And, guest jewelry artist Dawn Josephine will be at Indikoi, offering 20% off her handcrafted jewelry.
Layer up, grab your besties, and make a plan because, as Staley says, "Ladies' Night has truly become Bozeman's favorite night out."
If you enjoyed this blog, take a look at some of our other related articles:
In our never-ending quest to keep up with all things new in Bozeman, we have been producing content for years and can't possibly update every blog when new businesses open or existing businesses close. Please reference the publish date and do your own due diligence when making plans.