Family-Friendly Yellowstone Hikes
Yellowstone National Park is a perfect place for families looking to get out in nature and experience Montana's wild and beautiful landscape. But if you're traveling with kids, not all hikes are created equal. Depending on your young ones' ages and abilities, plus their tolerance for weather, wildlife and crowds, you'll want to pick just the right trail that will allow them to get out there with you on the journey but still get everyone back to the car without a meltdown. Here are a few hikes that might fit the bill.
Mammoth Hot Springs Lower & Upper Terraces
Type: Multiple loops
Length: 1-3 miles
Although it can be busy, especially in the summertime, Mammoth Hot Springs is an essential stop on any trip to Yellowstone. Fortunately, its system of paved and boardwalk trails make it one of the most accessible hikes in the Park for people of all ages and abilities. If you choose to go from the lower to upper terraces, be prepared for some steep inclines and plenty of stairs⸺but it's all up to you.
Pros for families: Very accessible due to boardwalks and paved areas.
Cons: This is one of the most popular YNP destinations so expect that plenty of other families will be exploring, too.
Natural Bridge
Type: Out and back
Length: 2.5 miles
This pleasant, very pretty, mostly easy trail offers gorgeous scenery, a waterfall, and a unique "natural bridge" feature that is worth the trek.
Pros for families: The old service road makes for easy walking.
Cons: The final section can be a challenge.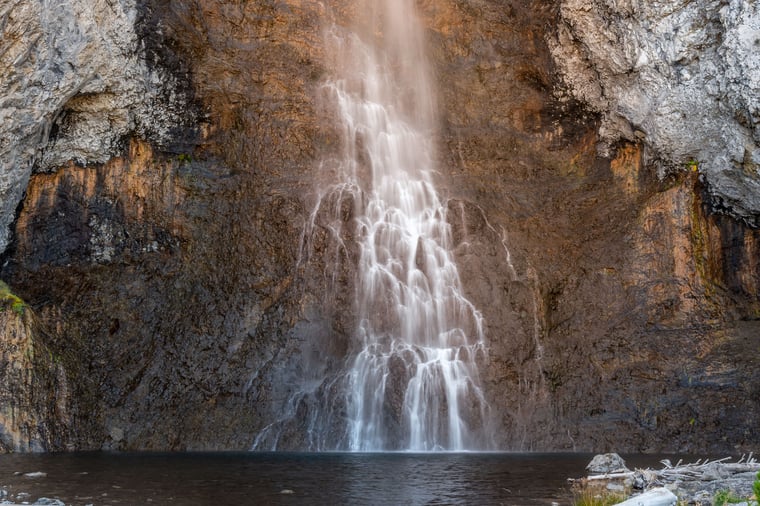 Fairy Falls
Type: Out and back
Length: 4.5 miles
Thermal pools, bubbling streams, and easy walking are just a few things that make this popular trail a great choice for a family outdoor adventure. Just under five miles, this out-and-back trail can be done in a little under two hours, depending on your pace. Oh, and there's an amazing waterfall, too.
Pros for families: The trail is relatively flat.
Cons: This hike could be too long for little ones, especially on extreme weather days.
Fountain Paint Pots Trail
Type: Loop
Length: .5 miles
This short, super easy, trail packs a lot of punch because you'll get to see many unusual geothermal features along the way, including mudpots, fumaroles and more.
Pros for families: Short, and sticks to boardwalk areas.
Cons: Hydrothermal water is extremely hot, so it's important to keep young ones close and away from the water.

Grand Prismatic Hot Spring Overlook
Type: Out and back
Length: 1.2 miles
This hike is more of a walk on a well-maintained gravel trail until you get to the very end, but that last push is well worth it for the expansive view of one of Yellowstone's largest and most iconic hot spring pools.
Pros for families: Easy and fairly short hike.
Cons: Both the parking lot and the trail can be crowded at peak times.

There are many more trails to explore in Yellowstone, but these few excellent choices will get you started. If you're ready to plan the perfect trip to Yellowstone, check out our complete guide today.
If you enjoyed this article, check out our related blogs:
In our never-ending quest to keep up with all things new in Bozeman, we have been producing content for years and can't possibly update every blog when new businesses open or existing businesses close. Please reference the publish date and do your own due diligence when making plans.