Outdoor Activities in Bozeman for Non-Outdoor People
So you're finally going to visit Montana, famous for its incredible scenery, wildlife, and multitude of outdoor recreation opportunities. But if you don't have a lot of experience in nature or you simply have a preference for the great indoors, it might feel scary or intimidating to venture outside your comfort zone and try something "outdoorsy."

Fortunately, there are plenty of ways to experience Montana's natural splendor and outdoor lifestyle without having to worry about having the right gear, overexerting yourself, or, most importantly, getting eaten by a bear. Here are a few ideas for any nature newbie who wants to dip their toe into the Bozeman way of life. We promise it doesn't have to be daunting, and who knows? You might really love it.
Hike The M
Known as the "College M," this popular Bozeman trail was created by Montana State University students in 1915 and then adorned with an "M" made of whitewashed stones (hence the name) that is visible from town to this day. While many locals like to complain about how the trail is too busy, they still hike it (some every single day and the hardcore athletes do it multiple times). But for someone who is a little bit scared of the outdoors, the M is a perfect hike: it's close to town, short (depending on which way you go, you're putting in 1-2 hours, start to finish), and most importantly, there are always plenty of people on the mountain, so you don't have to worry about any too-close encounters with wildlife. Plus, it's really tough to get lost: if you think you are, just ask the next person you see for help.
Drive to Hyalite
Hyalite Canyon Recreation Area is a beloved spot just about 15 miles from Bozeman where many locals love to hike, camp, and take advantage of other water recreation activities. The best part is, you really don't have to do any of those things in order to visit and enjoy Hyalite. Just drive your car up Hyalite Canyon Road (such a pretty view!), and stop at any pullout to dip your toes in the stream and listen to the mesmerizing sound of Hyalite Creek. If you make it to the reservoir, you have the option to fish, canoe, swim, or just walk around. For more information about all that Hyalite has to offer, visit the Friends of Hyalite website.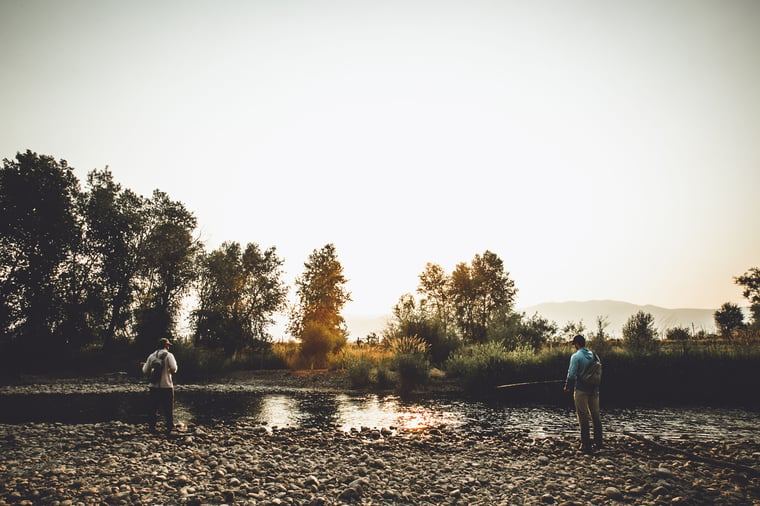 Take Advantage of Local Guides
If you're open to outdoor experiences but feeling hesitant or a little bit nervous about figuring everything out for yourself, you don't have to do it alone. It's possible to find a guide, class, or tour for pretty much any outdoor activity you want to try: hiking, wildlife watching, river rafting, fly fishing and many others. These people know what the heck they are doing, so you can feel safe and enjoy the journey without having to make all the plans and secure the necessary gear yourself. So if you want to try something outdoorsy but don't know where to begin, here are a few ideas:
Yellowstone Wild Tours offers a huge variety of full-day and multi-day hiking and wildlife-viewing excursions around Yellowstone.
Madison River Tubing will help you with everything you need and need to know for a guided or self-guided floating or rafting trip down the Madison River.
Fins & Feathers hosts guided half and full-day introductory fly-fishing trips year-round. (And there are dozens of other fly fishing guides in the area.)
320 Guest Ranch has daily horseback riding, fly fishing, and even an introductory wrangler activity for kids.
Walk and Explore
Walking in town still counts as being outdoors, and it's the cheapest and most accessible way to enjoy nature in Bozeman. The city has many gorgeous neighborhoods, each with its own character and vibe, and you can see the mountains from all of them. Or you could try the Galligator Trail, which literally goes right through town (from Montana State University to downtown Bozeman) but will make you feel like you're really out in nature. So put on your walking shoes and step outside with your phone map app, take a lovely walk, and then call a Lyft or walk yourself to a nice restaurant when you're done.

Visit a Hot Springs
For non-outdoorsy people, visiting a hot springs feels like a very outdoorsy thing to do, even though you're just sitting in some nice warm water and maybe having a cold beer or sparkling water. Chico Hot Springs, Bozeman Hot Springs, and Norris Hot Springs are a few local favorites, and you can find many more hot springs to explore on our blog.
Go Glamping
It is perfectly acceptable not to want to camp. But if you're camping-curious, there are ways to go about it that do involve starry nights, campfire s'mores, and scenic views and don't involve sleeping on the ground. Check out our complete guide to glamping around Bozeman for many excellent options.
We hope we've convinced you that you don't have to buy a kayak or take a four-day backpacking trip to get a taste of the Bozeman lifestyle and experience Montana's natural beauty firsthand. All you have to do is step a little bit out of your comfort zone⸺you'll be glad you did.
Want to know more about ways to play in Bozeman? Explore the Visit Bozeman website today.
If you enjoyed this article, check out our related blogs:
In our never-ending quest to keep up with all things new in Bozeman, we have been producing content for years and can't possibly update every blog when new businesses open or existing businesses close. Please reference the publish date and do your own due diligence when making plans.