Glamping Around Bozeman
Photo courtesy of Capture Now Studios
There is something magical about Bozeman in the summertime. The sunny weather makes you want to spend every moment possible outside enjoying the many trails, forests, and wildflowers that the Gallatin Valley provides. While camping may be a bit too primitive for some, glamping provides some additional amenities that make the whole experience more comfortable while still allowing you to experience the wonder of sleeping outdoors in nature. We've rounded up some of our favorite spots in the Bozeman area with glamping experiences here.
Hardscrabble Ranch
Take a picturesque drive through the mountains up to Hardscrabble Ranch in the Bridgers, with a stunning view of Ross Peak as the backdrop for their weddings. Hardscrabble has 15 glamping tents spread along Brackett Creek 12 featuring king beds and the remaining three offer two twin beds. All of the tents have a small deck with welcoming Adirondack chairs so you can soak in the views from your tent's front porch. Glamping is only offered in the summer here, but there are plenty of hiking trails accessible from your basecamp including Fairy Lake and Brackett Creek trail and Bozeman and Livingston are both about a 30-minute drive and offer plenty of shopping and culture to experience.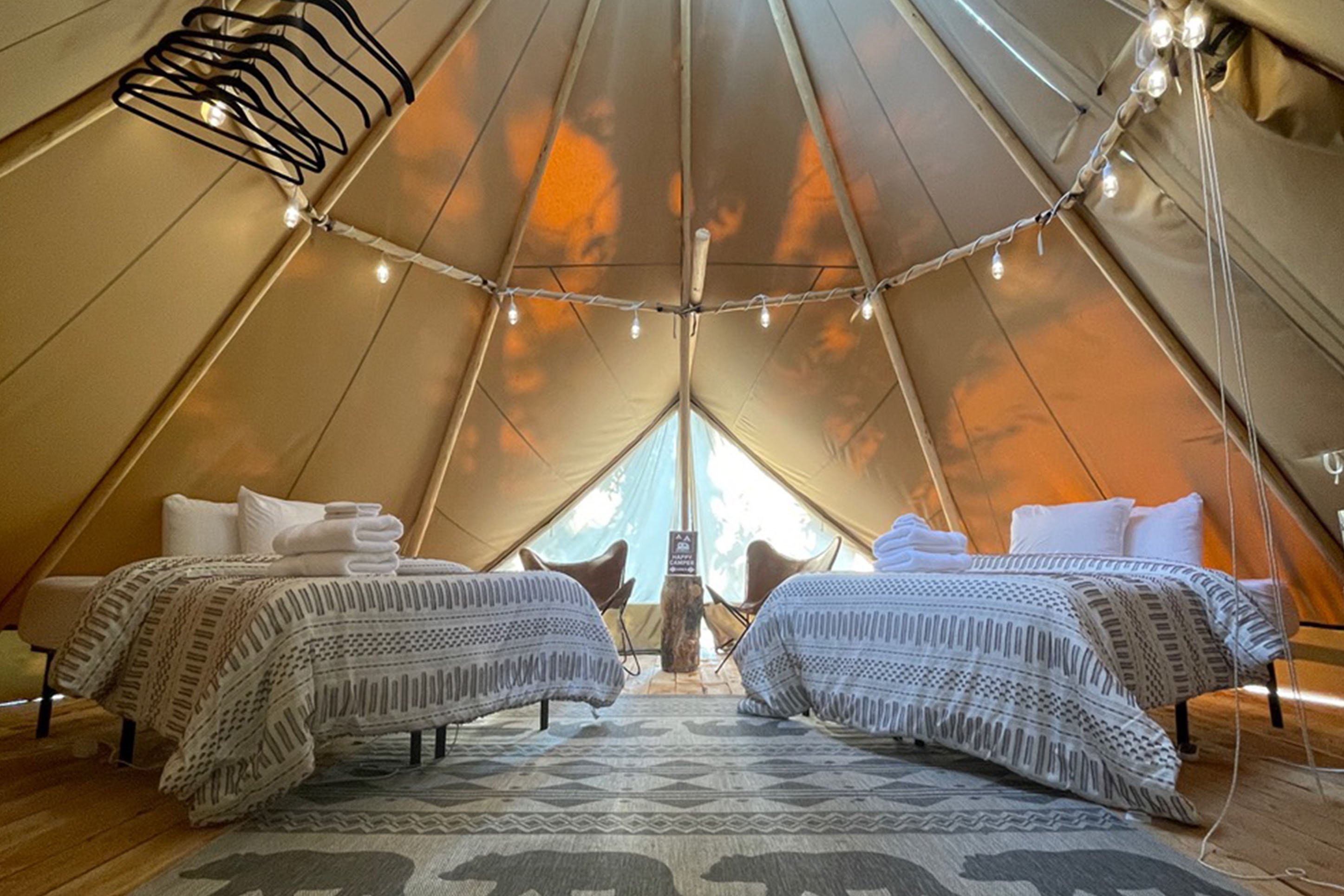 Bodhi Farms
Take a scenic drive out on Cottonwood Road to Bodhi Farms for a full-weekend glamping experience. The nordic tipis at Bodhi Farms are spread out to allow for some creekside privacy and include multiple power outlets to keep your devices charged and your tent as cozy as you like. Bodhi Farms has an assortment of summer and fall activities for you to partake in while you stay with them, ranging from the Wandering Sauna and yoga classes to fly fishing and farm activities. They even have year-round dining with farm-fresh produce at their on-site restaurant and bar.

Pitch Yellowstone
Pitch Yellowstone, located in Paradise Valley, offers expansive views of the Absaroka-Beartooth mountain range. Instead of tents or tipis, the glamping here is located in individual domes outfitted with a queen size bed, private bathroom, and a kitchenette for a true luxury camping experience. The units are also heated and air-conditioned to guarantee a cozy stay in any season. Paradise Valley offers a variety of activities in all seasons including hikes, fly fishing, snowshoeing, and soaking in hot springs.
Yellowstone Dreamin Camp
Though it's a bit of a drive from Bozeman, Yellowstone Dreamin Camp in Emigrant, Montana does offer a wide variety of activities including several different tour options of nearby Yellowstone National Park. Your glamping experience here includes 12 tent options to choose from with varied furnishings depending on your party size. As a bonus, your stay includes continental breakfast, and kids 12 and under stay free.
If you're looking for a little more luxury than your typical Montana camping experience, any one of these options should have just what you need. But if you've decided that glamping isn't your vibe, plenty of other lodging options are available to make your stay in Bozeman as comfortable as possible.
If you enjoyed this blog, take a look at some of our other related articles at Bozemancvb.com:
In our never-ending quest to keep up with all things new in Bozeman, we have been producing content for years and can't possibly update every blog when new businesses open or existing businesses close. Please reference the publish date and do your own due diligence when making plans.