Hiking Drinking Horse Mountain Trail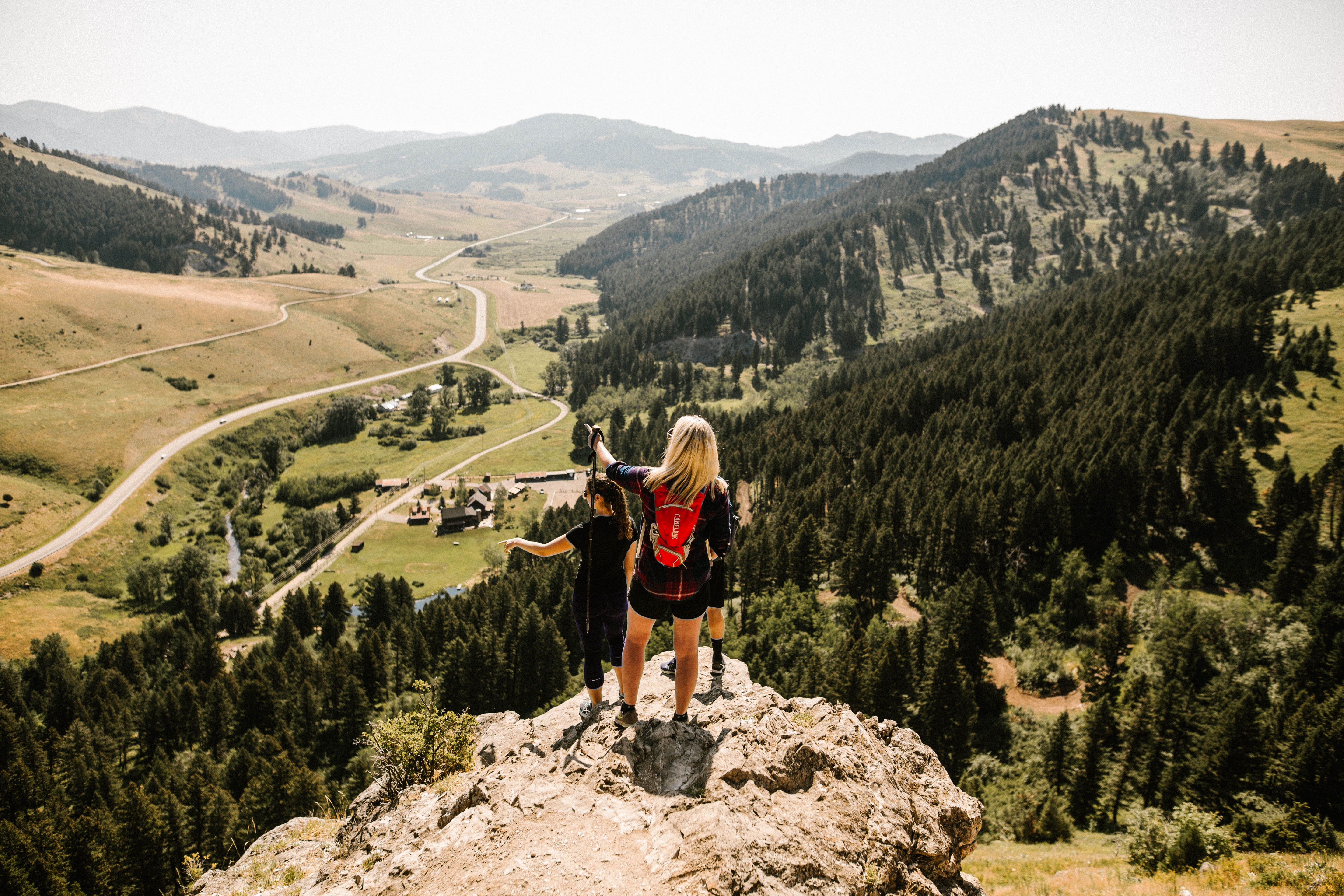 Bozeman is surrounded by magnificent hiking; look in any direction and you'll find stunning peaks and gorgeous vistas. But the real beauty of the area is the ability to grab a quick hike with beautiful views right outside of town. Drinking Horse Mountain Trail is a local favorite for exactly that reason. The 2.4-mile round trip hike can be done in about an hour, perfect for either quick exercise or a leisurely stroll.
As you start up Bridger Canyon, the Fish Technology Center is on your right; turn here and you'll see the parking area. If you're looking for a nice spot to relax by a creek, simply walk to the bright orange bridge. The beautiful modern architecture provides cover and plenty of seating. Bring a book and a snack and stay a while!

For those who want to continue on to the full hike, you'll see a big black archway leading to the trail. You'll soon reach a map of the route along with a fork in the road. Facing the map, if you hike to the left, the ascent is steeper but has plenty of shade. If you opt for the route to the right, it's much more moderate. It takes a bit longer, but with fewer trees, the views are broader.
Related - Bozeman Hiking List
Wildflowers are abundant, particularly in the spring when the balsamroot blankets the ground in yellow. If you're looking to take it slow and easy, there are benches along the easier route, and a picnic table at the top! Kiddos will love the wood fort that seemingly keeps getting bigger.

Once at the top, you'll have views in every direction. To the east, you look to Bridger Canyon, lush with farmland and a sprinkling of ranch houses. If you are facing south, the Gallatin Range towers behind rolling hills which are generally occupied by grazing horses. West of the trail looks out over the Gallatin Valley, with mountain views as far off as the Tobacco Roots.

This is a great hike for all ages and skill levels. It's beautiful for early morning sunrises or evening sunsets but if you're looking for less traffic, early afternoons are generally quieter.

The trail is dog friendly and the creek at the end of the hike is the perfect way to cool them off!
If you enjoyed this blog, take a look at some of our other related articles at Bozemancvb.com: