Outside Kind: Hike Kind
One of the most spectacular aspects of Bozeman is the hiking trails. Surrounded by mountain ranges and just a stone's throw from Yellowstone National Park, you'll never tire of finding new landscapes and bagging some serious peaks. There are options for all abilities and ages, from the gentle (and ADA accessible) walk to Palisades Falls to Sacajawea Peak, the highest point in the Bridger Mountain Range; the trails are varied, well-kept, and offer stunning scenery. And, as Bozeman continues to grow in both visitation and population, they are ever-more popular, so we've put together some friendly reminders about hiking etiquette.
Hike Aware
One of the most important things you can do to take care of our trails is to avoid muddy trails, particularly in the early spring, when trails are wet. Often, people hike around the mud puddle, creating new paths called social trails. These trails trample natural flora, fauna, and natural grasses. Every summer, several groups try to undo these braided, social trails; by hiking around the puddle, you're undoing all the work people have put in.
During mud season, it's best to hike early in the morning, when trails are still frozen. If the parking lot is full, have a backup plan to go somewhere less crowded to minimize wear and tear on the trail.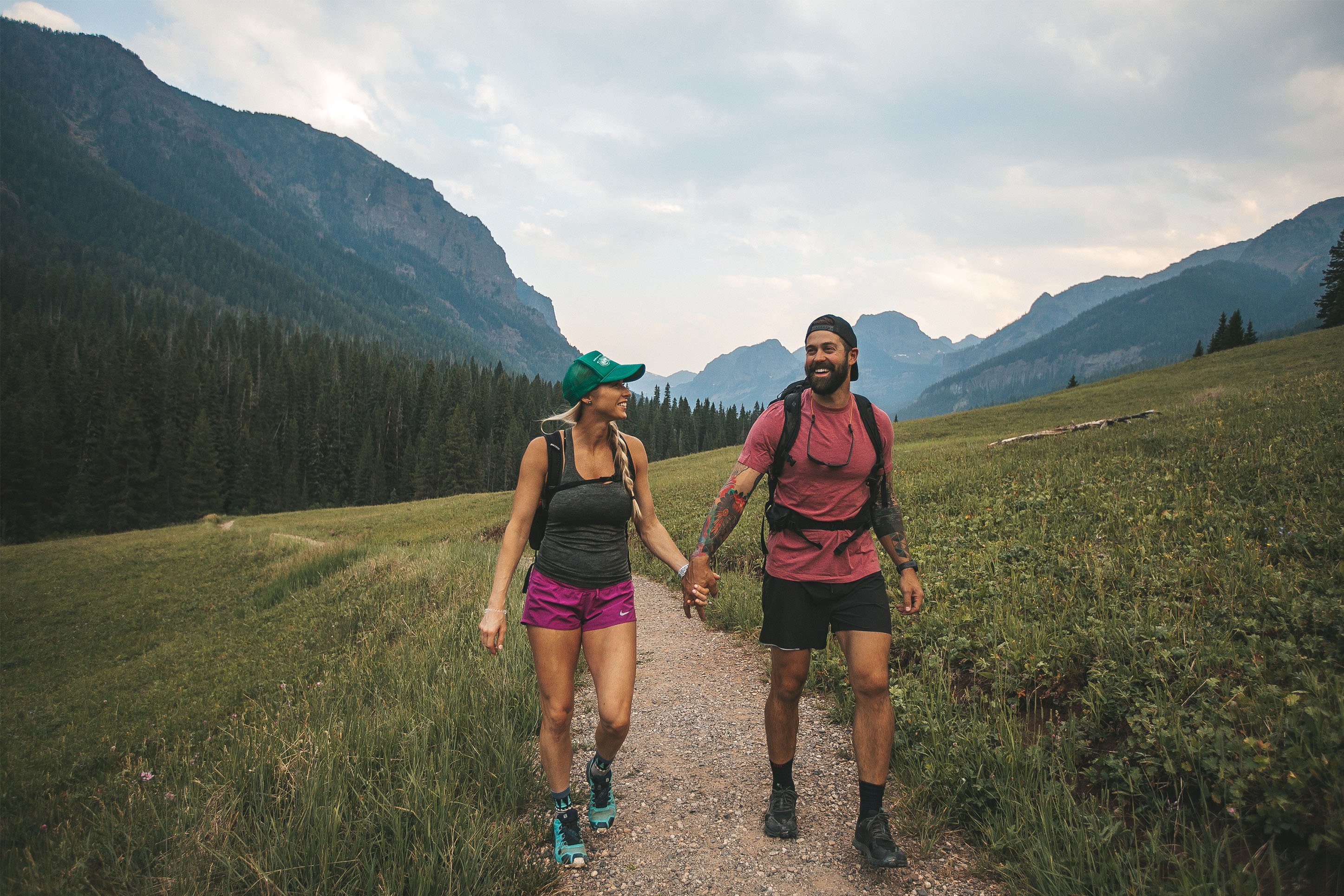 Hike Inclusive
Most trails around Bozeman are open to hiking, biking, motorized bikes, and horseback riding. Whatever mode you choose, it's essential to share the path. Uphill hikers always have the right of way unless you encounter a horse, in which case, the hiker should always step aside. Call out and alert the horse and rider that you are on the trail. Uphill or downhill bikers should yield to uphill hikers, but hikers should be aware of their surroundings. Don't use headphones and stay alert. A biker may not be able to stop right away, so always keep an ear open so you can hear what is going on around you.
Hike Safe
Be sure you are familiar with where you are going and download a map from sites such as All Trails or onX Maps. Review information from other hikers and be sure you find the appropriate ability. The Hiking Bozeman forum on Facebook is an excellent resource for trail conditions, wildlife sightings, and additional important information. Don't count on having cell service. Always hike with a partner and let someone know where you are going and when you plan to return. Finally, be bear aware; carry bear spray and make noise on the trail.

Leave No Trace
You know the rule, "Pack it in, pack it out." That goes for dog waste as well. Always carry dog poop bags, and if there isn't a waste receptacle, carry it out. And while it seems things like orange peels and apple cores are harmless, any time food is left out; it increases the chance of a human-predator interaction.
Hike Kind
"Howdy is how we do it." Greeting people, smiling, and saying hello is standard etiquette for hikers. Kindness is key. Treat each other with kindness but also treat the trails with kindness. Study up on etiquette, who yields to who, and who has the right of way, making for a better experience for everyone.
About Outside Kind
The Outside Kind Alliance, which consists of several local organizations and is facilitated by One Montana, joined forces to protect the people and places we love and to explore ethical use issues that all recreational users need to know about. We want everyone to have a great experience, understand how to enjoy the outdoors while sharing it with others, and treading lightly on the resource. To learn more, visit outsidekind.org.
If you enjoyed this blog, take a look at some of our other related articles:
In our never-ending quest to keep up with all things new in Bozeman, we have been producing content for years and can't possibly update every blog when new businesses open or existing businesses close. Please reference the publish date and do your own due diligence when making plans.