Hiking the Continental Divide Trail Near Bozeman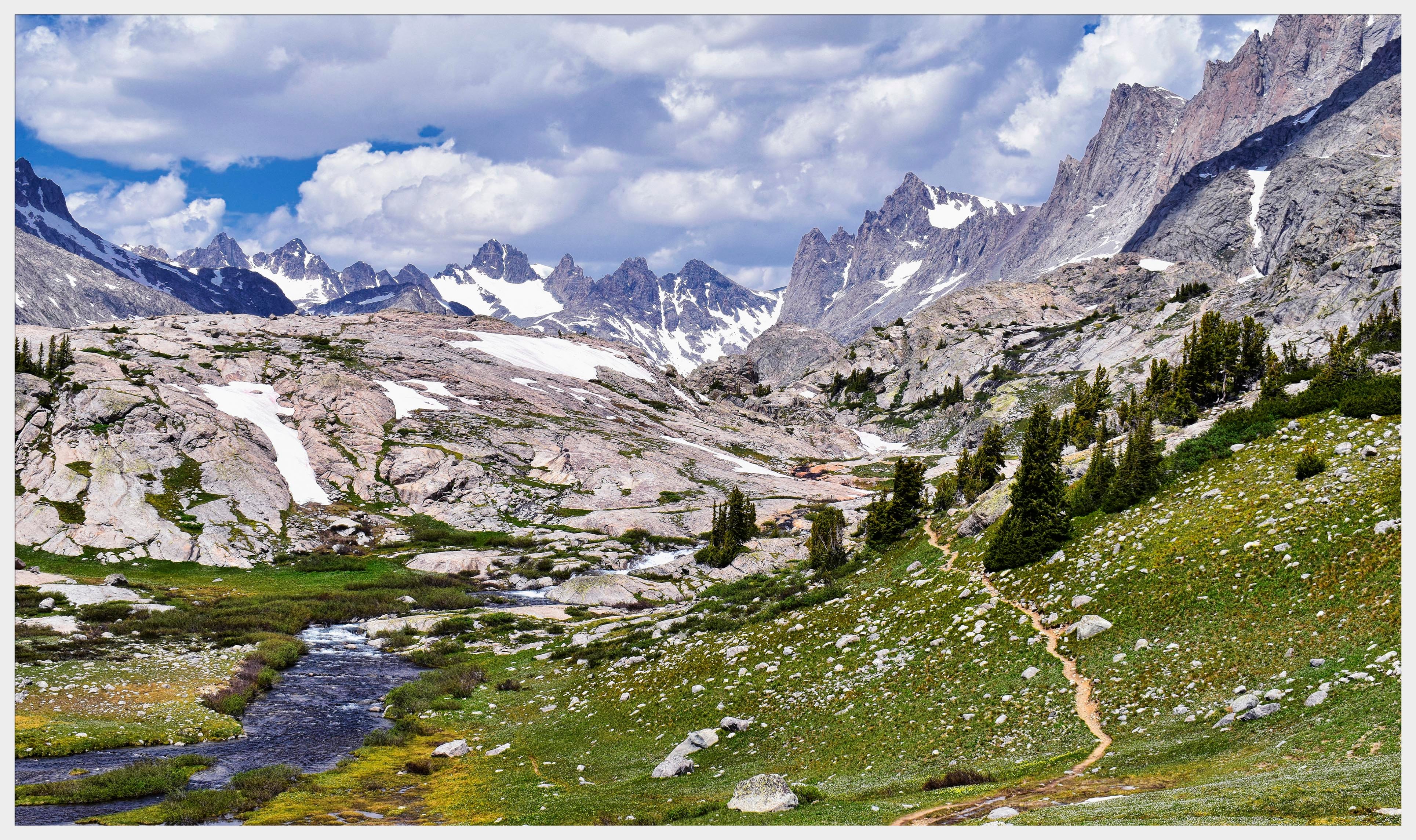 Just a few dozen thru-hikers complete the 3,100 miles of the Continental Divide Trail (CDT) each year. The elevations can be grueling, but the scenery is a spectacular reward. Eight hundred miles of the trail meander through Montana, with several sections near Bozeman. For those who want a taste of the trail without a six-month commitment; shorter backpacking trips are easy to put together. Situated between sections, Bozeman is a great place to basecamp in between trips!
Anaconda Pintler Wilderness
Located in the Beaverhead-Deerlodge National Forest, 45 miles of the trail runs through the Anaconda Pintler Wilderness. This rugged stretch of trail ranges in elevation from 5,100' to 10,792'. The terrain is perfect for mountain goats, who make their home among the rocks. Mountain lakes dot the 16 miles, out and back trail. This hike is ideal for a 2-night trip, leaving you a day for exploration and relaxation in between. From Bozeman, it's roughly four hours to get to the trailhead. (If you're a fly fisher, bring your rod and tack another day on to your trip; the Big Hole River has exceptional fishing!)

Big Hole Pass
It's worth traveling on a few more miles for another couple of days on the Big Hole Pass. The pass straddles Montana and Idaho and was the return route for William Clark, his 50 men, Sacajawea, and her baby. This section of the trail is 16.8 miles point to point. For a beautiful side drive, return to Bozeman through the Bitterroot Valley, hopping on the interstate in Missoula.



Centennial Mountains
Sixty miles of the CDT run through the Centennial Mountains, located near Red Rocks Lake National Wildlife Preserve. Roughly three hours from Bozeman via Ennis, the drive takes you along the Madison River on one side and the Madison Mountain Range on the other. The entire stretch is closed to motorized use, so you'll truly be in the wild! The area is home to an abundance of birds and wildlife, including moose, elk, deer, wolverines, badgers, black bears, and occasionally grizzlies and wolves! For a spectacular route back to Bozeman, go through West Yellowstone and the Gallatin Canyon.

Beaverhead Mountains
This section, located near Dillon, Montana, has a much different feel from most of the terrain. Here the trail runs along the crest of the Continental Divide with open grasslands and broad vistas. This area is surrounded by large patches of farmland, forming a beautiful patchwork. We suggest taking the backgrounds through Twin Bridges and Whitehall on your return to Bozeman, which is approximately 2 hours from Bozeman.

Pipestone and Homestake Passes
There are two access points near Butte, located an hour from Bozeman; Pipestone Pass, and Homestake Pass. Both of these are excellent options for day hiking, and you get the bonus of a hot dinner and a warm bed when you get back!

Yellowstone National Park
Sixty-nine miles of the trail run through Yellowstone National Park with features you won't find anywhere else! (Think: steamy geysers and bubbling hot pots.) From Bozeman, head east to the north entrance located in Gardiner, Montana. Drive to Old Faithful, where you'll find access along the Howard Eaton Trail, located on the Southside of the Grand Loop. You'll need backcountry permits, so be sure to plan ahead!

Keep in mind, weather changes rapidly in Montana, especially in the spring and fall, where it can be sunny in the morning and snow in the afternoon! Bring plenty of layers, including rain gear. The sun is intense at higher elevations, so be sure to bring proper cover such as hats and gloves, as well as sunscreen. Bug spray is highly recommended. Wildlife, including bear, populate most of the areas, so be sure to carry bear spray!
For more information including a full set of maps, go to ContinentalDivideTrail.org.
In our never-ending quest to keep up with all things new in Bozeman, we have been producing content for years and can't possibly update every blog when new businesses open or existing businesses close. Please reference the publish date and do your own due diligence when making plans.