Stroller-Friendly Hiking Trails Around Bozeman
Bozeman is a great place to get the little ones out, even the wee little ones still in strollers! In addition to the plethora of hiking trails maintained by the USFS, Bozeman is fortunate to have Gallatin Valley Land Trust, which supports a fabulous trail system in and around Bozeman. If you're looking for camaraderie on the trails, check out Fresh Air Families, a weekly program for parents to explore local trails and parks while creating community, embracing the benefits of fresh air, and learning more about our beautiful valley.
A short drive from downtown Bozeman, Triple Tree can be either an out-and-back or a loop- (though the loop would be a bit more rigorous with a stroller in tow.) The trail begins with a nice gradual incline through grassy meadows with benches along the way. You'll get a great view of the Gallatin Valley.
Just past Hyalite Reservoir, 20 miles outside of Bozeman, Palisade Falls is one of the only accessible paved trails in the area. It's a short distance to the falls, with an accessible bathroom and a lovely picnic area, making it an excellent destination for families.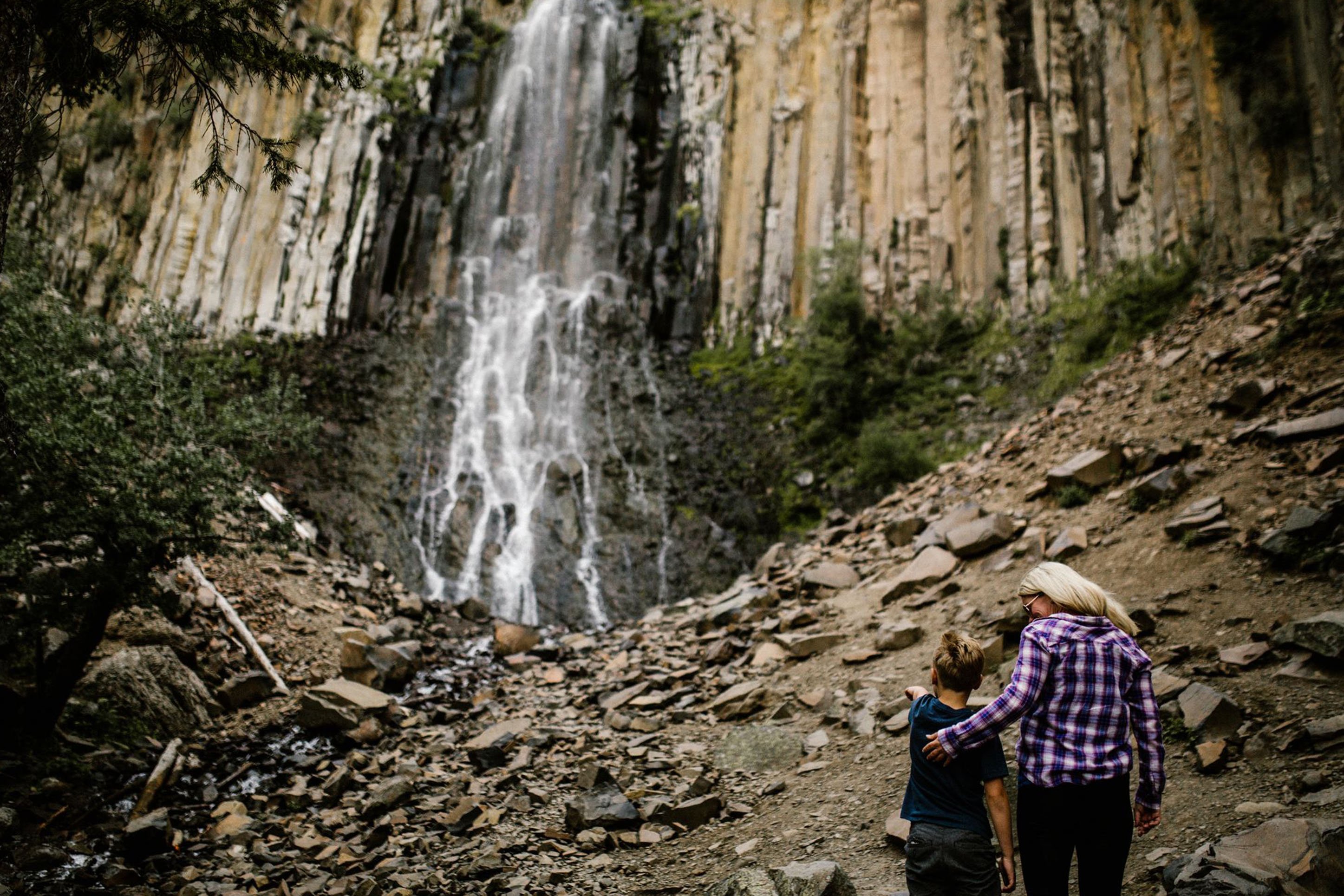 Running along an old railway that extended to Gallatin Gateway, the Gallagator was named after the train's nickname, given its slow speed. Today, the trail is a connector between Montana State University and downtown. Langhor Park is situated in the middle of the trail with community gardens, a climbing boulder, a natural playground, and a pollinator garden.
This trail is a favorite year-round. In the winter, Bridger Ski Foundation grooms the trail for Nordic skiers, and in the summer, the mature forests keep the temperature cooler than some of the more exposed tracks. There's water for the pups, and the gradual incline makes it easy to push a stroller.
This easy trail wraps around Bozeman Pond just past Gallatin Valley Mall. There are benches along the way, a fenced, off-leash dog area for swimming, picnic tables and pavilions, plus a fishing dock and climbing boulder—a great place to spend the afternoon on a hot summer day.
This trail, located just off Main Street, is excellent for watching the sunrise and the sunset. It's a slope to get to the top, but most of the trail is long and flat, with exceptional views of Bozeman. Dogs are allowed off-leash.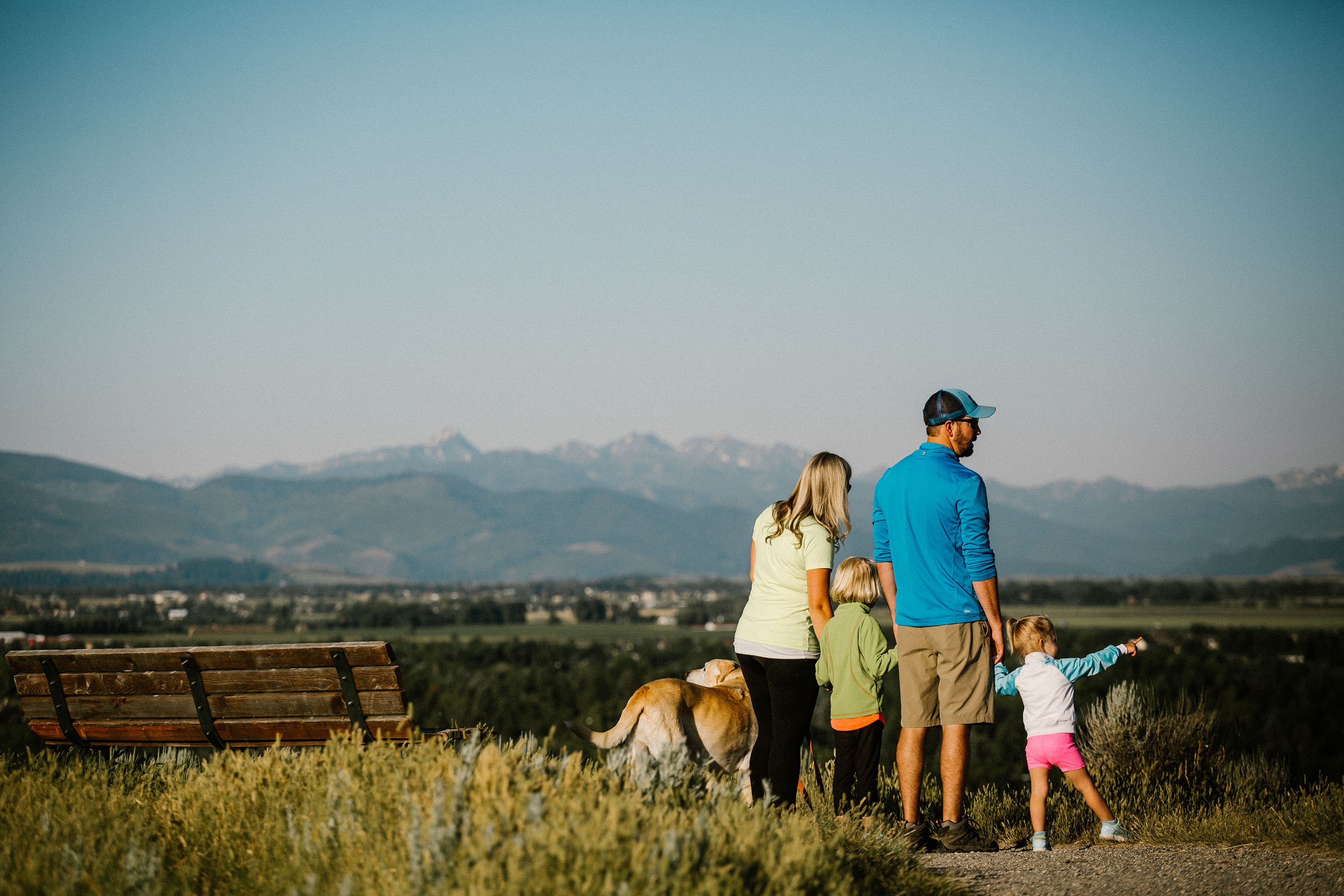 These six miles of trails across from Bozeman Health winds through cow pastures, into gullies, and across cultivated fields. Watch for deer, fox, elk, and sandhill cranes. This trail is also groomed for skiing in the winter.
Beginning with a connection at Bozeman Pond Trails, this trail takes you through beautifully manicured greenways and neighborhoods, ending up on Oak Street, where you can connect with Gallatin Regional Park trails.
Another six miles of trails form a figure eight around two ponds. There's a swimming area and beach for kids, benches, picnic tables and pavilions, climbing boulders, Dinosaur Playground, and Nordic skiing and sledding in the winter.
This little hike may be short, but it's lovely. Located just off Frontage Road, the trail has stunning views of the Bridger Mountain Range. The ponds and cattails provide excellent bird-watching habitat, and the East Gallatin River runs through, providing a nice spot to relax and enjoy the solitude.
If you enjoyed this blog, take a look at some of our other related articles:
In our never-ending quest to keep up with all things new in Bozeman, we have been producing content for years and can't possibly update every blog when new businesses open or existing businesses close. Please reference the publish date and do your own due diligence when making plans.