Thrifting & Vintage in Bozeman
Secondhand goods are having a moment⸺a very long moment, thanks to an overabundance of stuff in the world and a growing awareness of the negative impacts of fast fashion and excessive consumerism. Lucky for locals and visitors alike, Bozeman is truly a mecca for great secondhand and vintage shops. So if you're planning to visit, be sure to budget some time to visit local resale stores, where you're going to find cool treasures at amazing prices. Don't go home with something new: go home with something that's really from Montana.
Vintage and Specialty Secondhand Stores
These stores are not donation-based, so they are more selective about their inventory and its quality. Expect to pay slightly higher prices but for better quality goods. Savvy shoppers don't pay retail anymore, are we right?
Rare Bird
Rare Bird is a tiny but very well-curated shop where you can find beautiful vintage dresses, high-quality denim, and the hottest vintage trends. Stop by, and you're sure to find something special.
Cash4Clothes Bozeman
Cash4Clothes is not exclusively a vintage store, but they have plenty of it, plus Western wear, Levi's, many popular and high-end outdoor brands, activewear and much more. Be prepared to spend some time in this ginormous shop, where you'll find many things you want and just as many that you need.
Bozeman Vintage
Pictured above, Bozeman Vintage is the place to go for tons of genuine vintage and Rocky Mountain-inspired western wear. This handsome shop has a seemingly endless collection of cowboy boots, pearl snaps, hats, and vintage denim, so visit if you love vintage or just want to get your Montana on.
Recouture
Recouture is an "upscale resale" consignment store that carries modern and designer brands, plus a selection of housewares, furniture and art. This is a great place to go for great handbags and designer brands that you won't find anywhere else in town.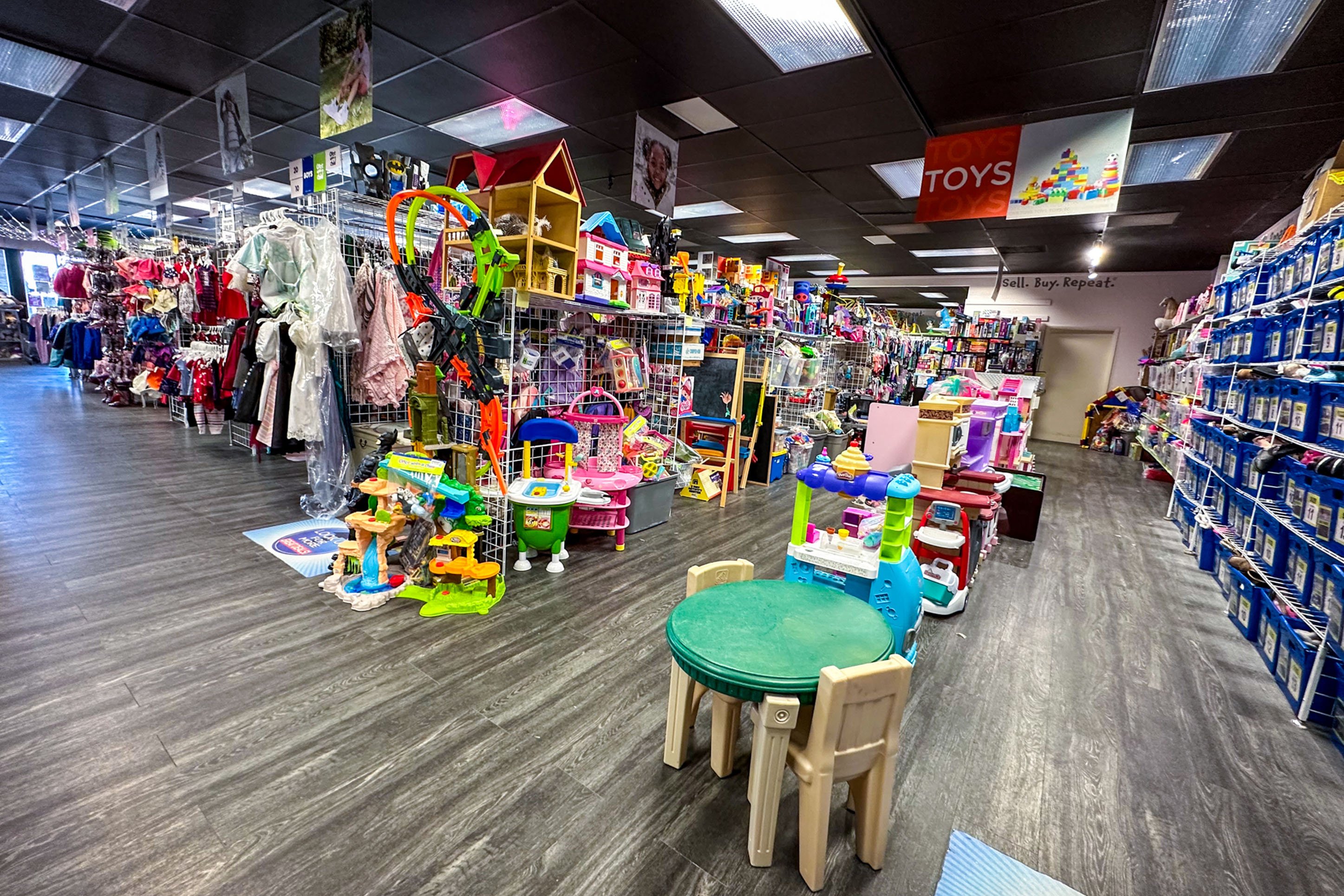 Once Upon a Child
This shop buys and sells gently used kids' clothing, shoes, toys and baby gear. Because everything is purchased from the public, you can expect items to be clean and of higher quality, which is especially nice when you're dealing with second-hand goods from and for tiny, messy humans.
Thrift Shops
If you're looking for donation-based resale shops that carry more than just clothing and give back to the community in a variety of ways, check out these fantastic places:
Do Overs Thrift
Do Overs is one of Bozeman's newest second-hand stores located where Goodwill used to be (that's right, Bozeman does not have a Goodwill). Probably the largest thrift store in the area, Do Overs has an enormous selection of jeans, shoes, household goods, outdoor gear, artwork, furniture, electronics and more.
Treasure Emporium 406
Another one of Bozeman's newer thrift stores, this small and wacky little shop is dedicated to giving shoppers great finds, and the prices are pretty darn good, too. As a bonus, you'll likely be greeted by the sweet shop dog, Sugar.
Sacks Thrift Store
A community favorite, this downtown nonprofit thrift shop offers an eclectic mix of home goods, art, books, brand name and basic clothing, and more. Proceeds from Sacks benefit local Help Center programs, an added bonus.
Rethink Thrift
You will definitely find a unique treasure at Rethink Thrift, a smallish but lovely thrift shop that carries a little bit of everything. Visit on a Friday and get 50 percent off everything in the store.
Bridger Thrift
This fun and funky little store has clothing, housewares, CDs and DVDs, books, small furniture, and more.
Bozeman Senior Center/2nd Hand Rose
This joyful, volunteer-run basement shop has kitchenware, knick-knacks, crafts, puzzles, and clothing, and fabric, among many other items.
And just out of town...
If you're a hardcore thrifter and can make the drive, you'll find half a dozen more good secondhand shops within 15-30 minutes from Bozeman, including Goodwill in Belgrade, Twice Treasured Thrift and Montana Thrift & Consignment in Four Corners and Community Closet and Curated Closet in Livingston.
Yes, Bozeman is truly a town that has it all. If you're ready to come see us, start planning your trip at VisitBozeman.com today.
If you enjoyed this blog, take a look at some of our other related articles at Bozemancvb.com:
In our never-ending quest to keep up with all things new in Bozeman, we have been producing content for years and can't possibly update every blog when new businesses open or existing businesses close. Please reference the publish date and do your own due diligence when making plans.