10 Awesome Outdoor Destinations within Two Hours of Bozeman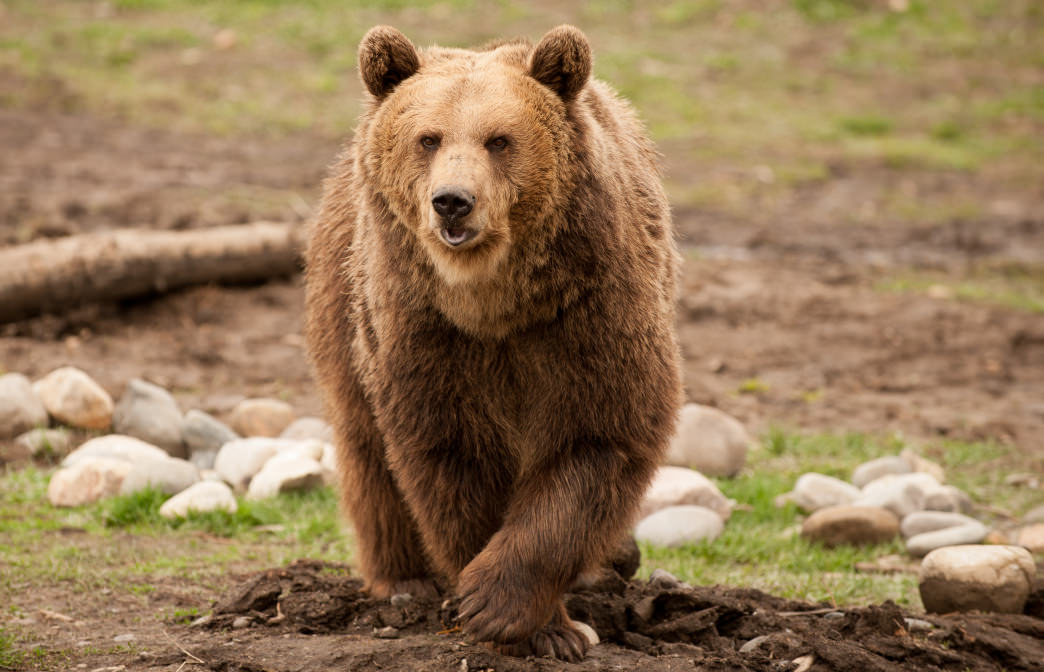 The Montana Grizzly Encounter offers visitors the opportunity to observe rescued bears in a safe environment. Montana Office of Tourism and Business Development
Nestled amidst the Rocky Mountains and tucked into the Gallatin Valley, Bozeman, Montana, carries the reputation of an outdoor lover's paradise—and for good reason. Most residents play as hard as they work, and they can usually be found recreating on the area's seemingly boundless array of mountain trails, blue-ribbon trout streams, and world-class ski runs. Thanks to the broad array of recreational opportunities, Bozeman is a year-round playground.
There's something for everyone, regardless of the weather or the season. Here are a few of our favorite Bozeman-area spots that are the perfect setting for an outdoor adventure.
1. Montana Grizzly Encounter
Just outside of Bozeman, this grizzly bear rescue and education sanctuary provides a safe home for rescued grizzlies while allowing visitors to observe and learn about one of Montana's most famous species. The bears, all born in captivity and rescued from poor situations, roam in a large, natural enclosure that simulates their native environment. Visitors can observe the bears "up close and personal" while the bears—who could never be released into the wild due to their upbringing—live their best possible lives in an authentic environment.
2. Hyalite Canyon
Thanks to its easy access and options for all ages and skill levels, Hyalite Canyon is a favorite recreational area for locals. While rock climbers, fly anglers, and water enthusiasts find themselves at home on the canyon's many cliff walls and waterways, Hyalite truly shines for hikers and trail runners. Said to be the most popular National Forest Recreation Area in Montana, Hyalite is home to a number of trails—from 1.2-mile (round-trip) paved Palisade Falls to the 14-mile challenging climb to Hyalite Peak. Kids and adults alike will enjoy the many waterfalls and creekside trails meandering throughout the canyon.
Hyalite Canyon is an easy drive from the heart of Bozeman, with the reservoir at the top of the canyon just under 18 miles from Main Street in downtown. One often unexpected amenity of the canyon is the Hyalite Challenge Area—a recreation area with six handicapped-accessible trails, several fishing piers, and a rental cabin. Whether you want a relaxing post-dinner stroll, or you are looking for an all-day peak-bagging adventure, Hyalite Canyon has the goods.
Related - 5 Things to do in Hyalite Recreation Area For Every Activity Level
3. Bridger Bowl
Tucked in the Custer Gallatin National Forest just north of Bozeman, Bridger Bowl is the "local's ski hill," though it's quickly gaining international acclaim for its variety of terrain and powder conditions. Beginners can find plenty to themselves busy on the two-mile-wide, 6,000-foot mountain, home to 75 marked and unmarked trails. Those seeking an adrenaline rush can explore rock cliffs, steep chutes, and numerous snowfields. Afterward, relax and enjoy the lively après-ski scene in the lodge—and even the parking lot. In the summer, Bridger Bowl continues to provide an extensive supply of entertainment with several options for mountain biking in addition to hiking and scenery opportunities.
4. The Gallatin River
Many film and fishing aficionados will recognize stretches of the Gallatin River from the movie A River Runs Through It. The scenic river is a bucket-list destination for fly fishermen around the world. Flowing 90 miles from its inception in Yellowstone National Park to its junction with the Jefferson and Madison Rivers to create the mighty Missouri River, the Gallatin boasts a variety of incredibly scenic places to fish for trout.
The canyon section between Four Corners and Big Sky features pocket-laden, pool-and-riffle water perfect for wade fishing. Between Big Sky and West Yellowstone, the river flows through the northernmost regions of Yellowstone National Park, meandering through grassy meadows and offering classic terrestrial fishing during the hot summer months. Pack the 4- and 5-weight rods for your trip to the Gallatin and stop in a local fly shop for the latest information on what flies are producing. Hire a guide to find the best fishing spot and get the most out of your experience.
5. Crosscut Mountain Center and Bohart Ranch
Located just beyond Bridger Bowl, the Crosscut Mountain Center and adjacent Bohart Ranch boast more than 30 kilometers of trails for both classic and skate skiers. A bevy of instructors coach all levels and styles, and the center offers ski equipment for rent. Enjoy a relaxing ski through willowy meadows—keep an eye out for moose and deer—or push your skills with hillier terrain. Bohart has something for every skill level, and the group lessons are a bargain.
6. Bear Trap Canyon
This remarkably smooth, mellow section of the famed Madison River is a veritable hub for paddlers on hot summer days. Bring along a raft, float tube, SUP, or kayak and join the flotilla. The shallow, calm water offers a relaxing diversion after a busy day of adventuring, and it is easily accessible with a short drive from Bozeman. Several outfitters in town offer tube rentals and even arrange bus shuttles to and from the river.
7. Yellowstone National Park
Bozeman-based Yellowstone Safari Company offers trips for viewing wildlife, backpacking, and even llama treks in the nearby Yellowstone National Park. Their custom vehicles are designed to maximize sightseeing options while exploring the park, and biologist-guided educational and recreational tours ensure wildlife watchers have the best-possible chance at spotting animals. The tours run year-round, with winter tours showcasing a truly special side of Yellowstone's unique ecosystem.
Related - 7 Life Changing Things to Do In Yellowstone
8. The Canyons
Specializing in ice climbing, rock climbing, mountaineering, and backcountry skiing, Montana Alpine Guides is the go-to for mountain adventures. The company's guides frequently host climbing clinics in all seasons, using the area's spectacular ice climbing in Hyalite Canyon and rock climbing in the Gallatin Canyon. Regardless of skill level, the guides ensure a safe, encouraging, and fun experience on the rock.
9. Lone Peak
It's hard to gain a true appreciation for the glory of the Rockies without gaining a bit of elevation. The Lone Peak Expedition transports adventurers to the top to Big Sky's famed Lone Peak, which reaches an impressive 11,166 feet. At the top, soak in views of two national parks, three states, and numerous mountain ranges. Ride to the summit via chairlift, expedition vehicle, and tram with a guide who will point out sights throughout the trip. Pack the camera and keep an eye out for the area's many mountain goats.
Related - Making a Day of It: Summer in Big Sky
10. Bozeman Hot Springs
A mere 15 minutes from downtown, Bozeman Hot Springs is home to 12 different pools with temperatures ranging from 59 to 106 degrees. Enjoy both dry and wet saunas and frequent live music–a soak at the springs is the perfect way to relax after a day's adventure.
Related - Ranking the 14 Best Hot Springs in Montana
Written by Jess McGlothlin for RootsRated Media in partnership with Bozeman Tourism.
If you enjoyed this blog, take a look at some of our other related articles at Bozemancvb.com: