Why is Yellowstone National Park so Busy? Vacation Trends in the Park
This year marks the 150th Anniversary of Yellowstone, the world's first national park. These 2.2 million acres are home to 10,000 hydrothermal features, including roughly half of the world's geysers, plus the largest concentration of mammals in the lower 48 states. There are 67 types of mammals, 150 birds, and five amphibian species. The wide rivers, expansive valleys, and towering mountains make it an endless outdoor playground.
With such a vast amount of land, it's hard to imagine the park being crowded. However, developed roads and corridors account for less than 1,750 acres, and most visitors stay within a half-mile of these corridors.
2021 was Yellowstone's busiest year on record, with 4,860,537 visits, up by 28% over 2020. May, June, July, August, and September all set records, with July being the most-visited month on record in the Park's history-- the first-time visitation exceeded 1 million visits in a single month.
On top of record-breaking traffic, due to construction projects and COVID-19, there were 20% fewer campsites and hotel rooms available and, as such, 20% fewer overnight stays.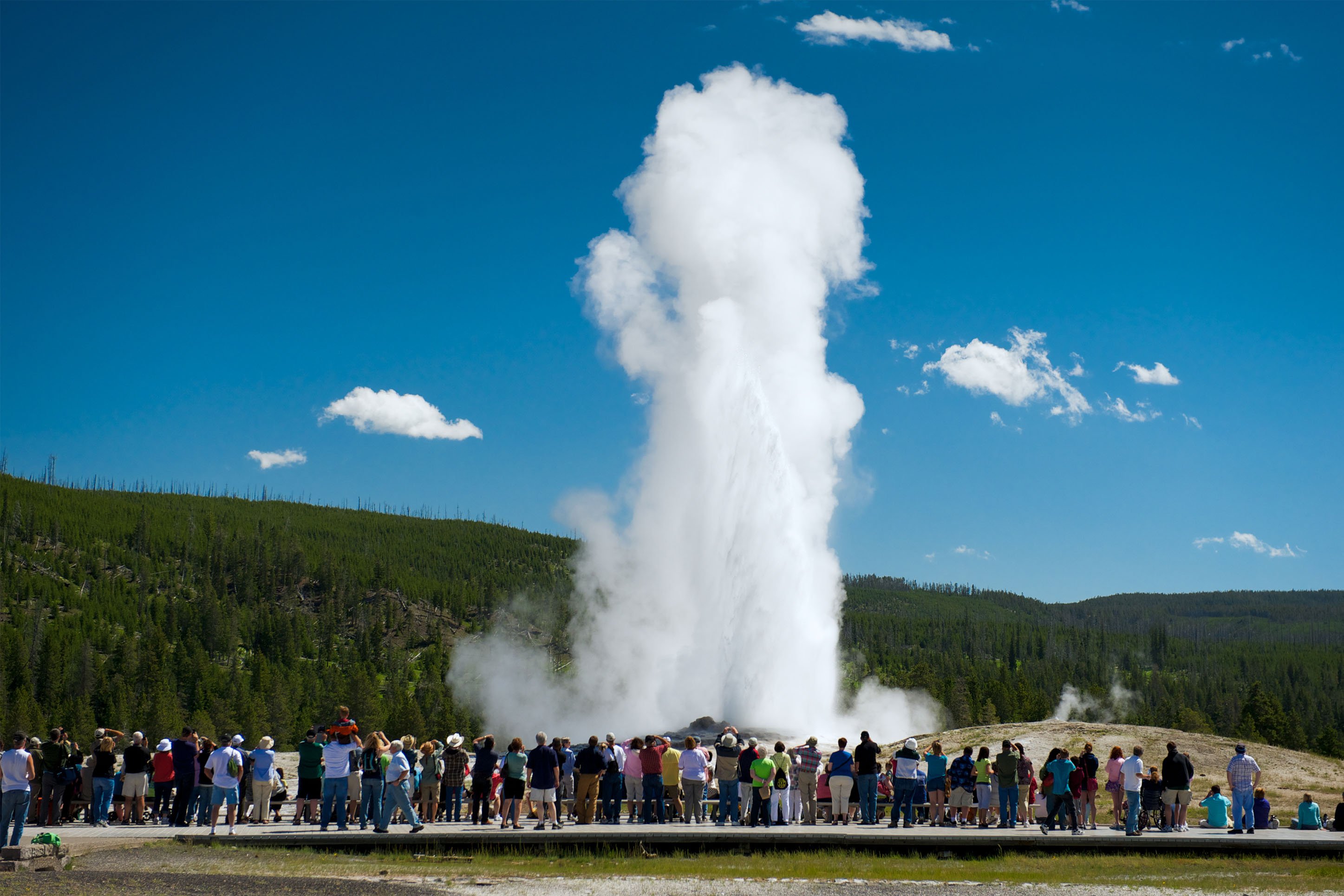 This all adds up to a busy park, and with interest still at an all-time high, international travel opening up, and more construction on the horizon, it's likely to be another busy summer.
In the past two years, the Park Service has completed over $100 million in projects to improve transportation infrastructure, reduce traffic congestion and enhance the visitor experience. This work will continue in 2022 and 2023 with three major road improvement projects that will cause delays: Lewis River Bridge, Old Faithful to West Thumb, and Yellowstone River Bridge. The first two of these projects will cause overnight closures. This work mainly impacts the south entrance to the park, but it's essential to consider when planning your route. It also means that more people will be entering from the west and north sides of the park closest to Bozeman.
And while the numbers are accurate, it doesn't need to be a deterrent to enjoying the park—remember, there are over two million acres to explore! In addition, Yellowstone has 110 hiking trails; there's definitely room to spread out. We suggest planning to visit the popular spots in the early morning or late evening and then find some off-the-beaten paths to explore during the day. Plus, wildlife is most active in the early morning, and late evening, so you're chances of seeing some of the more elusive animals are better.
Another strategy for avoiding crowds is to come during the shoulder season. In the spring, bison calves (called red dogs) are born, and the park comes alive with these little cuties. September and October are the bison and elk rut (mating season), and you'll likely see some males battling it out. Bears also move to lower elevations during this time of year and are actively filling up for their winter slumber.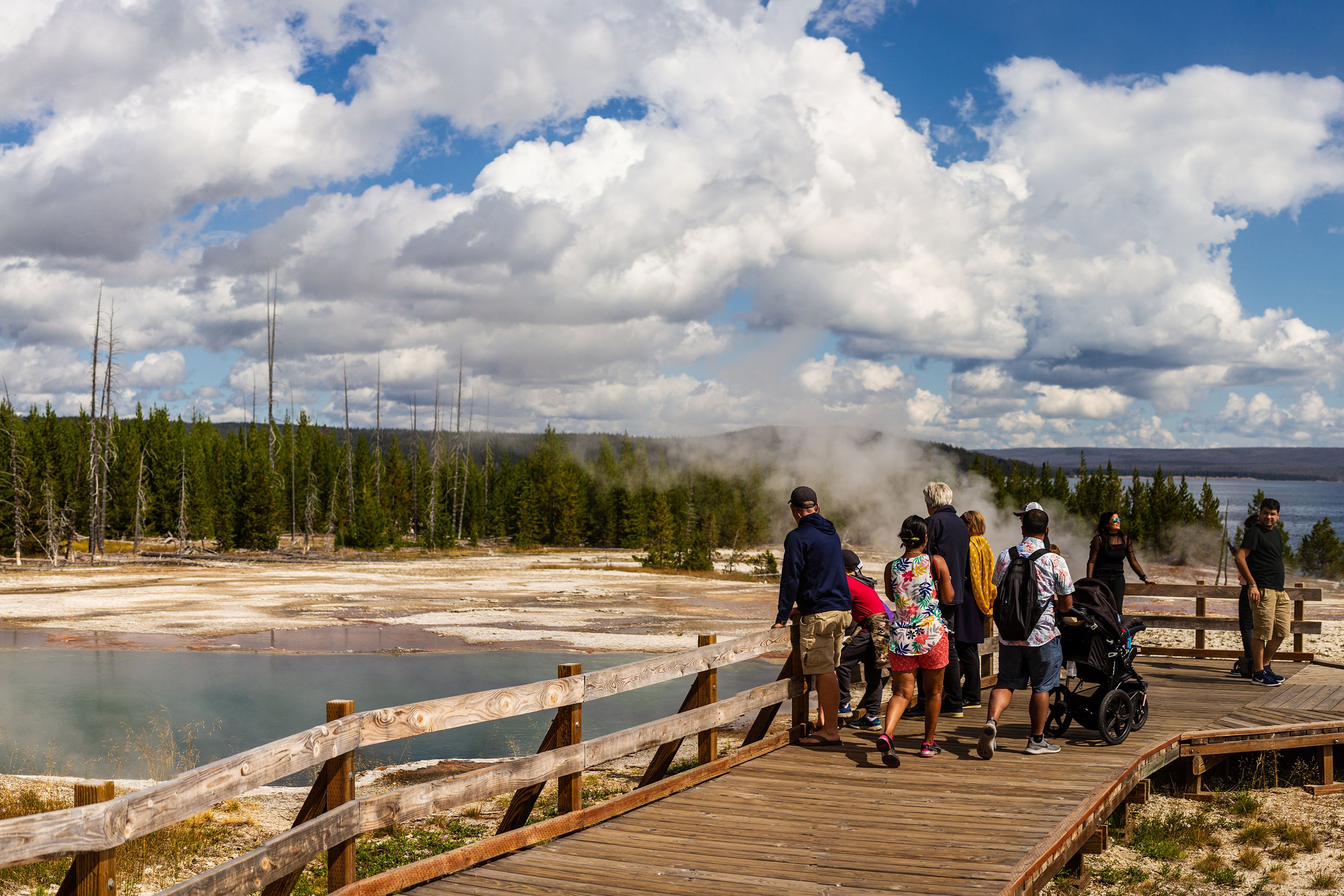 While the warm months are popular at Yellowstone, winter is an exquisite time to visit. You'll still see bison, fox, ermine, and other mammals, and seeing the park in its winter whites is breathtaking. All but one road is closed to vehicular travel, and the only way to see it is to take a guided snowmobile or snowcoach tour. Both are great experiences on their own! You can also cross-country ski or snowshoe.
Whatever time of year you decide to visit, remember that most park lodging, and camping are reserved well ahead of time. Don't expect to find a place to stay once you are here, and there is no camping or overnight vehicle parking in pullouts, parking areas, picnic grounds, or any site other than designated campgrounds. Plan ahead to ensure you get your spot!
If you enjoyed this blog, take a look at some of our other related articles: