Yellowstone National Park Winter Update 2022-23
The North and Northeast Entrances to Yellowstone are open to the public!
After historic flooding washed out sections of the road and closed off access to Yellowstone from the gateway towns of Silver Gate and Gardiner last spring, local and federal officials worked swiftly to repair the roads and welcome back visitors to the North side of the Park.
The opening coincided with the closure of vehicular travel in most of Yellowstone for the winter. The road from Mammoth Hot Springs to Silver Gate, Montana, is the only road to stay open to vehicles during the winter. The rest of the park is accessible via guided snowmobile or snowcoach tours, or you can explore on skis or by snowshoes.
Services in Yellowstone Open During the Winter
Old Faithful
Old Faithful Snow Lodge is open to visitors during the winter. It's a lovely way to immerse yourself in a Yellowstone winter, with over 40 miles of interconnected trails accessible outside the lodge. In addition, the Visitor Education Center, Geyser Grill, and Bear Den Gift Shop will remain open. Guest can also enjoy free ice skating (skates included!)
Mammoth Hot Springs
Mammoth Hot Springs Hotel will remain closed this winter. The hotel closed immediately after the historic June flood because of damage to the area's wastewater system. The hotel will be closed to overnight guests, and there will not be food service.
The hotel gift shop, coffee, beverage service, lobby, and ski shop will open. In addition, regularly scheduled tours and snowcoach service between Mammoth Hot Springs, Old Faithful, and other iconic locations will still be available.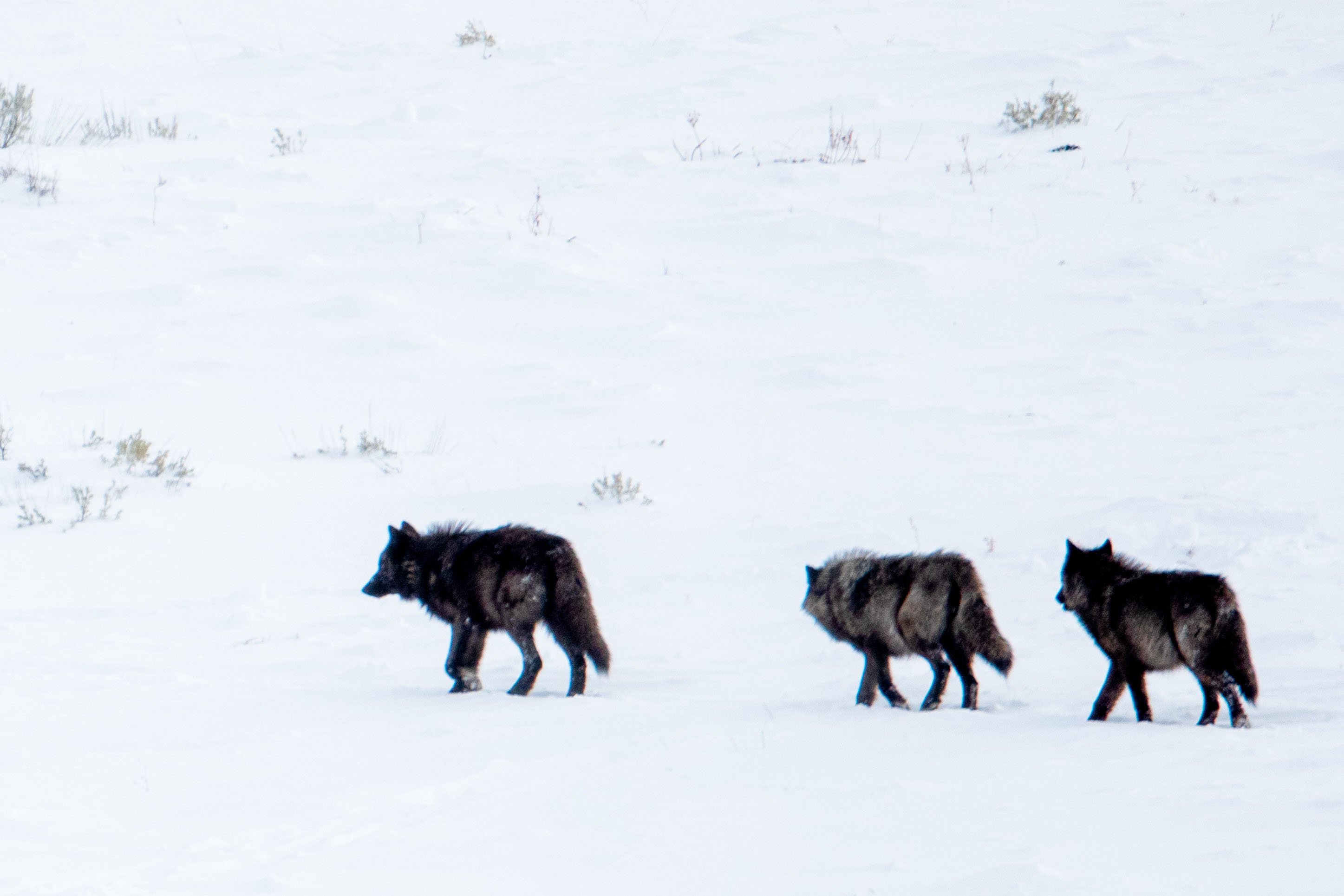 Warming Huts
Whether you are on a guided tour or exploring on your own, there are seven shelters for skiers, snowshoers, and snowmobilers:
Canyon Visitor Education Center Lobby
Fishing Bridge
Indian Creek
Madison,
Mammoth Hot Springs
Old Faithful Yurts
West Thumb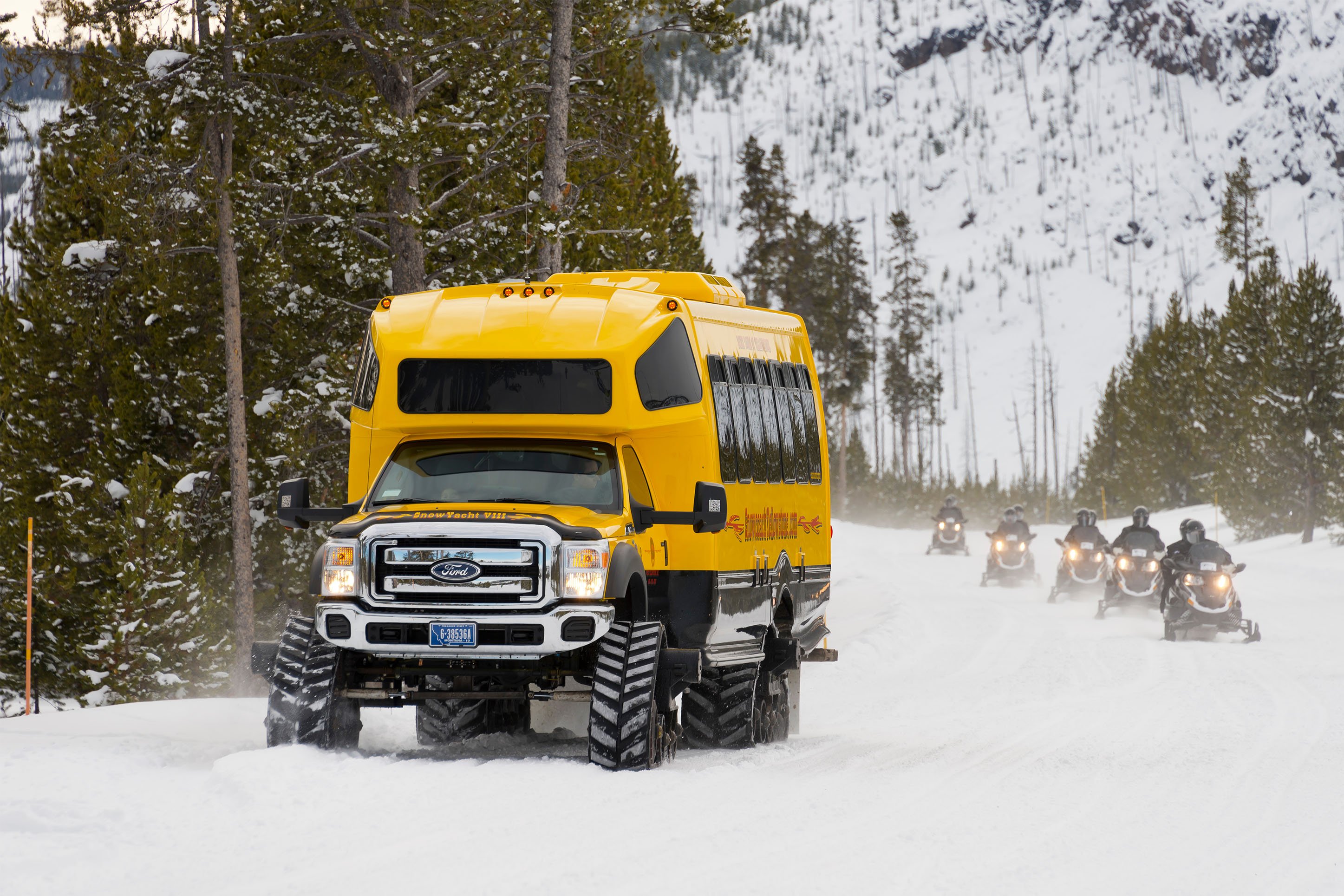 Guided Tours in Yellowstone
Exploring Yellowstone on a guided tour is a fascinating way to see the Park. Whether it's to the Grand Canyon in the warmth of a snowcoach, on a snowmobile, or skis or snowshoes, your guide will ensure you get the most out of your experience. Understanding the geography, history, and wildlife in the Park is fascinating. In addition, being under the care of a trained professional is helpful during the winter months when many people are unfamiliar with visiting.
Weather and How to Dress for Yellowstone in Winter
Yellowstone gets an average of 150" of snow per year, which makes for a beautiful landscape, but at an elevation of 8,000 feet above sea level, it's also colder than most places. Winter temperatures in Yellowstone range from zero to 20 degrees F, and sub-zero temperatures are common, especially at night and high elevations. However, many days are sunny and bright, adding a twinkle to the landscape.
Bring lots of layers. You'll need a fleece and wool underlayer, not cotton, as it absorbs moisture and quickly turns cold—a heavy down coat with a hood, gloves, hand warmers, and scarf or neck warmer. Make sure you have waterproof booths with a little extra room for multiple layers of socks and room to wiggle your toes!
Be sure to bring sun protection, sunglasses, a hat with a visor, sunscreen, and lip protection. The sun is intense at this elevation and even more so as it reflects off the snow. The air is very dry at this elevation, especially in the winter. Drink lots of water and bring body lotion and hand lotion.
Keep in mind the air is thinner at higher elevations, and it may be harder to acclimate. So take your time, don't rush, and don't overexert yourself.
A little pre-planning and your winter visit to Yellowstone will be a wonderful experience!
If you enjoyed this blog, take a look at some of our other related articles:
In our never-ending quest to keep up with all things new in Bozeman, we have been producing content for years and can't possibly update every blog when new businesses open or existing businesses close. Please reference the publish date and do your own due diligence when making plans.