Why You Need to Experience Nordic Skiing in Yellowstone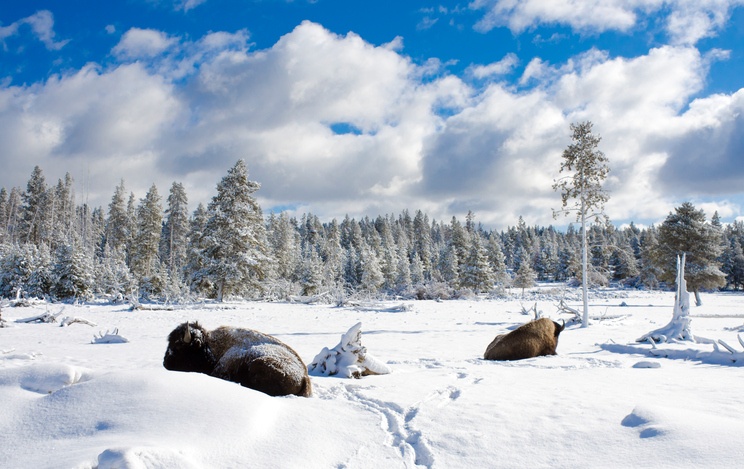 Winter in Yellowstone Park is an intimate experience. The blanket of snow glistens, crowds are minimal so the park is quiet and wildlife are more visible. All of this makes for amazing Nordic skiing in Yellowstone. Tracks are set in some areas, but all unplowed roads and trails are open to Nordic skiing. What better way to explore our nation's first National Park than on a pair of skis? The Old Faithful area alone has 40 miles of cross-country trails, many of them interconnected. Venture out on your own, or take a guided ski tour to get the lay of the land. This is an experience you will never forget.
Groomed Skiing Trails
Groomed trails are set for both classic and skate skiing and are rated as moderately difficult.

Morefield Trails
Park at the Morefield Campground Store. The trail follows the established campground road loop for 4.1 miles with a number of short hills.
Meadow Bliss Trail
This 3 mile trail, south of the campground, winds through open meadows where you'll find numerous cliff dwelling viewing points. Due to a few steep hills and the distance this trail is rated as moderate.

Backcountry Skiing Trails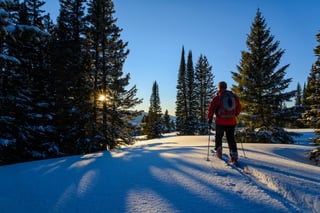 Backcountry trails are not regularly groomed so be sure you know where you are going. Here are a few of our recommendations for various levels of difficulty:

Easiest
Cascade Lake Trail runs for 3 miles through lodgepole pine forests opening into a Cascade Meadows. Be aware and avoid bison. When crossing the creek, go one at a time and check your steps with your ski pole first. hills above the lake are good for downhill skiing.
Moderate
Cliff Palace Loop Trail, is 6.5 miles, but relatively flat. There are many cliff dwelling viewpoints. Park at the north end of the Chapin Mesa Archaeological Museum parking lot. Follow the groomed trail to the Mesa Top Road and Cliff Palace Road intersection.
Difficult
Weatherill Mesa Road Trail is open for skiing and snowshoeing for 6 miles. The turnaround point, that is as far as you can go and you'll need to come out the same way. This trail is rated difficult due to steep hills and ungroomed surfaces.

For a full list of trails, including maps click here.

Yellowstone In The Winter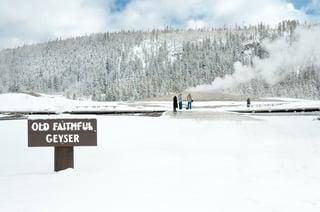 The Old Faithful Snow Lodge and Cabins are open for the winter and provide an authentic winter lodging experience. Watch for nordic packages and deals. Book early, rooms are limited and sell out quickly!

Remember that you are in the wilderness which comes with some inherent dangers. Be sure to read up on planning, safety etiquette and equipment.

Keep in mind, many roads are closed to vehicles and only allow oversnow travel in snowcoaches or guided snowmobile tours. (There is one road open year-round, from the North Entrance at Gardiner, Montana, through the park to Cooke City, Montana, via Tower Junction. Traveling beyond Cooke City over the Beartooth Highway is not possible from late fall to late spring.) Click here for road information.
Most importantly, have fun! You're in for an exceptional experience!

If you enjoyed this blog, take a look at some of our other related articles:
In our never-ending quest to keep up with all things new in Bozeman, we have been producing content for years and can't possibly update every blog when new businesses open or existing businesses close. Please reference the publish date and do your own due diligence when making plans.