Enjoying Your Snow-Filled Yellowstone Adventure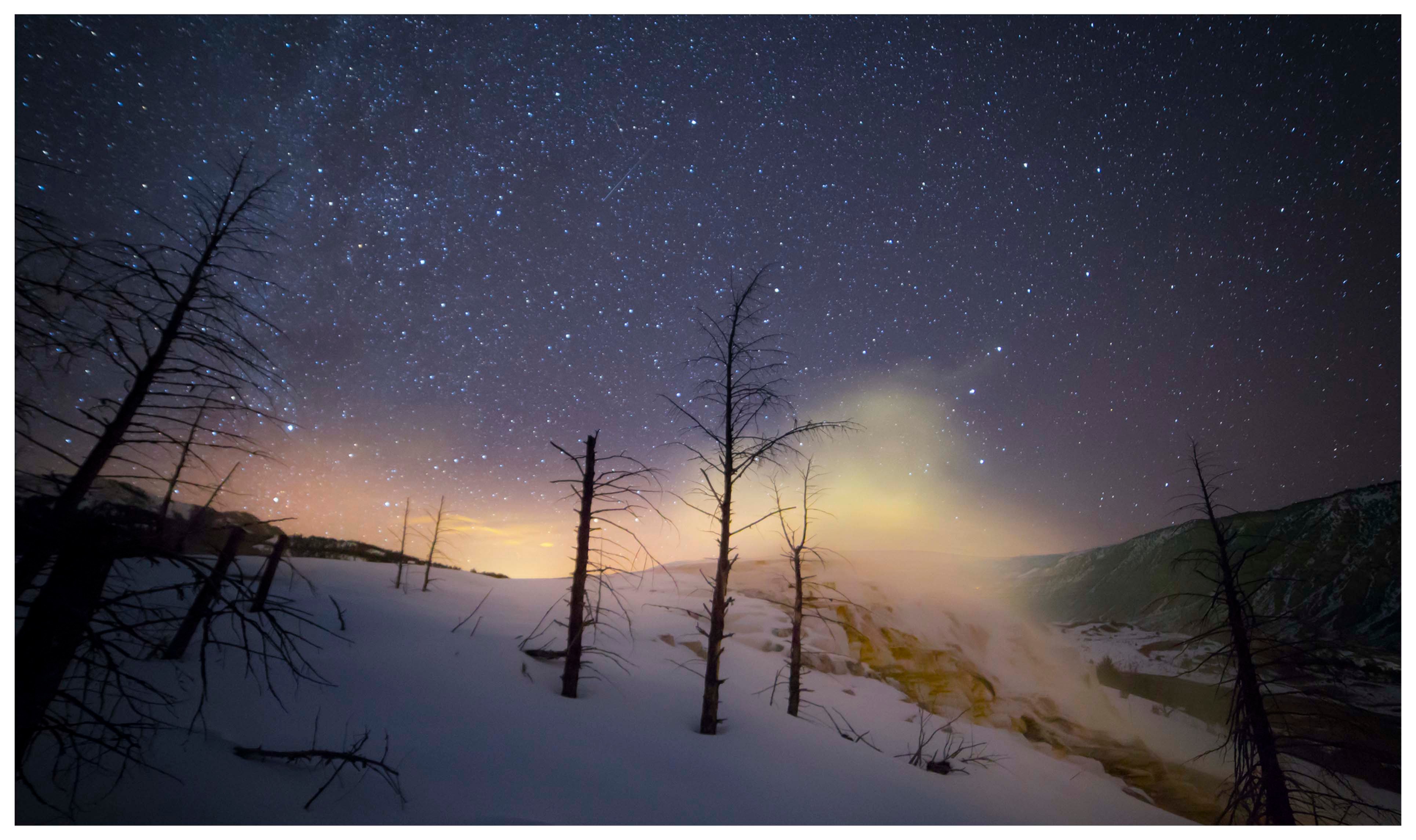 There's no wrong way to experience Yellowstone in winter, whether you're on the tightest shoestring budget or you have a little extra you can dispense in the name of luxury. We've broken it down into three options, from budget to blowout, that can get you out into the park regardless of your financial status. Here's where to stay, what to do, and where to eat during your winter trip to Yellowstone.

BUDGET
Lodging

The good news is that by visiting Yellowstone in winter, you're already saving big versus what you'd be spending in summer, across the board. As far as lodging goes, you have plenty of options in Bozeman if you want to save. During the winter, it's not uncommon to find rooms as low as $60 per night at motels that offer a no-frills experience. But when you're here to experience the splendor of Yellowstone, all you need is a calm place to lay your head.

Activities
Cross country ski or snowshoe rentals won't set you back too much, and they're an ideal method to help you experience the park in winter. You'll find ranger-led snowshoe hikes out of Mammoth, West Yellowstone and Old Faithful, and these programs are usually free. Learn a little without spending a lot, and deepen your appreciation for the park.
FOOD
Heebs grocery store in Bozeman is a town institution, and it makes finding food on a budget easy. You can pick up some gourmet deli items to enjoy for breakfast, lunch, and dinner, while still saving big over eating out.

If you do decide to splurge on a few meals, you'll find several budget-conscious restaurants and epicurean fast food options all around town. Grab breakfast at Nova, lunch at Pickle Barrel, and a pizza and beer at Bridger Brewing without breaking the bank.

Midrange
Lodging

Stay in Bozeman at any number of boutique motels or B&Bs, or opt for a package deal with one of the lodges at Mammoth Hot Springs or Old Faithful. Whether you choose to stay right in the park, or you want to venture into town to get all the amenities you could want, you'll be able to have a roof over your head at a reasonable price.

Activities
You can't go wrong with a group trip with Yellowstone Forever or another adventure outfitter. You're saving by not shelling out for a private tour, but you can still get a more high-end experience. You could hop on a snowcoach—one of the best ways to get around when the roads are closed to normal vehicles—to see Old Faithful and Grand Prismatic tucked in by a blanket of snow. And after the park, make your way to Chico, Yellowstone, or Bozeman Hot Springs for a relaxing soak.
FOOD
Inside the park, you can snag some grab-and-go items if you don't bring anything with you, or you can stop for a burger or sandwich in Gardiner. Once you're back in Bozeman, the only thing holding you back from the dining experience of your dreams is picking where to eat.

There are oodles of breweries—seriously, it feels like a new one is popping up every week—and a whole array of restaurants that touch on local mountain flavor you'll love to experience. MAP Brewing, Bridger Brewing, Bozeman Brewing, White Dog Brewing, Outlaw Brewing, 406, and Mountains Walking have the brews (and many have the food) to fuel your adventures.

Blowout
Lodging

Go luxurious with a stay at the modern and elegant Element Hotel. The LARK is hip and contemporary, while the Gallatin River Lodge is chic and cozy. You can find plenty of options that offer something a little different to suit your tastes—while still maintaining the highest standard of service around.

Activities
Uniquely see the park—and reach some of those more remote areas—when you sign on with a guided snowmobile trip. You can ride in comfort and style with heated seats and handlebars as you fly over the snow, or set out to learn something and give back when you opt for a private tour with Yellowstone Forever. Their programs cover everything from photography to ecology, and you can request to go solo if you wish.
FOOD
During the winter, your best bet for fine dining will be outside the park, in downtown Bozeman. PLONK Wine Bar is a great place for starters and cheers, and then you can move on to elegant favorites like Blacksmith Italian, 14 North Restaurant, or Feast Raw Bar & Bistro. You'll want to round out your winter adventures with only the best of Bozeman.


Whatever your taste is, there is a fix for what you are looking for here in Bozeman. Experiencing Yellowstone in all of its winter wonder is a bucket list item for some, and for others, it's an annual tradition.
Click here for more information, and more options.
If you enjoyed this blog, take a look at some of our other related articles:
In our never-ending quest to keep up with all things new in Bozeman, we have been producing content for years and can't possibly update every blog when new businesses open or existing businesses close. Please reference the publish date and do your own due diligence when making plans.