Yellowstone Tour: Must See Stops On the Grand Loop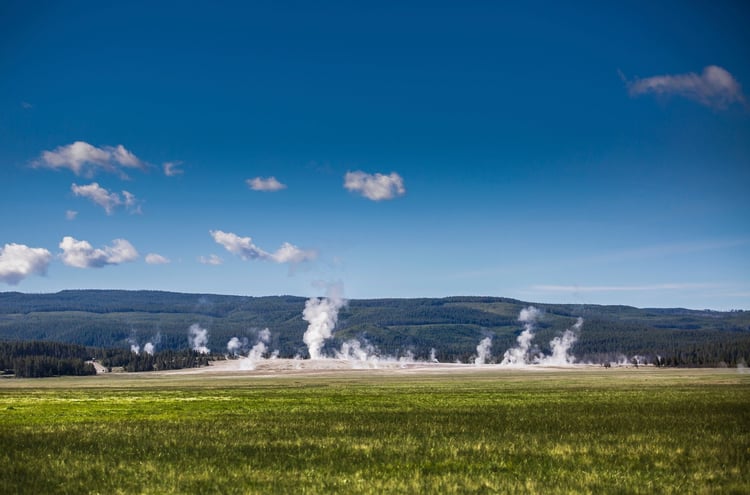 The grand loop in Yellowstone National Park is a great way to see a lot of landscape in a short of amount of time. Now when we say "short amount of time" that is a relative term. A tour through Yellowstone is usually a full day affair but the Grand Loop does provide a great opportunity to see some of the best sights in Yellowstone. So what is the grand loop? The road through Yellowstone looks like two circles on top of each other. The Grand Loop would be to take the outside route around these two circles, avoiding the stretch from Canyon to Norris. Here are a few must sees and tips to help along the way.
First off, get up early. Who wants to wait in line to get into the park? Also, that's when the animals are active during the summer season and the roads are not as heavily trafficked. I guarantee you will be rewarded with great wildlife sightings if you get up at the wee hours of the morning.
Hayden Valley
If I had my way I would say first thing in the morning head to Hayden Valley to do some animal watching. Pull over at one of the turn-offs and set up shop with some binoculars. If you're really lucky you might spot a black bear or wolves. Either way this valley is a breathtaking must-see for some great animal watching.
Old Faithful
After catching some early morning animal sightings I would head around the lake to Old Faithful. You get the benefits of the scenic drive and hopefully some more wildlife watching. If it's early enough in the day, the crowds at Old Faithful shouldn't be too crazy. Stay for an eruption, check out the beautifully crafted Old Faithful Lodge and get on your way.
Upper Geyser Basin
Depending on your schedule at Upper Geyser Basin you have a few options for how you want to spend your time. You can take a few hours and do the outer loop getting as far as Black Sand Basin or take about an hour to do the smaller loops around the various geysers. If you're feeling adventurous you can take a steep hike to Observation Point and watch Old Faithful erupt from there.
Midway Geyser Basin
I would recommend parking along the road for this one. It is a very popular destination so if you see the parking lot is packed just pull off the side of the road (where it's designated to safely park) and take a quick walk down to the thermal area. The Grand Prismatic Spring is the real highlight of Yellowstone and it definitely lives up to all the hype. You will be amazed at the colors in this thermal area, just be sure to stay on the boardwalk. Take your time and your camera!
Firehole Canyon Drive
By this time of the day you're ready for a chance to get out of the car and cool off! Take a drive around Firehole Canyon and jump in the swimming hole. The water is warmed by the thermal activity and a pretty comfortable temperature for a dip. There are some falls for your viewing pleasure and it provides a quick scenic detour from all the geyser viewing.
Norris Geyser Basin
After your dip in the Firehole River travel up to the Norris Geyser Basin. Check out the many geysers along the boardwalk loop on your way to Steamboat Geyser. Steamboat hasn't erupted since 2014, but it splashes up to an impressive 40 feet every few minutes.
Grand Canyon of the Yellowstone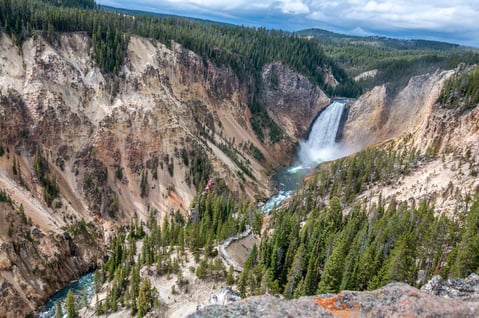 I would suggest allowing a little bit of time for this one. The entire Grand Canyon area is pretty impressive. Take a ride on the South Rim Drive to hit some popular viewing points. If you're up for a little bit of a hike, take the Uncle Tom's trail for a view of the upper falls. Afterwards head down to Artist Point for great view of the Lower Falls. There is a great trail that allows you to walk from the Upper Fall's view to Uncle Tom's Trail and then end up at Artist Point.
Mammoth Hot Springs Terraces
Last but not least, if you're leaving via the north entrance from Gardiner, then Mammoth Hot Springs is an easy spot to stop. Take a walk around the boardwalk and check out the Lower Terraces area. It is definitely a unique thermal spot that is unlike any in the park. There is usually a resident herd of elk hanging around Mammoth as well so you should get some good photos of the local wildlife. You can easily grab a bite to eat, check out the Visitor's Center and refuel before your drive home.
When driving the Grand Loop expect to see plenty of geothermal areas, changing landscape and wildlife. You really can't go wrong with any stop you make along the loop, but hopefully these highlights make it extra special. If you need a little more inspiration, check out our list of 7 Life Changing Things To Do In Yellowstone.
In our never-ending quest to keep up with all things new in Bozeman, we have been producing content for years and can't possibly update every blog when new businesses open or existing businesses close. Please reference the publish date and do your own due diligence when making plans.