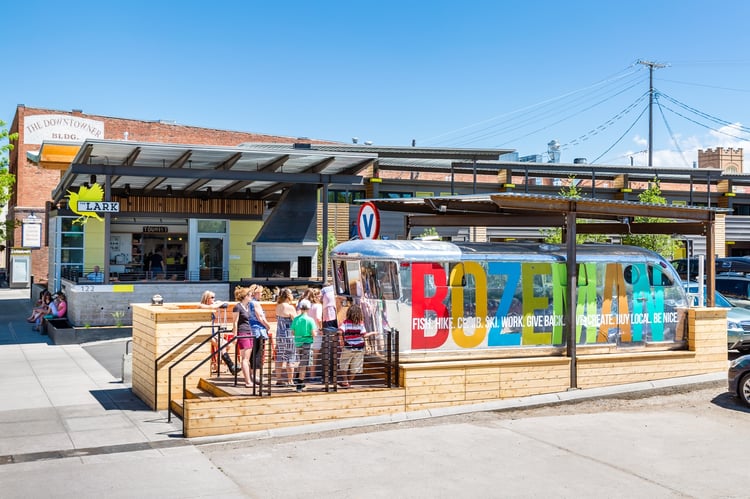 The food scene in Bozeman is varied and delicious, right down to the food trucks representing cuisine from around the world. The chefs in these mobile kitchens don't mess around, sourcing local ingredients then adding their own twist of flavor. We've featured a few Bozeman restaurants to wet your whistle, but recommend you venture around town and explore them all. The Bozeman dining options are some of the best in the state and that includes our local food trucks.

AMOK Food Truck: Sreyroth Phon, moved to Bozeman from Cambodian and her food reflects the authentic flavors of her country. Fresh vegetables, simple sauces and complex curries round out the menu. AMOK is name of her signature Cambodian dish which is a fish curry steamed in a banana leaf bowl, (available by special request.) You'll find this truck next to Outlaw Brewing, on North 27th Avenue.

Blue Smoke Barbeque: Kevin Loustanau, barbecue connoisseur, and Chef Justin Koller paired up to bring authentic barbecue to Bozeman. Kevin learned techniques from the oldest barbecue restaurant in Austin, TX. They smoke their meat using wood from Gallatin and Flathead valleys and take care to ensure the smoke is a clear or blue tint, indicating you've got the temperature just right. The menu includes pulled pork, brisket, St.Louis ribs, chicken and tacos. Sides are all homemade and include traditional beans, mac and cheese and coleslaw. Blue Smoke is parked next to Bozeman Brewing on Broadway Avenue.

Sauce Food Truck: In his spare time, chef Ben Metier can be found fishing and foraging ingredients in the streams and forests around Bozeman. This locally sourced, seasonally inspired, global street food has everything from Mexican tacos to Vietnamese Bahn Mi. Other offerings include blackened shrimp Po'Boy's, mushroom tortas and red curry shrimp. Metier's philosophy is, "Good food should be accessible to anyone, anywhere." Sauce moves around, so watch their website and Facebook page for locations.

Victory Taco: Perfecting fresh tacos, breakfast burritos and homemade ice cream. Permanently located in the parking lot of The LARK hotel, Main Street.

Heap Burger: The name says it all; heaping burgers full of flavor. Open Tuesday through Saturday in the Kenyon Noble parking lot on West Oak Street.

El Rodeo: If you are looking for authentic Mexican food, this is the place. We guarantee, you won't leave hungry. Portions are huge and the flavor is just as big. Open Monday through Saturday at the Dollar Store on West Main Street.

Rendezvous Food Truck: This truck serves up both sweet and savory crepes. Open Monday through Friday on North Wallace Avenue.

Grille 406: In true Montana fashion, Grille 406 cooks up burgers, sliders, sandwiches and munchies. Watch their Facebook page for locations.

Mo'Bowls: Homemade mac and cheese with a twist. You'll find dishes such as the "Caprese," featuring fresh mozzarella, basil, tomatoes, balsamic glaze and parmesan. Mo'Bowls is open seasonally, so watch the schedule.

Tumbleweeds: Simple, yet complex, these fusion tacos and burritos are full of flavors from around the world. Watch Facebook for locations and times.

If you enjoyed this blog, take a look at some of our other related articles: