Plan the Perfect Day Trip to Yellowstone National Park from Bozeman
Visiting Montana and Yellowstone National Park is a bucket list trip for many travelers. And thanks to its plentiful lodging options, fabulous cafes and restaurants, engaging nightlife and easy airport access, Bozeman is the quintessential home base for the quintessential Yellowstone trip. In fact, it's common for Yellowstone-bound visitors to stay in Bozeman and venture down into the park every day, returning to Bozeman in time for dinner, drinks and a bit of relaxation away from the throng of national park tourists.
If you're planning your dream visit to Yellowstone, here's why you should consider making Bozeman your launch pad for adventure and how to make the most of your time both in and out of the Park.
Bozeman's Proximity to Yellowstone
Bozeman is conveniently located between Yellowstone's north entrance at Gardiner, Montana, and the west entrance in West Yellowstone, Montana. Basing in Bozeman gives you the opportunity to experience both areas of the park and enjoy their respective highlights without having to traverse busy Park roads in between. For those who desire an in-depth Yellowstone experience, driving in one entrance and out the other makes for an awesome day and a satisfying journey through the Park.
Getting to Yellowstone from Bozeman
For those arriving by air, the Bozeman Yellowstone International Airport is home to a fleet of rental car services, including several specialty rental agencies that can provide outdoor-specific vehicles and even camping gear for rent. If you'd prefer to kick back and enjoy the drive as a passenger, bus and van tours are available.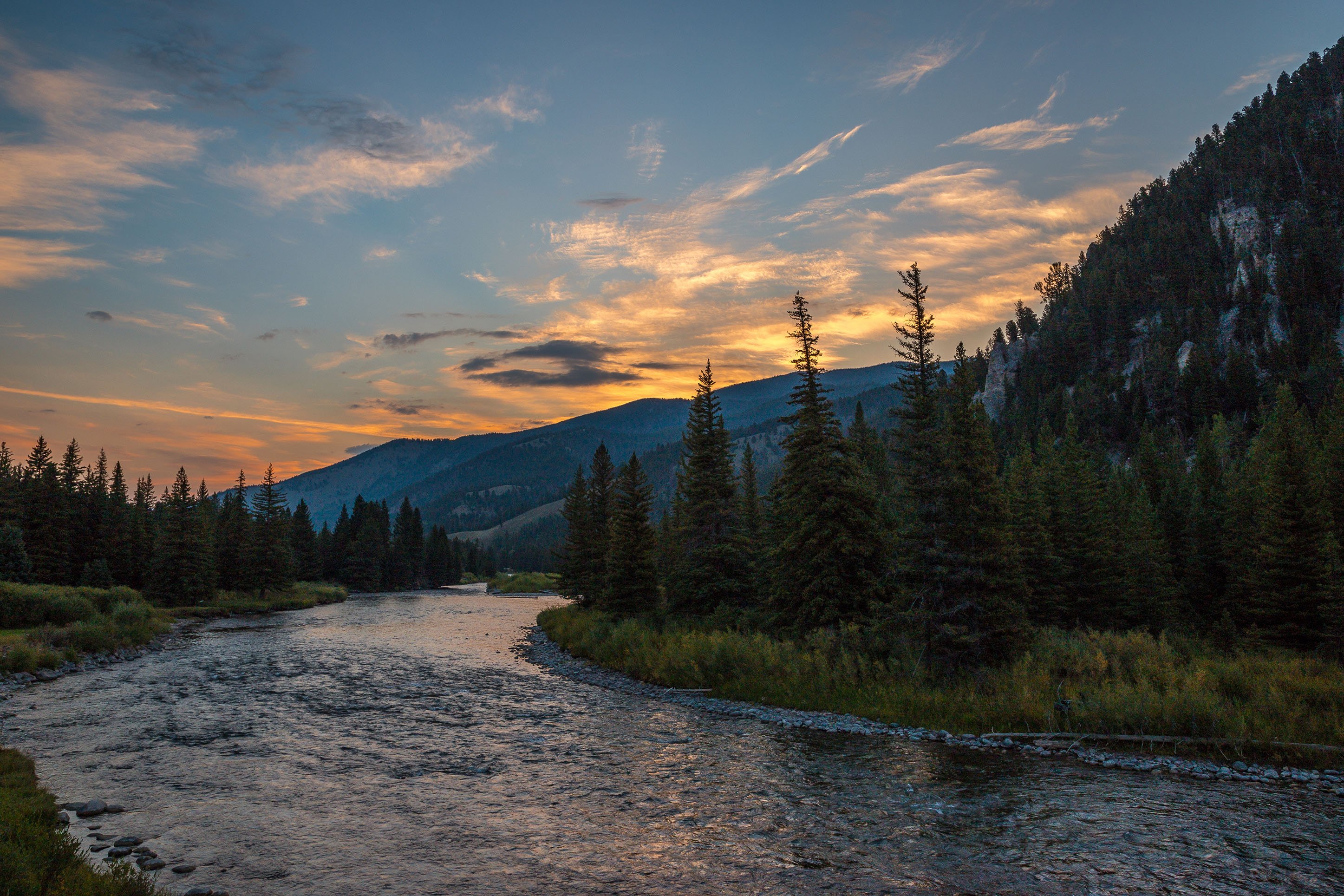 Entering Through the West Entrance
Those traveling to the west entrance will take U.S-191 S through Gallatin Canyon and past the ski-resort town of Big Sky, Montana. You'll be treated to a breathtaking drive that winds along the Gallatin River through steep canyon walls, opening into broad, lush mountain meadows. The drive covers 91 miles and takes an average of 1 hour, 40 minutes. Plan for a longer drive in winter months, as traffic can slow quite a bit in snowy conditions. In the summer, keep an eye on the river for whitewater rafting groups and fly anglers; this is a favorite recreation zone for locals and visitors alike.
Entering Through the North Entrance
Heading to Yellowstone's north entrance in Gardiner? Take I-90 E to the Western town of Livingston (also worth a stop) and then pick up U.S. 89 S to Gardiner. The drive is a little shorter than the path to West Yellowstone: expect roughly 78 miles and about 1 hour and 20 minutes on the road. Once you turn south from Livingston, you'll enter the aptly named Paradise Valley, home to craggy cliffs and working cattle ranches. (If you're a fan of the show "Yellowstone," these views will be familiar.) This is the West as the writers of old penned it—big and bold. Once you reach Gardiner, you'll pass through the famous Roosevelt Arch (be sure to pose for a pic with your crew) and then head for Mammoth Hot Springs and the Lamar Valley, home to many of the Park's most active wolf packs.
However you decide to approach Yellowstone, be sure to check out the National Park Service visitor's centers to take in a bit of the area's culture and learn about ongoing conservation efforts. Friendly uniformed park rangers can help direct you to must-see sights, including the park's many geothermal features, wildlife-spotting hubs and boardwalk hikes. Active-minded visitors will find hikes and walks to suit any fitness level, while those seeking a bit of relaxation time can kick back and simply take in Yellowstone's many unique and stunning landscapes.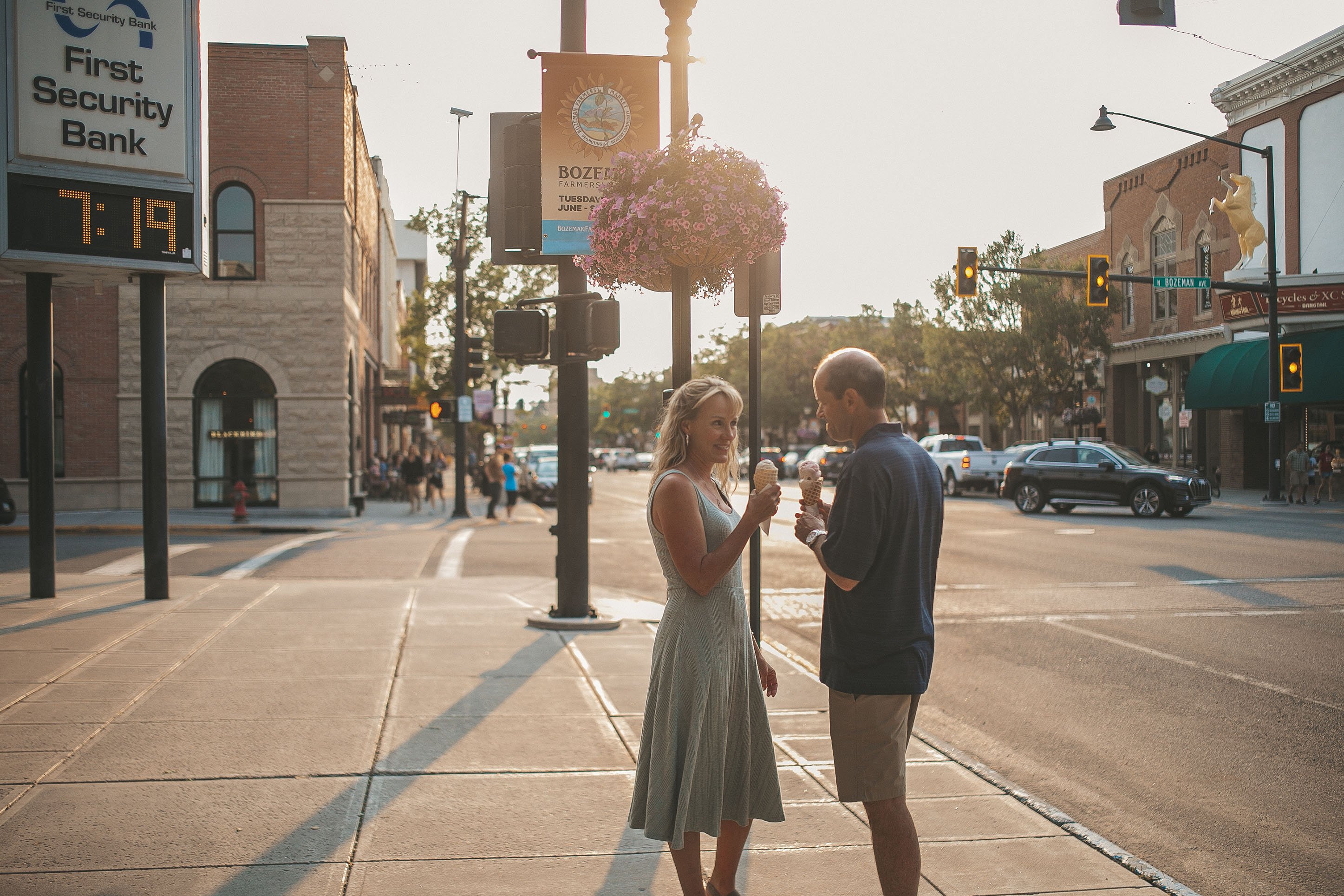 Experience Bozeman After a Day of Exploring
After an exciting day exploring the United States' first national park, you'll be glad to head back to Bozeman for some rest, relaxation and maybe a little fun. The town boasts 16 (by our best count) breweries, plenty of excellent bars and restaurants, and just as many family-friendly spots to enjoy a delicious drink or a wonderful meal in the atmosphere you crave. Although even savvy locals would likely give a wide variety of recommendations for the "best" places to go for dinner, some tried and true favorites include Blackbird Kitchen, Montana Ale Works, Red Tractor Pizza, Backcountry Burger Bar, Roost Fried Chicken, and Ted's Montana Grill. Newer establishments making a delicious impression include Brigade, J.W Heist Steakhouse, Last Call Modern Mexican and Tanglewood. If you and your companions just can't decide, head down to the ever-expanding food truck park on 7th Avenue and choose from some truly great burgers, Mexican food, and more. And don't forget dessert: Bozeman has several excellent ice cream shops, including Genuine Ice Cream, Michoacan A Pedir De Boca Bozeman (offering seriously good Mexican-style ice cream) and Sweet Peaks.
Looking for something a little stronger to wrap up your day? Wine lovers can stop by Plonk, a favorite local wine bar, to take advantage of their sidewalk seating and get in some entertaining people-watching. Those who want a true Western bar experience should drop into the Rocking R Bar, the Cannery, or the Crystal for a taste of Bozeman's finest.
By now, we know you're probably convinced that Bozeman will make the perfect hub for your Yellowstone adventure. Offering a unique collision of Old West charm, global ski culture and innovative industry, it's a true mountain melting pot, bringing together all sorts of friendly and interesting people who came for the view and seemingly boundless outdoor recreational opportunities and stayed for the amazing way of life. So don't wait to start planning your Yellowstone adventure, and we look forward to welcoming you to Bozeman soon.
Want to learn more about everything you can see and do in Yellowstone with Bozeman as your base camp? Check out our extensive Yellowstone guide today.
If you enjoyed this blog, take a look at some of our other related articles:
In our never-ending quest to keep up with all things new in Bozeman, we have been producing content for years and can't possibly update every blog when new businesses open or existing businesses close. Please reference the publish date and do your own due diligence when making plans.