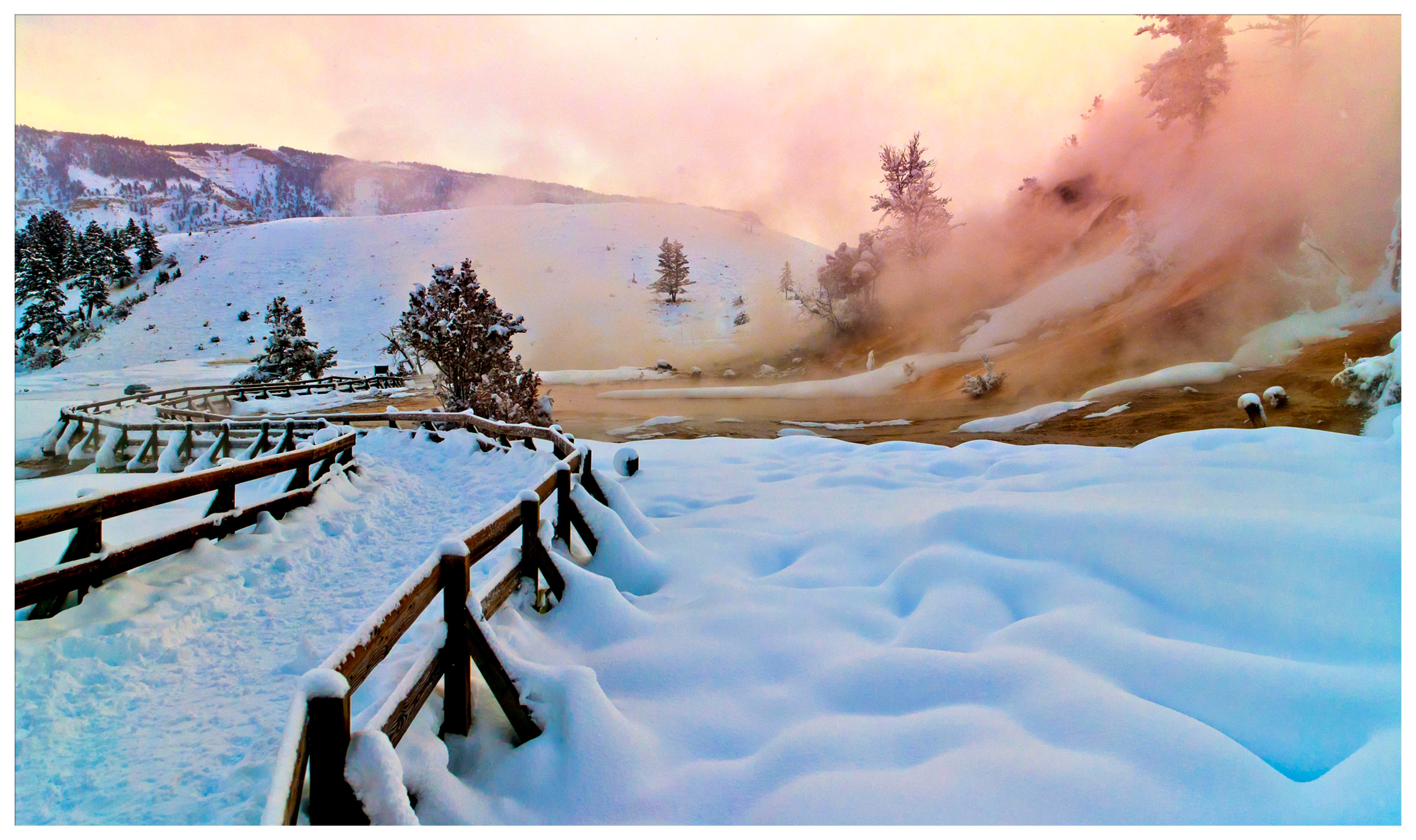 There is something utterly breathtaking about Montana landscapes in the winter. The rugged mountains seem even more majestic, and the skies appear an even deeper hue of blue against the sparkling fields of snow. Trust us; scenic drives are well worth an afternoon. While we don't encourage driving during inclement weather, Montana's roads are well-kept during the winter, so don't let the season keep you indoors. We've outlined some driving tips to keep you safe on the road, and even thrown in one of our favorite winter adventures!

For The Road
Take it slow. Winter drives are the perfect time to slow down and take in the scenery. Make sure you allow more time than you usually would and take into account the shorter days when planning your route.

Check the weather and current road conditions before you go. Weather in Montana changes rapidly; you can wake up to sunny skies and go to bed with a foot of snow on the ground. The climate also varies by elevation, so be sure to check the entire route.
Be extra careful on bridges and overpasses, which will freeze first, and the ice will last longer.
Watch for wildlife on the road, particularly deer, elk, and antelope. Be especially careful at dawn and dusk when they are feeding and generally most active.
Pullover when necessary. Use pullouts and parking lots for photo opportunities. When viewing wildlife, find a wide-open place to pull over, never stop in the middle of the road, especially in inclement conditions.

For Your Vehicle
Make sure your vehicle has snow tires with plenty of treads. Some people prefer studded snow tires, but chains are generally not required.
Pack a Road Safety Kit which includes:
Water

Flashlight and extra batteries

Non-perishable food items such as energy bars or trail mix

Jumper cables

Hat and gloves

Sleeping bag or blanket

Spare tire, wrench, and jack

First aid kit

Snowbrush and extra wiper fluid
Use caution when braking. In general, allow three times more space between cars. When slowing down, gently pump on the brakes, never suddenly try to stop. If the wheels lock up, ease off the brakes.
Keep your lights on. Even during the day, the light can be flat, making it hard to see other vehicles. Use lower gears when it's icy. Lower gears will give you more traction, particularly when you're going up hills. Don't use cruise control on slippery roads.
Keep car windows free of snow and ice. It's especially important to keep your blind spots clear, as it's harder to slow down when the roads are slick.

Scenic Loop from Bozeman through the Shields River Valley
Start the morning with a good breakfast from one of Bozeman's many breakfast haunts, then hit I-90 East toward Livingston. The interstate takes you over Bozeman Pass, which sometimes draws strong winds, so take it slow. The drive won't take all day, so be sure to stop in Livingston and explore the area art galleries, retail shops, and museums. There is an incredible number of artists and writers that live here, so be sure to stop in the bookstores and ask about the local authors!
From Livingston, head east again on I-90 until you see the exit for Clyde Park and Wilsall, turn onto US-89 N. To your right will be the Crazy Mountain Range. These towering mountains are breathtaking covered in snow. If you're hungry when you reach Wilsall, stop at the Bank Bar and Vault Restaurant. The burgers there are made with grass-fed beef from the local Muddy Creek Ranch, and they are amazing!
Just past Wilsall, you'll reach the turnoff for MT-86 S toward Bozeman. This road skirts the edge of the Bridger Mountain range, and then runs alongside the mountains as you descend back into town. On the way, you'll pass Crosscut Mountain Sports Center, a Nordic ski area, and Bridger Bowl Ski Area. (Note to self; both of these options are perfect for another day's adventure!) The drive down Bridger Canyon is absolutely picturesque winding through large ranches with National Forests on each side.
Be safe this winter and enjoy the beauty of Big Sky Country!