4 Spots to Go Fly Fishing In Bozeman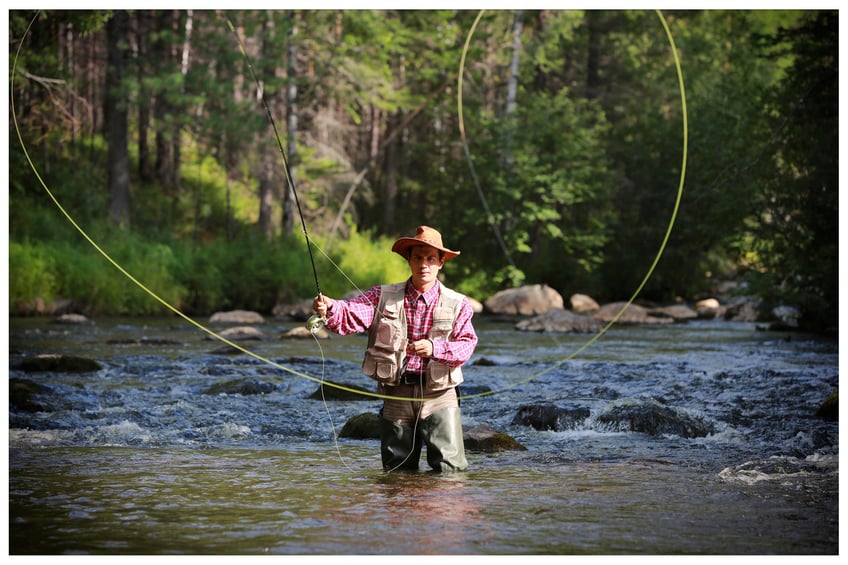 In 1992 Robert Redford spoke the opening line, "In our family, there was no clear line between religion and fly fishing" and Bozeman was changed forever. The movie was A River Runs Through It, which tells the story of the Maclean family and their love of fly fishing. The film was narrated by Mr. Redford and featured a young Brad Pitt as the troubled younger brother of Norman Maclean, set in the town of Missoula, Montana. But the entire movie was filmed in the Bozeman and Livingston areas, which put the towns on the map as the premier fly fishing destination in the United States.
That moniker still holds true today with three pristine rivers within a short drive: the Gallatin River, Madison River, and Yellowstone River, not to mention the Missouri and Jefferson rivers and all the small mountain streams and lakes that feed into these larger rivers. Fly fishermen of all ages and ability levels flock to Bozeman each year for the experience that A River Runs Through It shared so passionately. If you are planning on fly fishing in Bozeman, here are a few spots where you can get your own little taste of the action.

The Gallatin River - Axtell Bridge
The Gallatin River begins in the northwest corner of Yellowstone National Park and flows north past Big Sky and out into the Gallatin Valley. This river is chock full of Rainbow Trout, Brown Trout, and Whitefish. A popular spot to test your fly fishing skills is the Axtell Bridge between Gallatin Gateway and Four Corners. This is a public access site which offers a small parking lot and easy access to the river.

Hyalite Reservoir
If you need a little extra room to practice your 10 and 2 casting, head south of town on 19th Ave to the Hyalite Reservoir. This is a very popular recreation area with lots of hiking, camping, rock climbing and mountain biking all around the reservoir. The water is dammed to collect the spring snow melt from the surrounding mountains and it is also the city of Bozeman's main water supply. Below the surface you will find some big trout that will put up a good fight. Knowing where to find the fish is the skill that presents the most challenge.

The Madison River - Beartrap Canyon
If you are up for a little drive, Beartrap Canyon on the Madison River is a beautiful spot where the river splits away from the highway and flows out of Ennis Lake. It is a popular hike as well so you will encounter plenty of friendly Montanans out enjoying the views. Try casting your fly right behind the large rocks and boulders that pop up along the river's edge. The fish like to hide right at the edge of the fast moving water where bugs and other types of food collect.

Hyalite Creek
On the way up to Hyalite Reservoir you will wind along Hyalite Creek which flows out below Hyalite Dam. This is a controlled flow, meaning it usually isn't impacted as much by deposits from snow runoff that tend to cloud up the larger rivers in early spring. The fish aren't as big but they are still fun to catch, nonetheless. You won't need to master your casting abilities on this smaller creek, but you may want to practice your roll cast prior to hitting the river. The trees and bushes can get a little tight, which may prevent a full cast. Along the way up to the reservoir there are plenty of pullouts and places to park.

Yellowstone River - Mallard's Rest
The other very popular river is of course, the Yellowstone. This river flows out of Yellowstone Lake within the park and is known as the longest free flowing (undammed) river in the Lower 48. There are plenty of fishing access sites throughout the Paradise Valley and in Livingston, but this river is most commonly fished from a drift boat. If you want to toss a line from shore, check out Mallard's Rest fishing access site.
Around the Bozeman area there are plenty of fishing options. During your time in town, you could very easily try a different fishing spot each day. If you are looking for a guided experience, we encourage you to check out the options on our Fishing page. Bozeman's fly shops feature some of the best fly fishing guides in the world, and their local knowledge about which flies to use and where to fish can't be overstated. We wish you the best of luck, and we know that you'll enjoy your time on Montana's rivers.
If you enjoyed this blog, take a look at some of our other related articles:
In our never-ending quest to keep up with all things new in Bozeman, we have been producing content for years and can't possibly update every blog when new businesses open or existing businesses close. Please reference the publish date and do your own due diligence when making plans.