A Beginner's Guide to Bozeman Fly Fishing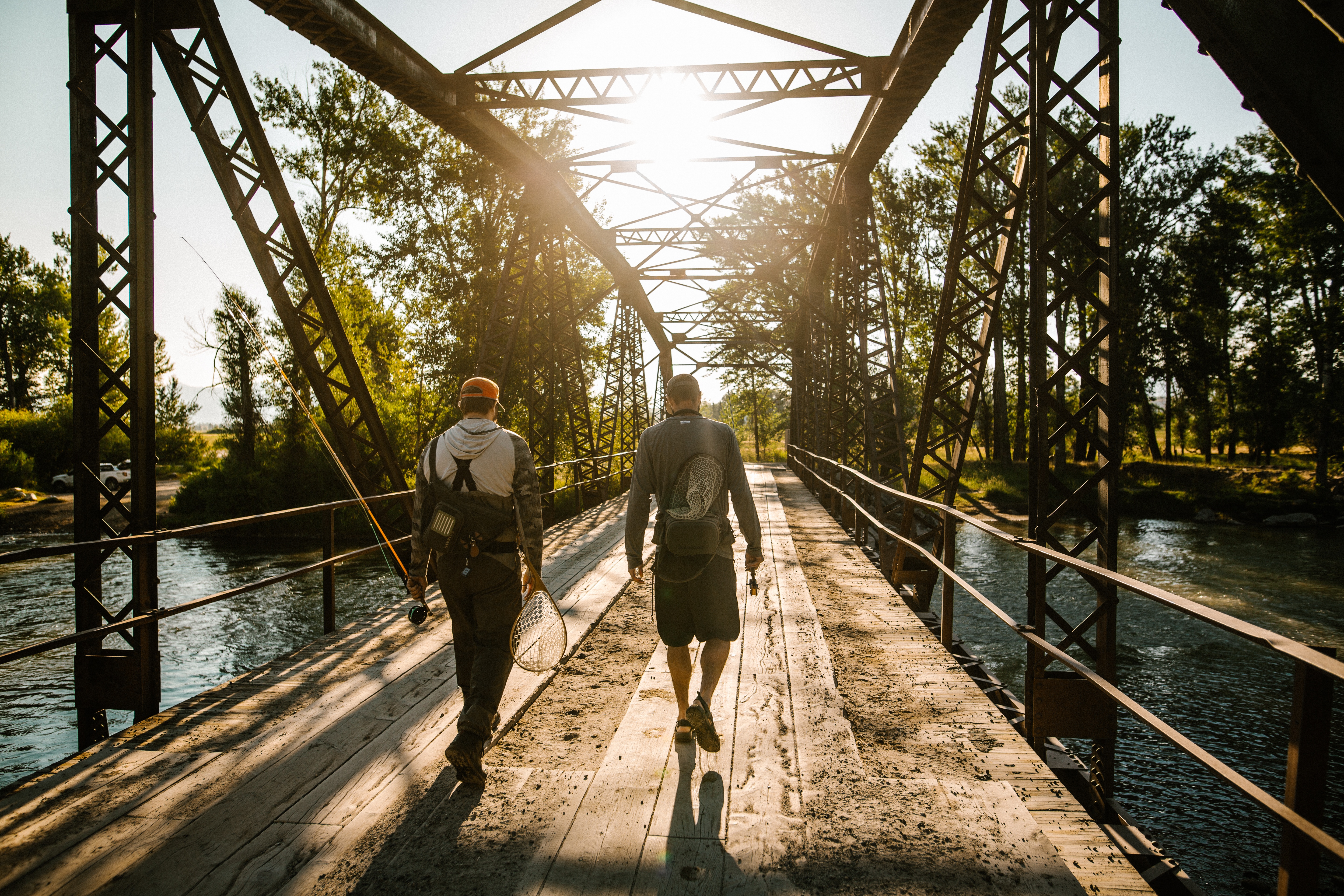 For many anglers around the world, the word "Montana" is synonymous with crystal-clear water, riffling streams and hearty, healthy trout. The state is home to a vast array of world-class, blue-ribbon trout streams, and Bozeman is in the very heart of them. Surrounded by these famed rivers, several storied spring creeks, and more than its fair share of high mountain lakes, Bozeman is simply surrounded by stellar fishing opportunities.
Rivers such as the Madison, Gallatin, Yellowstone, Jefferson, and even the Missouri are within driving distance, and they are known in fly-fishing circles as some of the best wild trout fisheries on the planet. And you don't have to drive far—it's possible to be fishing the Gallatin within minutes of leaving the boundaries of Bozeman. Even if you're planning a relaxed hike in the mountains surrounding Bozeman, pack the fly rod—many trails run along trout-laden creeks or lead to high lakes that are home to Yellowstone cutthroat trout.
Contrary to popular belief, fly fishing is quite easy to learn. The casting motion soon becomes natural, and at the end of the day, anglers are simply using a stick, string, and a fly made from feathers and yarn to fool fish. Don't be frightened by the seeming exclusivity of the sport—area guides can furnish specialty equipment and provide both casting instruction and local water knowledge to make your first day on the water a successful one.
Fly-fishing culture is immersed throughout the Bozeman community, a fact that's readily evident by the sheer number of fly shops in the area. Stop by The River's Edge Fly Shop, Montana Outfitters, Fins & Feathers, or one of the many others dotted throughout town early on in your trip. These experts can set you up with one of their guides for a full or half-day trip (it's recommended to book well in advance, as summertime is quite busy on local rivers and guides often book months in advance). If you're new to the area, you'll find your time is best spent with a guide. These experts spend almost every day on the water and know which rivers and stretches are fishing well, what the fish are eating, and they can even sometimes arrange access on private water. While float trips in drift boats and rafts are the most common, many guides will accommodate walk-and-wade trips as well, providing a completely different fishing experience.
Most rivers in southwestern Montana are home to plenty of rainbow and brown trout—the classic Western sportfish. Cutthroat trout, arctic grayling and whitefish can be found in various waterways as well, offering a change of pace for anglers. Perhaps there's nothing more quintessentially Montana than lazily drifting down a burbling river, casting into foam lines and watching a healthy, vibrant rainbow trout munch a foam grasshopper fly.
Fly fishing flies generally fall into one of three categories: dry flies, nymphs (wet flies), and streamers. Dry flies are designed to float on the top of the water, imitating a mature insect riding on the surface. Many anglers prefer dry fly fishing, as it's exciting to watch a fish stick its nose out of the water to gulp the fly. Nymphs imitate an insect pupa in the water, moving from the bottom of the river upwards in the water column, and are fished weighted under an indicator (bobber). Sometimes a nymph will be fished under a dry fly to "cover both bases"—a tactic which can greatly increase the odds of hooking into a fish. Lastly, streamers are meant to imitate small fish and other, meatier aquatic prey. These flies are fished wet and pulled, or "stripped" through the water to look like a small fish trying to swim away from a predator. Streamer fishing is arguably the most work but can produce the largest fish.
Fishing seasons vary year-to-year but roughly follow an annual pattern. The season generally kicks off in mid-April, before the snowmelt comes pushing down local rivers in "runoff." Spring fishing can offer stellar insect hatches, including the famous Mother's Day caddis hatch. Depending on the year, late May can herald the arrival of runoff, meaning rivers will be blown out with high water and sediment and fishing can be challenging. However, some area rivers, such as the Missouri, are dam controlled and don't really experience runoff. You always have options here.
Once runoff subsides, early summer is a popular angling season with hungry, uneducated fish and clearing water. Later summer brings hatch cycles of aquatic insects and the arrival of terrestrials (think grasshoppers and ants)—another favorite of savvy local anglers. After midsummer and into early fall, the rivers start dropping and guides will work the best water, focusing on sections where fish tend to pool and feed. Late fall is often best for streamer fishing as fish are hyperphagic—that is, extremely hungry—before a long, cold winter. Regardless of the season in which you choose to fly fish the Bozeman area, there are always fish to chase, and you will have the time of your life chasing them.
Originally written by RootsRated Media for Bozeman Tourism.
If you enjoyed this blog, take a look at some of our other related articles:
In our never-ending quest to keep up with all things new in Bozeman, we have been producing content for years and can't possibly update every blog when new businesses open or existing businesses close. Please reference the publish date and do your own due diligence when making plans.