Fly Fishing Guides Around Bozeman
Bozeman, Montana, has long been known for its exceptional fly fishing waters. From big rivers like the Gallatin, Yellowstone, and Madison to small spring creeks and alpine lakes, anglers come in droves to spend time on the water, casting from early morning to late evening. For many people, whether you are just starting or an experienced angler fishing new waters, hiring a guide is often the best way to get the most out of your experience.
Professional guide services know how the water changes each year, how the weather affects fishing, and what the fish are biting on, saving a lot of time. They generally offer various trips, whether floating or wading, along with their expertise to help you get the most out of your journey. Lunch is often included, as is the gear. Still, you'll need to get your Montana fishing license, and be sure to bring any personal items you may need, such as sun protection, clothing layers for inclement weather, and any specific snacks or drinks you enjoy.
In 2022, Simms, one of the nation's leading manufacturers of fishing products, including clothing, waters, technical footwear, outerwear, gear, packs, and bags, acquired one of Bozeman's long-standing specialty retailers, The River's Edge, and joined forces. The new shop on East Main Street in Bozeman features Simms products, and The River's Edge experienced guides, who typically spend hundreds of days on the water. Standard Trips run from 8 am- 3 or 4 pm, with Deluxe Trips affording more time on the water. Whatever type of trip you desire, these professionals will help guide you through the planning.
Located on 30 acres just outside of Bozeman on the Gallatin River, TroutChasers offers stay-and-fish, family-customizable trips. Choose from a room in their full-service B&B lodge, including all your food, or stay in the 3-bedroom, 3-bathroom, heated, and air-conditioned cabin. Guides fish on seven rivers, plus private waters, spring creeks, and lakes, allowing clients to fish year-round. Sustainability is essential in this operation. You'll find everything from solar panels at the lodge to reusable utensils on the river.
While Yellow Dog offers fly fishing vacations worldwide, Bozeman is their home base, and they spend a lot of time enjoying the diversity and beauty of Montana's waters. Trips can be overnight float trips or day trips and include a hand-picked selection of fly fishing lodges to choose from.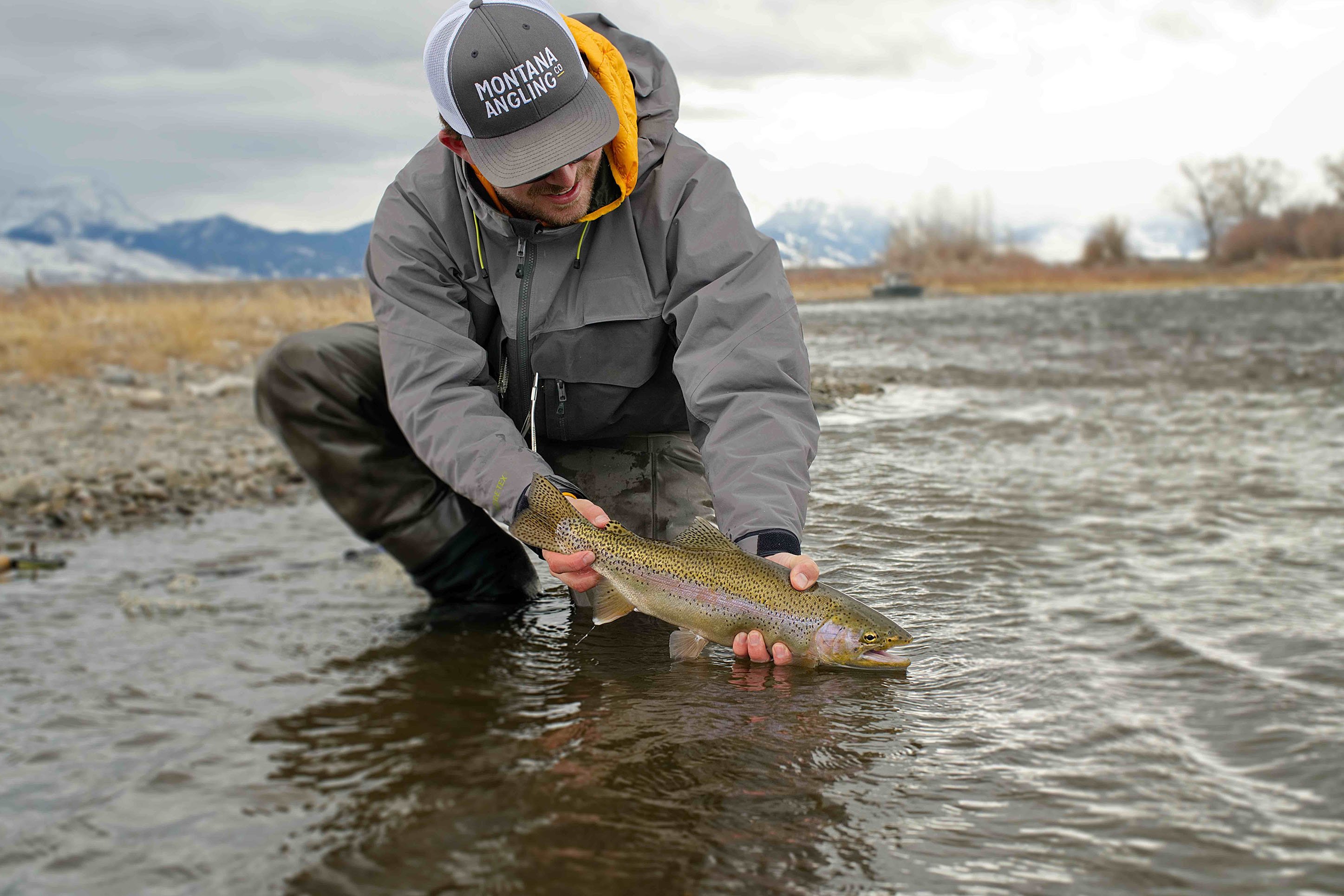 Photo courtesy Montana Angling Company
Montana Angling Company offers a variety of guided trips, including day trips, lodging packages, and fishing trips to Yellowstone National Park. Watch for their winter and spring specials to take advantage of the off-season when fewer anglers are on the water. Their packages include some of Montana's finest lodges, and they recommend booking your trip four to twelve months in advance. For the sustainability-minded, read more about their ongoing conservation efforts.
Variety is essential for Montana Angler, with options ranging from day trips to wilderness camping adventures and 5-star lodges to rustic retreats. Special permits, equipment, and relationships with ranch owners give you more options for what waters to fish. And, if you want to expand beyond Montana, they offer destination fishing adventures to other locations worldwide.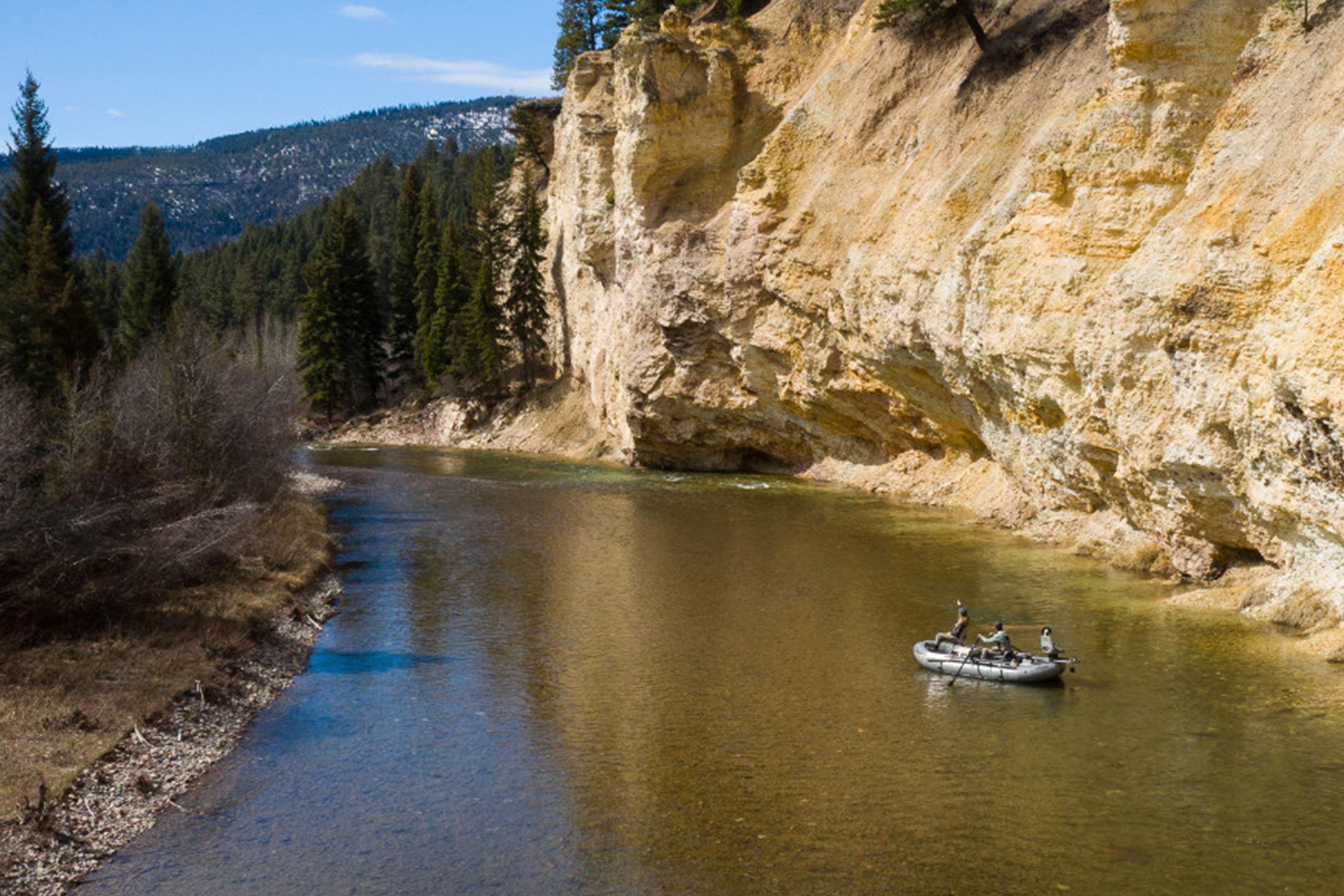 Photo courtesy Montana Angling Company
Bozeman's oldest fly fishing shop, Montana Troutfitters, has been helping clients since 1978, long before the fly fishing trend grew. Options include half or full-day float trips, wade fishing, spring creeks, and Yellowstone National Park. Plus, they are the go-to for quality fly fishing gear and flies.
If you enjoyed this blog, take a look at some of our other related articles:
In our never-ending quest to keep up with all things new in Bozeman, we have been producing content for years and can't possibly update every blog when new businesses open or existing businesses close. Please reference the publish date and do your own due diligence when making plans.