5 Places To Go Snowshoeing In Bozeman
Bozeman has an extensive amount of trails and recreational opportunities in the surrounding mountains and even right here in town. In the winter, these trails transform into great places to go snowshoeing in Bozeman. Exploring these snow-covered trails in the winter gives you a completely different perspective than hiking them in the summer. It's also any easy winter activity to take on with no prior experience, especially for those who might be intimidated by skiing.
Snowshoes have come a long way since the large, heavy, tennis-racket types of long ago. Today's models are lightweight, easy to use, and come in various styles, depending on the terrain. Snowshoes distribute your weight so that you float over the snow, and the added traction makes it easy to walk. If you're visiting Bozeman or new to the sport, you can find rentals at Round House Sports Center and Chalet Sports.
The Best Snowshoeing in Bozeman
The trails around Bozeman are well-used, giving you many options for snowshoeing, all within a short distance from town. We've listed 5 of our favorite trails for snowshoeing in Bozeman below, but don't limit yourself. The beauty of this activity is that you can go almost anywhere there is snow!
Difficulty Level: Easy to Difficult
Crosscut sits in the beautiful Bridger Canyon below the rugged Bridger Mountain Range. It's an entire system of just under 20 miles of scenic trails used for both snowshoeing and Nordic skiing. Take your pick of trails through a variety of terrains, such as open meadows or deep forests with stunning views of the Bridger Mountains. There are trails for all levels of ability and, if you're a beginner, Crosscut would be a great place to start your snowshoeing adventures.
First of all, they offer snowshoe rentals onsite if you don't have your own. In addition, there's plenty of moderate, gradual terrain to explore.
Directions to Crosscut Mountain Sports Center: From I-90 take the Main Street exit to downtown Bozeman. After approximately one mile, turn right onto Rouse Avenue North. Rouse Avenue becomes Bridger Canyon Road (Hwy 86.) Continue 16.6 miles up Bridger Canyon. Crosscut Mountain Sports Center is just past mile marker 16 on your left.
Chestnut Mountain Trail
Difficulty Level: Moderate
Chestnut Mountain Trail is relatively unknown. It's a little off the beaten path, which has its perks. It's quiet and isn't packed with other hikers. The trail is wide with a moderate incline for 4.6 miles to a summit of 2,200 feet, which makes it perfect for those who are just starting out. It's a longer trek, but you'll enjoy beautiful views every step of the way. A popular trail for mountain biking in the summer, Chestnut was created by the Gallatin Valley Land Trust in an effort to connect trail users to public land and encourage exploration of the amazing area in and around Bozeman.
Directions to Chestnut Mountain Trail: From Bozeman, drive east on I-90 toward Bozeman Pass. Take the Trail Creek exit and head east on Trail Creek Road. The trailhead parking is on the south side of the road, roughly 200 yards from the interstate exit.
Difficulty Level: Moderate
Sourdough Canyon Trail, also referred to as the Bozeman Creek Trail, is a regularly groomed trail section thanks to the Bridger Ski Foundation. This means you won't have to worry about the snow getting too deep on this trail. This old logging road is located on the south end of Bozeman and is often bustling with Nordic skiers, joggers, dogs and, of course, snowshoers. With distance markers at every mile, it's easy to track your progress while snowshoeing along this scenic, frozen creek. Most people turn around after traveling 3 miles out, but you can follow this trail for more than 6 miles to arrive at the Mystic Lake Trail. With a moderate incline the whole way up, it's easy to make this trail work for you, regardless of your ability level.
Directions to Sourdough Canyon Trail: From Bozeman, head south on Church Avenue. As you cross Kagy, Church will become Sourdough Road. Continue south until you reach Nash Road. Turn right and head west on Nash. The first road on your left will be Sourdough Canyon Road which dead-ends into the Sourdough Canyon Trailhead.

Difficulty Level: Easy to Difficult
There are infinite possibilities for exploring Hyalite on snowshoes including several gentle trailheads around Hyalite Reservoir. But if you're looking for a real adventure, try snowshoeing to Hyalite Peak. The trail is about 16 miles round-trip with an elevation gain of 3,400 feet to the summit. The real treasures of this hike are the numerous waterfalls along the way, and you don't have to go all the way to Hyalite Lake to see them. The first, Grotto Falls is only a short hike in and with a very moderate grade, easy for all ability levels. Keep your eye out – you might get to watch some ice climbers making their way up nine more beautiful frozen waterfalls. Head in as far as you feel comfortable and turn around and head back to the trailhead when you're ready.
Directions to Hyalite Lake / Peak: From Main Street in Bozeman, take South 19th for 7 miles to the signed road for Hyalite Canyon. Drive 11.5 miles up the canyon and pass Hyalite Reservoir on your right. Where the road becomes unpaved, a signed junction indicates that you go right toward the Hyalite Creek Trail. Follow this road for 2 miles to a large parking area at the trailhead.

Difficulty Level: Easy to Moderate
The first part of this trail is relatively flat and easy, crossing a creek and rising and falling gently over rolling hills. However, if you're feeling up for it, the second half begins gaining in elevation and offers a spectacular view of the Gallatin Valley at the top. At the summit, have a seat on the bench and take it all in. Altogether, this trail covers over 5 miles out and back, but you can turn around any time you want. It can be icy in the winter in shaded areas, so be careful on the switchbacks!
Directions to Triple Tree Trailhead: From downtown Bozeman, take S Church Avenue to cross Kagy Boulevard and continue on Sourdough Road. In 3.5 miles, the parking lot and trailhead will be on your left.

Difficulty Level: Easy to Difficult
The Bridger Mountain Range is spectacular for hiking, and winter snowshoeing is no different. A little over 20 miles up Bridger Canyon, Battle Ridge and Brackett Creek are great spots to snowshoe within just a couple miles of each other. Battle Ridge Cabin is a short quarter-mile hike and makes an excellent basecamp for more hiking. Brackett Creek is a great launching point to multiple trail options. Both are popular for skiing and snowshoeing, with rewarding views of several snow-capped peaks along the way. Expect gentle elevation gain and endless possibilities for distance depending on how far you feel like going that day.
Directions to Brackett Creek: From Bozeman, drive up Bridger Canyon Road past Bridger Bowl and Crosscut, until you come to a junction with Brackett Creek Rd. Turn right, then immediately right again into a parking lot. Once parked, cross back over Bridger Canyon Rd. and choose your direction —there are a variety of options up the South Fork.
Directions to Battle Ridge: From Bozeman, drive up Bridger Canyon Road past Bridger Bowl and Crosscut. The trailhead will be on your right, just north of Brackett Creek Road.
Blackmore Lake
Difficulty Level: Moderate
Nestled within the Gallatin National Forest, the volcanic peak of Mount Blackmore stands just west of Hyalite Reservoir. Blackmore Lake lies below the peak and is a moderate snowshoe trail at around 4 miles round-trip with 650 feet of elevation gain. The trail to Blackmore Lake is accessible via the Mount Blackmore trailhead right next to Hyalite Reservoir. This is a relatively popular trail used by locals and tourists alike – you'll likely see backcountry skiers descending down the trail after skiing the basin between Mount Blackmore and Elephant Mountain. After the lake, the trail continues up to Mount Blackmore so more adventurous snowshoers can head further up the mountain to explore the wilderness.
Directions to Blackmore Lake: Departing from Bozeman, take S 19th Avenue headed south and then west out of town, passing by Montana State University. 19th Avenue will become South 19th Road. Follow this for approximately 7 miles before turning left on Hyalite Canyon Road. Continue for approximately 10 miles to the trailhead. The trailhead is located immediately on the right side of the road, just prior to the dam for Hyalite Reservoir. There is a small, gravel parking lot and the trailhead is well marked.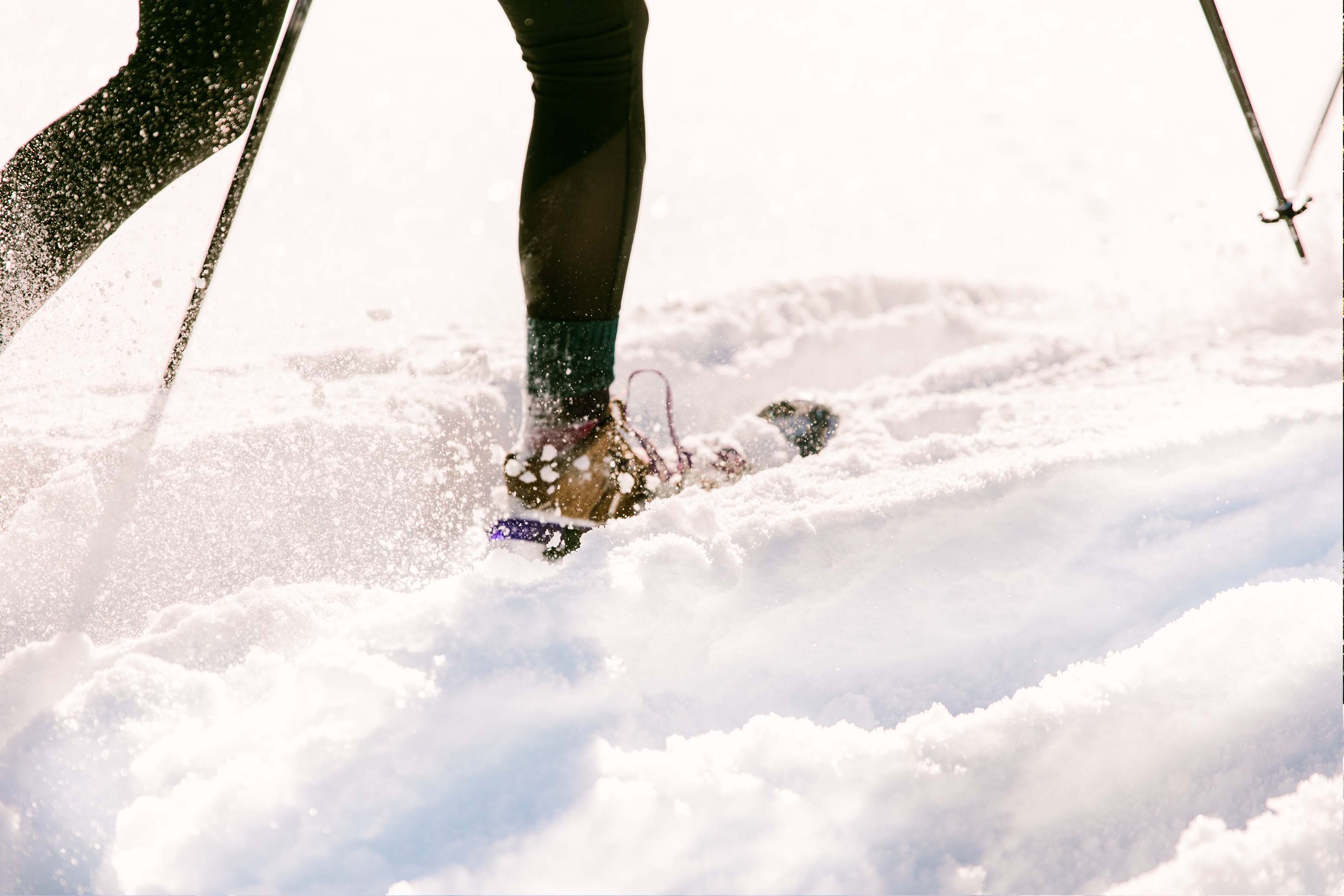 Snowshoeing Tips
As with any Montana winter adventure, be sure to wear layers. Wool and synthetic fibers wick moisture and keep you warmer than cotton. Mittens are warmer than gloves, and be sure you can wiggle your toes in your shoes to keep them from getting cold. Waterproof or water-resistant shoes are all that's generally needed unless you are going off-trail where the snow is deeper. If so, a good pair of snow boots is better, along with a pair of gaiters to keep the snow out. Be sure to bring food, water, and sun protection. Trekking poles aren't necessary, but they help keep your balance and offer some support on the downhills.
As a reminder, whether following marked or even unmarked cross country ski trails, please be aware of trail etiquette and avoid walking or snowshoeing on the ski tracks set by the groomer or by other skiers. And always, hike with a partner. There are many unforeseen risks when exploring Montana's backcountry so please snowshoe with caution.
Looking for more winter activity ideas in Bozeman? Download the Bozeman Travel Guide below to start planning your trip!
If you enjoyed this blog, take a look at our Bozeman Cold Weather Guide and some of our other related articles:
In our never-ending quest to keep up with all things new in Bozeman, we have been producing content for years and can't possibly update every blog when new businesses open or existing businesses close. Please reference the publish date and do your own due diligence when making plans.