Finding the Right Snowshoes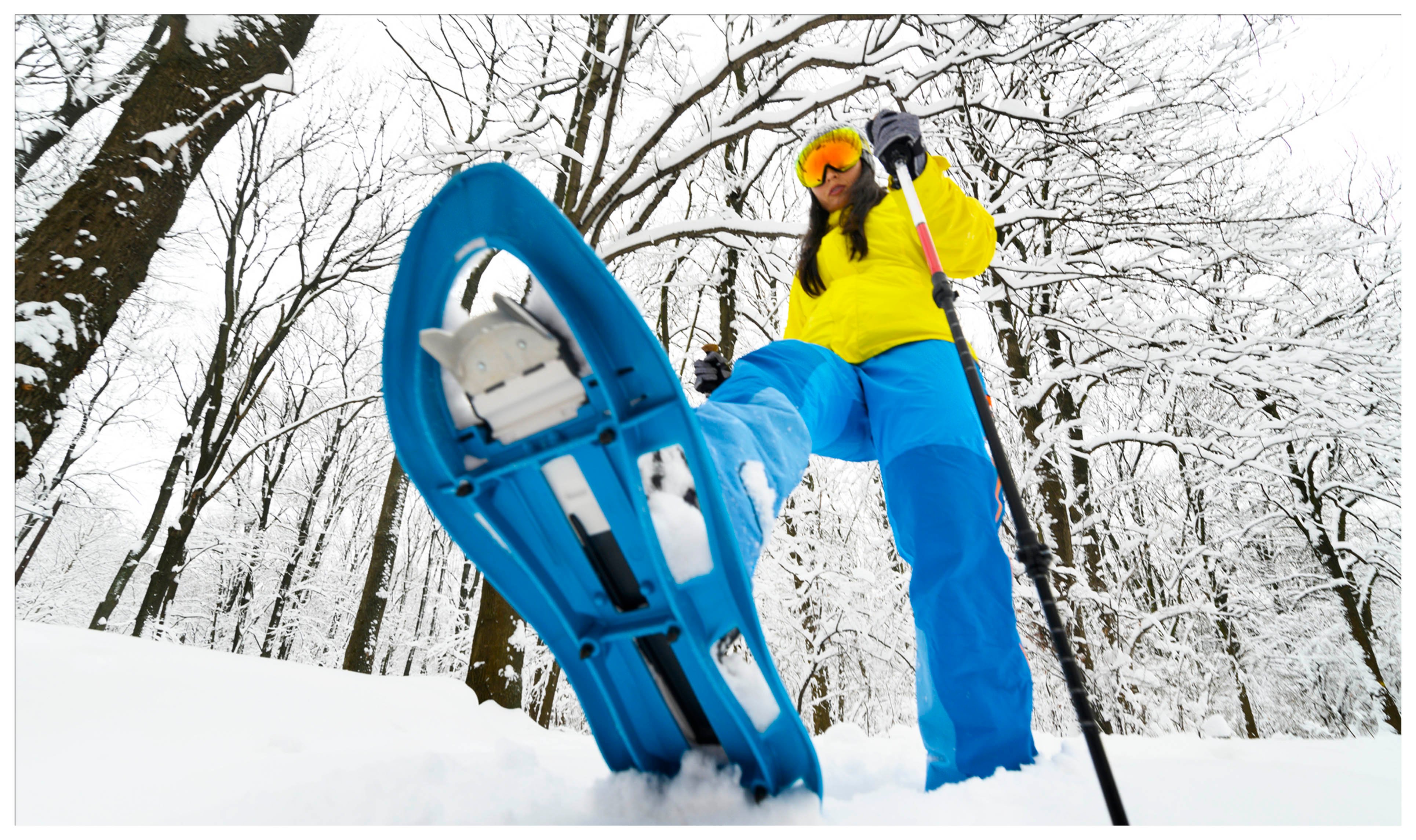 Winter in Bozeman doesn't have to bring an end to the hiking season. Getting out into the wilderness this time of year is magical, and it's as simple as strapping on a pair of snowshoes! Finding the right snowshoe isn't difficult, but it's worth thinking carefully about your goals and ability, then spending time finding the right style.
Snowshoes spread your weight over a large, flat surface, which helps you move easily over the snow without sinking up to your knees! Your own weight, plus the weight of your pack, help determine the ideal size and model of snowshoe you need.
In general, men's snowshoes are built for larger boots and heavier loads, whereas women's boots are narrower, and come in smaller sizes and bindings. Kids' shoes vary by age and weight. A simple rule of thumb: The deeper the powder, the larger the snowshoe needs to be.
If you're just starting out, basic snowshoes are probably going to be best, but it's good to know what the overall options are in case you decide to delve in deep! In general, there are three types of shoes: recreational, backcountry, and running. Aside from running, which are very specialized snowshoes, think about the kind of terrain you'll be tackling.

TERRAIN
Flat terrain: Gentle, flat terrain is great for families with little kids or who are new to the activity. This terrain requires less aggressive traction, and it's good to have bindings that are easy to adjust.
Rolling terrain: For those wanting to push the envelope a bit, you'll need more aggressive crampons and beefier bindings.
Mountain terrain: For advanced hikers or mountaineers climbing steep or icy areas, snowshoes are much different. Equipped with climbing style crampons and rugged bindings, these snowshoes are there to support those who aren't faint of heart!

SNOWSHOE TYPE
Aluminum: Best for flat or hilly terrain with deep snow to prevent sinking. Made with aluminum tubing, and neoprene decking, this style is light and comfortable.
Composite: If you're exploring mountainous, uneven terrain and steep slopes, composite shoes are best. This type of snowshoe is made of plastic and includes a footplate and crampons which provide a good grip.
If you are a runner looking to expand your season, running snowshoes are a great asset. They are generally lighter and cover less surface area, which is better for packed snow. (Tip: Expect to run 2-5 minutes slower per mile than you usually do. )
BINDINGS
Free/floating: These bindings allow movement under the balls of your feet, allowing you to walk naturally and climb hills. The free rotation is useful for tracking and steering in deep snow.
Fixed: These bindings are connected with heavy-duty rubber and neoprene bands, making it easy to climb obstacles.

FOOTWEAR
In general, warm boots with good ankle support will work with most snowshoes. Hiking or snowboarding boots are both excellent options. If you are running or mountaineering, you'll want specific bindings for each type of footwear.
If you're visiting the area or just starting out, renting snowshoes is a smart option. If you fall in love with the sport and want to experience more advanced terrain, visit with a local professional who can help you identify the best options.

Where to Find Snowshoes
RENTALS
1401 West Lincoln Street, Montana State University
Open Monday through Saturday
1422 West Main Street, Bozeman
Open Daily
108 W Main Street, Bozeman
Open Daily
RETAIL
1422 West Main Street, Bozeman
Open Daily
108 W Main Street, Bozeman
Open Daily
1428 N 15th Ave, Bozeman
Open Daily
2220 Tschache Street, Bozeman
Open Daily
If you enjoyed this blog, take a look at some of our other related articles at Bozemancvb.com: